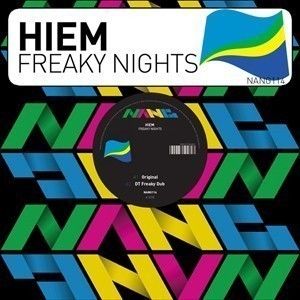 Hiem – Freaky Nights
After uber-swish collaborations with Phil Oakey and Roots Manuva on Nang, Hiem are back with the single which is the opening track to their splendid album "Escape To Division Street". As the Guardian said, 'A rum mix of lissom disco, acid northern observation á la John Cooper Clarke, brutal Sheff-tronics and glittering crystalline electro'.
10 years together, Nick "Nico" Eastwood and David "Bozzy" Boswell formed Hiem from the ashes of Sheffield collectives The All Seeing I and Venini. Wearing their influences firmly on their sleeve (Sparks, Van Der Graff Generator, Daft Punk, Roxy Music). Those influences shine through on the album version of "Freaky Nights", but with this single release we plough slightly deeper and dancier fields.
First up on the remixes are new Greek disco scensters Gemini Brothers. A Deeper floor led version for the dancefloor. Don Thompson (AKA DT) from the Situation collective turns in his funky and chunky low slung DT Dub. Whilst as a part of his brethren the Situation Electro re-work seeps itself it 80s electro grooves and darting synths.
Next up is Parisian cool cat and production cohort of Ivan Smagghe, Tim Paris. We then take a funky trip to Russia where the Easy M crew deliver a big beat slamming version. To round off the package are the Darabi remixes and Fitzroys Norths big swinging version of album track "Lemons and Limes"
One again our fine fettle Sheffields friends have delivered.