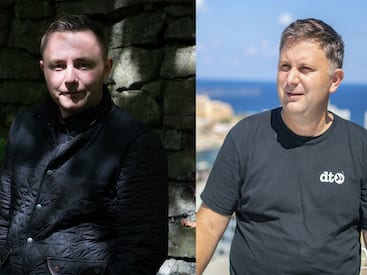 Hobbs and Ron Mexico Team Up For 'Good Times' On 'Scolarisé À Domicile' EP
Hobbs and Ron Mexico have teamed up for the 'Scolarisé à Domicile' EP ('Home Schooled' in French) on Doorly's highly respected label, Reptile Dysfunction. The EP features the filtered disco house anthem 'Good Times' – as premiered by Danny Howard on BBC Radio 1 – alongside the uplifting vibes of 'Don't Stop' and 'My Baby'. Hobbs a.k.a Matt Hobin follows up 'Game Plan', his previous smash on the label, which drew big support from Jamie Jones and Marco Corola among many others. Ron Mexico a.k.a. electronic music guru, Grahame Farmer, brings his DJ guise out from behind the decks for his debut release, and together these two house music talents have delivered an unmissable EP full of sunshine and grooves. Download / stream here now: 
https://fanlink.to/H_RM
Manchester-based, Hobbs has built a well-earned reputation for quality house music with releases on respected labels including Whartone Records, Shanghaied, Purple Music, Freakin' 909 and more. His ear for the dancefloor has ensured support from renowned DJs including Roger Sanchez, Vanilla Ace, Sonny Wharton among many others. Ron Mexico is the alter-ego of electronic music journalist and mentor, Grahame Farmer, who has been at the sharp end of the scene since cutting his teeth as part of the team at seminal London club, Turnmills. He brings an innate understanding of house music to a collaboration which has produced the type of feelgood vibes which the world really needs right now.
'Good Times' is the lead track on the EP and with good reason. With French filtered disco flavours, this track serves up an irresistible hook with a big soulful vocal that commands 'start jumpin' people' and delivers the catchy bassline, horn stabs and bumping house beats to make it happen. This tune has summer anthem stamped all over it. 'Good Times' is joined by 'Don't Stop' with looping, chopped up horns and a bassline guaranteed to move the dancefloor when it drops. Rounding off an impressive debut collaboration is 'My Baby' a funked up number with jackin' bassline which slows mid track before exploding once again with a filtered swagger.
'Scolarisé à Domicile' is an undeniable slice of disco house heaven and is sure to find big support with fans of good times and uplifting house music.