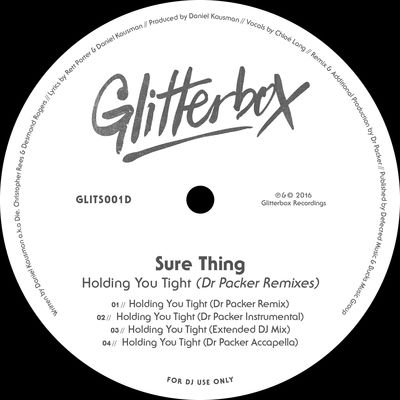 Sure Thing - Holding You Tight (Dr Packer Remixes)
Introducing a debut release on the brand new Glitterbox label; a label celebrating the incredible disco, nu disco, soul and classic house records that have made Glitterbox parties the most popular and joyous additions to the clubbing scene over the last few years.
Sharing the Glitterbox nights' philosophy for supporting artists who really know how to produce and joyous music that stays in your mind for days, Glitterbox's debut release is a much-anticipated vinyl release for Dr Packer's remixes of Sure Thing's 'Holding You Tight', featuring five versions of the infectious nu disco classic.
Both Sure Thing and Dr Packer embody the Glitterbox ethos, making feel-good, joyful music that lights up the dancefloor. On the A side of this 12" vinyl release is the 'Dr Packer Remix' and 'Instrumental' while on the AA side is a club-ready 'Extended DJ Mix', 'Radio Edit' and 'Accapella', completing an essential landmark record to kick off your Glitterbox collection.
Please note, the vinyl for this release is available now: http://www.juno.co.uk/products/sure-thing-holding-you-tight-dr-packer/62…