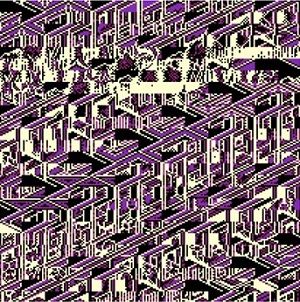 Leiik - Holes (Daniel Cherney Remix)
Czech-born musician and DJ Daniel Cherney returns with another dose of his minimalist club-infused composition on new EP 'Portals', set to drop on 26th February.
The five-track collection follows the release of debut EP  'Mentally Strong People',  whose lead cut 'Priest' premiered on DIY, and is set to drop on South-East London based electronic label and artist collective, squareglass.
'Portals' sees Cherney challenge and correspond with the traditional aesthetics of techno music by introducing elements of improvisation and chance which creates a more organic and accidental feel to the record. In his own words, "sloppiness is welcomed in my work", which results in a hypnotic sound that is all at once chaotic and formulated. Meanwhile, Cherney's music remains deeply rooted in minimalist composition and post-digital aesthetics, with each track showcasing his eclectic trademark use of samplers and effect units. The title itself is inspired by Cherney's fascination with Kinesiology, the study of energy movement through "portals" in the human body, which Cherney seeks to explore through his musical experimentations.
First single 'Creation', unveiled in November, features a muffled, thumping bass line, which provides a foundation from which layers of shimmering synths, samples and white noise ebb and flow throughout the track. Continuing to demonstrate Cherney's masterful use of his unique set-up, which includes an analogue sampler along with a plethora of other analogue devices to manually transform his source materials, second single 'Induction' now follows with its ominous synths and building looped beats.
In the spirit of the unique squareglass aesthetic, 'Creation' was printed on one of the imprint's trademark 7" square vinyl records and launched with a special event at Dalston's Dance Tunnel last November. The showcase saw Cherney perform alongside label-mate Bunki, who also forms one half of squareglass signees Leiik, supported recently by the likes of Clash and The 405.
Already proving to be a tour-de-force in putting out a catalogue of stimulating and experimental music, Daniel Cherney looks set to raise the squareglass bar even higher with 'Portals'