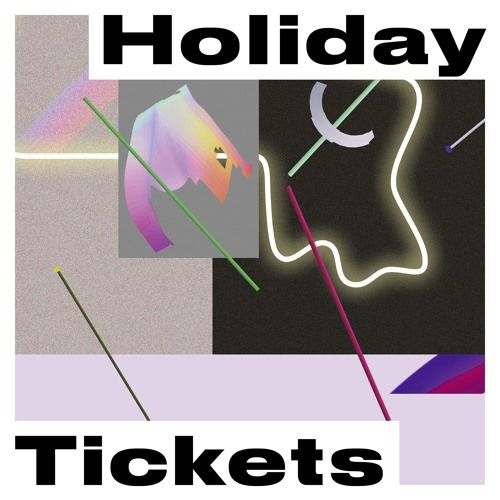 True - Holiday Tickets
Sensational Swiss synth-pop duo TRUE burst back onto the scene with their joyous new single, 'Holiday Tickets', dropping 2nd September 2016.

Taken from their much-anticipated new album 'Wrapped In Air', their latest single incorporates all the features we have come to know and love about TRUE's unique pop sound; exquisitely produced club-ready pop tunes with a jazz flare. 'Holiday Tickets' is the second single to be released from their upcoming LP, with the aptly-named brooding 'Hold It Back' released in June offering a first taste of what we can expect from 'Wrapped In Air', set for release in late-September. 'Holiday Tickets' looks to build on the hype of 'Hold It Back' which garnered support from the likes of Press Play, Fame Magazine and Brooklyn Radio.

'Holiday Tickets' is defined by its clean pop dance edge. The bass work of Antoine Katz opens the single, accompanied by an understated drum track put down by producer and drummer Rico Baumann. The soaring vocal is written and performed by front-woman Daniela Sarda who describes the unique inspiration for the track – "I sang this one into my phone… in a hotel bathroom in Germany, while on tour with a jazz band". The track gathers momentum to hit its stride with the anthemic chorus; punctuated by percussion clicks and punchy trumpet interruptions, before a glorious chiming synth effect brings the piece to a close with a delightful 80s pop vibe.

It's hard to ignore the importance of brass on TRUE's new music; both Rico and Dani hailing from the jazz tradition. For 'Wrapped In Air' the TRUE team harnessed the arrangement skills and trumpet virtuosity of Sean Smith, they also joined forces with saxophonist Walter Fancourt. Seasoned collaborators Smith and Fancourt have previously worked together on projects with Yeasayer and Reptar. Rico described the experience of recording the horn parts with Brooklyn-based jazz artists as hugely influential on the tone of the album: "They all had some interesting things to say about it, like that it feels like looking at a big city at night, from far away." The tracks were recorded in two 4-5 day creative bursts giving the album a sense of both intensity and creative continuity. Rico explains that he "was in the studio every minute I could find, most of the nights till 6, 8, or even 10 a.m. Then I would sleep 1- 4 hours and would go to meet our mixing engineer to mix a song, and then I'd go back to the studio to finish the next one."

With the likability of their latest release it seems as if TRUE are set for great things. Despite being steadfastly un-googleable, their growing fame and hype threatens to usurp this anonymity; the band have gained exposure from some of the loudest voices in the music biz, Huw Stephens and Lauren Laverne. 'Holiday Tickets' displays the unique creative sound of TRUE with a chorus that makes the new single radio-ready and furiously catchy.