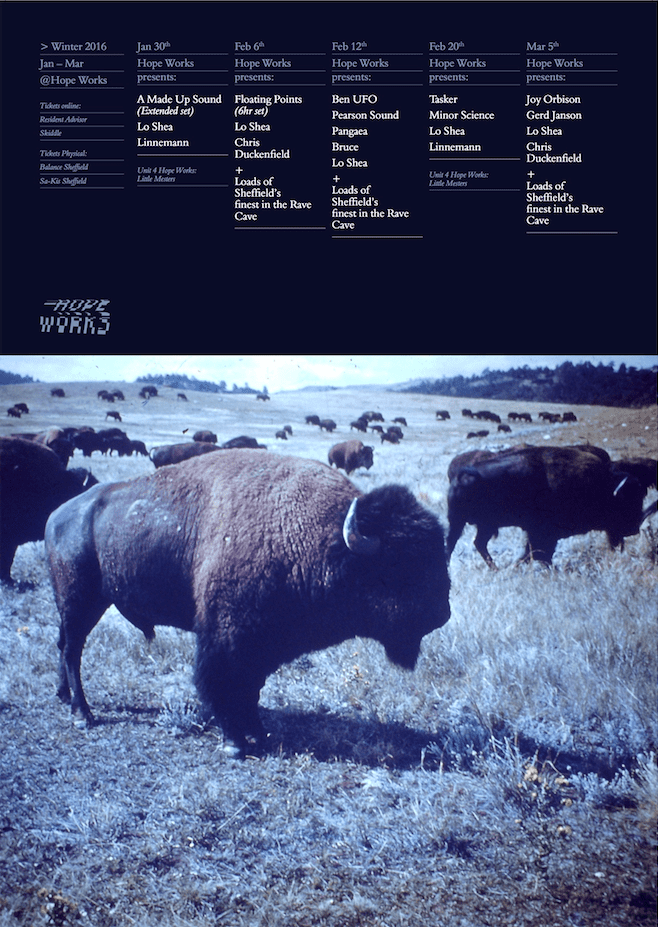 Hope Works Announces Its 2016 Line-Ups
Initiating 2016, Sheffield's illustrious warehouse series Hope Works reveals line-ups for five stacked dates.
The debut event will see Dutch artist A Made Up Sound deliver an extended set on Saturday 30th January, before February sees none other than Floating Points take to the decks for 6 hours on Saturday 6th.
Friday 12th February will then deliver a Hessle Audio roster featuring Ben UFO, Pearson Sound, Pangaea, as well as promising newcomer Bruce, for a heavy line-up boasting some of the UK's most well-regarded names. Whities boss Tasker and Trilogy Tapes' Minor Science then appear on Saturday 20th, until the exceptional Joy Orbison and Running Back boss Gerd Janson arrive on Saturday 5th March.
Residents Chris Duckenfield and Hope Works founder Lo Shea will be on support duties throughout the series.
Saturday 30th January
Hope Works presents: A Made Up Sound (Extended set)
Lo Shea
Linnemann
Venue – Little Mesters, Unit 4 Hope Works.
12-7am
www.residentadvisor.net/event-revisions.aspx?id=785458
www.facebook.com/events/461744344011931
Saturday 6th February
Hope Works presents: Floating Points (6 hour set)
Lo Shea
Chris Duckenfield
+
Loads of Sheffield's finest in the Rave Cave
Venue – Hope Works Warehouse
12-7am
www.residentadvisor.net/event-revisions.aspx?id=782379
www.facebook.com/events/811554908971210
Friday 12th February
Hope Works presents: Hessle Audio
Ben UFO
Pearson Sound
Pangaea
Bruce
Lo Shea
+
Loads of Sheffield's finest in the Rave Cave
Venue – Hope Works Warehouse
12-7am
www.residentadvisor.net/event-revisions.aspx?id=785462
www.facebook.com/events/775121325950878
Saturday 20th February
Hope Works presents: Whities ft. Tasker & Minor Science
Lo Shea
Linnemann
Venue – Little Mesters, Unit 4 Hope Works
12-7am
www.facebook.com/events/1509090219385912
Saturday 5th Match
Hope Works presents: Joy Orbison & Gerd Janson
Lo Shea
Chris Duckenfield
+
Loads of Sheffield's finest in the Rave Cave
Venue – Hope Works Warehouse
12-7am
www.residentadvisor.net/event-revisions.aspx?id=785467
www.facebook.com/events/1711760235723751