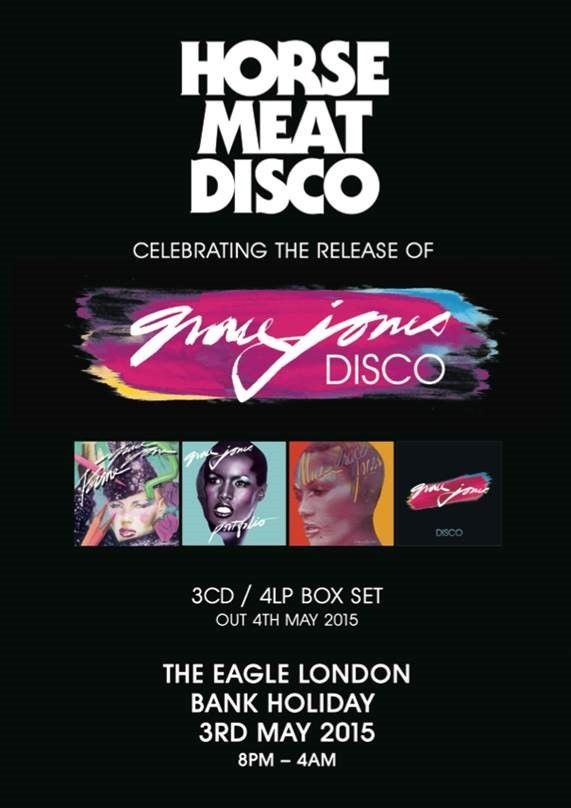 Horse Meat Disco Presents Grace Jones Disco
One tends to think that Grace Jones arrived fully formed on her 1980 album Warm Leatherette and that her three albums of high-octane disco between 1977 and 1979 were no more than a little light candy. Be prepared to be surprised. These are the records that first made her name, stepping out from the pages of Vogue and straight into the studio, bringing the glamour and pizzazz of a New York fresh from celebrating the American bicentennial; records of joy, hope and freedom; gay, straight, black, white, working class and rich gathering on the sacred space of the metropolitan dance floor.
Grace Jones was a pivotal figure on the New York disco scene; regularly singing at Carmen D'Alessio's Thousand And One Nights at the Enchanted Garden, out in Queens, very much the precursor to Studio 54. To further stress her importance, it was her party at Studio 54 on New Year's Eve 1977 to which Bernard Edwards and Nile Rodgers from CHIC were denied entry, leaving them to go into the night and write 'Le Freak'. "Grace Jones came in naked," Chris Sullivan, a doorman at the club recalled. "Quite a few times. Probably more than she should have."
Signed to Chris Blackwell's Island Records, Jones' three albums Portfolio, Fame and Muse were produced by none other than Tom Moulton, 'the father of the disco mix,' who earned his title by assembling the first continuous mix side of an album in 1974 with Gloria Gaynor's Never Can Say Goodbye. After working with the Three Degrees, MFSB and Trammps, he was hot property, and Jones seemed a natural choice for him to work with.
Recorded at Sigma Sound, Philadelphia – the home of Philadelphia International Records and where David Bowie had cut Young Americans – these are three of the most disco sounding disco records of all time. The choice of material, and Jones' unmistakable persona ensure that they are anything but mere confection. It's also a celebration of the studio teams that were so prevalent in New York and Philadelphia in that era.
Portfolio is a perfect example of the album a top model from the Ford and Wilhelmina agencies at the zenith of 70s glamour could make. It opens with three show tunes ('Send In the Clowns', 'What I Did For Love' and 'Tomorrow') and then takes it further with one of Jones' best known covers, Edith Piaf's 'La Vie En Rose.'
"You see, the whole disco thing is very visual and, as you know, theatrics and that whole visual thing is extremely important to me," she said in 1978. This was clear from the striking sleeve designs by Interview Magazine designer Richard Bernstein on her early albums: stunning visuals would symbolize the rest of her career.
By the time of 1978's Fame, her sound was becoming even more expansive, including her fabled club hit, 'Do Or Die'. The final album included here, Muse, is a fascinating record and shows a possible direction that Jones' could have pursued had she not taken the flight to Compass Point. It's a more pared-down disco; arranged by Thor Baldursson, who had played on 'I Feel Love' while working with Giorgio Moroder. The album contained a suite of songs 'Sinning' – 'Suffer – 'Repentance' – 'Saved' that pointed to something deeper and more mature. It was released in September 1979, two months after the fabled Disco Demolition Derby at Chicago's Comiskey Park. As disco now sucked, it was time to move on
The Disco Years is a beguiling time capsule. Exciting, vibrant, camp, showy, it is the intro-to-coda of this early flowering of Grace Jones. It's a look back to another time, one that seems much further removed than the constantly evolving modernism of her Compass Point trilogy. This is the music that established Jones; glossily theatrical, toughly camp party pieces with portentous overtones. This is a beautiful newly-remastered collection, bringing together the three albums and in-era mixes and instrumental versions.