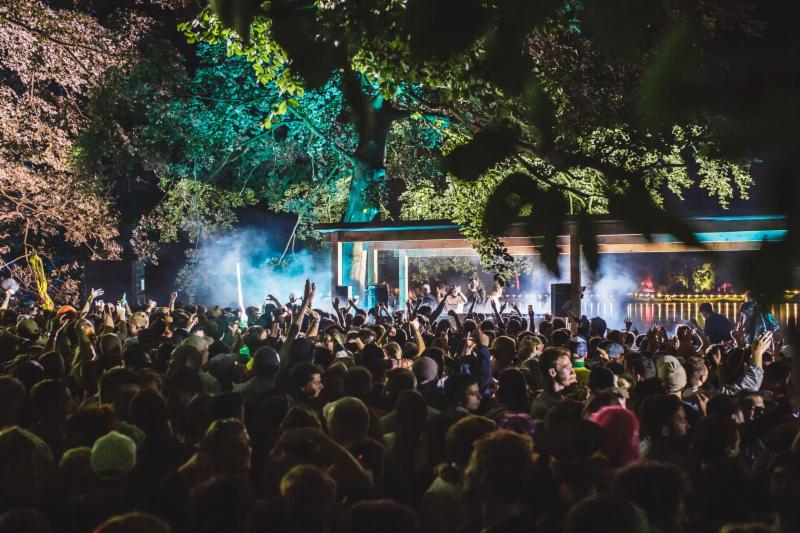 Houghton 2018 lineup revealed
Curated by Craig Richards and produced by the Gottwood Festival team, Houghton Festival returns in 2018 after making arguably one of the most successful festival debuts of recent times. Described in some quarters as setting a new benchmark for music festivals, Houghton's simple refined approach, including bespoke sound systems, fantastic food and extended DJ sets, struck a chord with many who attended last year.
Houghton Festival continues along the same innovative path in 2018. It remains the only UK summer festival to fuse art, music and sculpture, whilst its licence uniquely allows musical programming of both sunset and sunrise.
Craig Richards comments: "By presenting music, art and a promised experience in an honest and restrained way meant those four days in Norfolk last year were not only magical but they were believable. The setting proved to be nothing but perfect. Our aim is to build on the foundations of last year's success, but instead of growing we're sticking to the story with minor improvements and a strong belief in the initial concept. Artists, DJ's and musicians will be presented with meritocracy and equality. Everyone who performs will be given a chance to shine and everyone who attends will be treated to the best of everything."
All artists have been personally invited by Craig to play, and are a true reflection of his expansive musical taste. This is just the first wave of artists to be announced with further line-up additions, and a food and wellbeing showcase, to follow in the coming weeks.
The first of the 2018 line-up announcements welcomes back a swathe of the finest underground talent, including rising stars and established veterans drawn from all corners of the scene. Ricardo Villalobos, Andrew Weatherall, Seth Troxler, Nicolas Lutz, Ben UFO, Ivan Smagghe, Roman Flügel, Joy Orbison, Magda, Sonja Moonear, Optimo, Margaret Dygas and Midland are just some of the leading DJs returning in 2018.
Joining the house and techno contingent, we find Zip, Objekt, Prosumer, Call Super, Pearson Sound, Jane Fitz, DJ Fett Berger, The Mole, Luca Lozano, Barac, Intergalactic Gary and Shanti Celeste all making their Houghton debut in 2018.
The alternative sounds of Houghton are as faultless as ever. Mr Scruff, Vladimir Ivkovoic, Jonny Rock and Mixmaster Morris return, and Idjut Boys, Ruf Dug and Nick The Record debut. Andrew Weatherall and Sean Johnson bring their ALFOS party to Norfolk for the first time. Plus disco sets will be in the abundance from the likes of Colleen 'Cosmo' Murphy, Felix Dickinson, Psychemagik, Rob Mello, Dave Harvey and Horse Meat Disco. Forward thinking bass and electronic sounds fromCalibre, dBridge and Appleblim extend the musical programme yet further.
Placing an emphasis on live music from across the spectrum, Houghton presents a musical palette that covers everything from electro and techno to the alternative sounds of the Middle East. From the pioneering Monolake, the experimental ambient music of Smagghe & Cross, Claro Intelecto's dubby techno, the fabulous (and Norfolk local) Nathan Fake, through to the return of the electronics wizard Mathew Jonson, the superb Radioactive Man, and not forgetting Emperor Machine, and the legendary DMX Krew, Houghton has the live electronic side of things sown up. Joining the party, there are live shows from New York's finest Midnight Magic, and all the way from Beirut are the headline grabbing alternative sounds of the rapidly emerging Mashrou' Leila.
Centred around a beautiful lake, set amongst thick deciduous woodland, Houghton plays home to a number of unique venues including an abandoned warehouse, subterranean bowl and a world renowned art and sculpture park.
The art and sculpture programme will be revealed shortly. Houghton Estate also hosts a special exhibition from Damien Hirst this summer with some of his most recognisable sculptures installed in the gardens.
Ticket Information:
* A limited number of advance tickets will be made available at 9am on Wednesday 31st January exclusively for those people who bought tickets to Houghton Festival in 2017. A private advance ticket link will be mailed on Tuesday 30th January to these ticket buyers only.
* Tickets will then go on general sale on Friday 2nd February 2018 at 9am, starting from £150 + BF. Ticket link: goo.gl/DQm36B