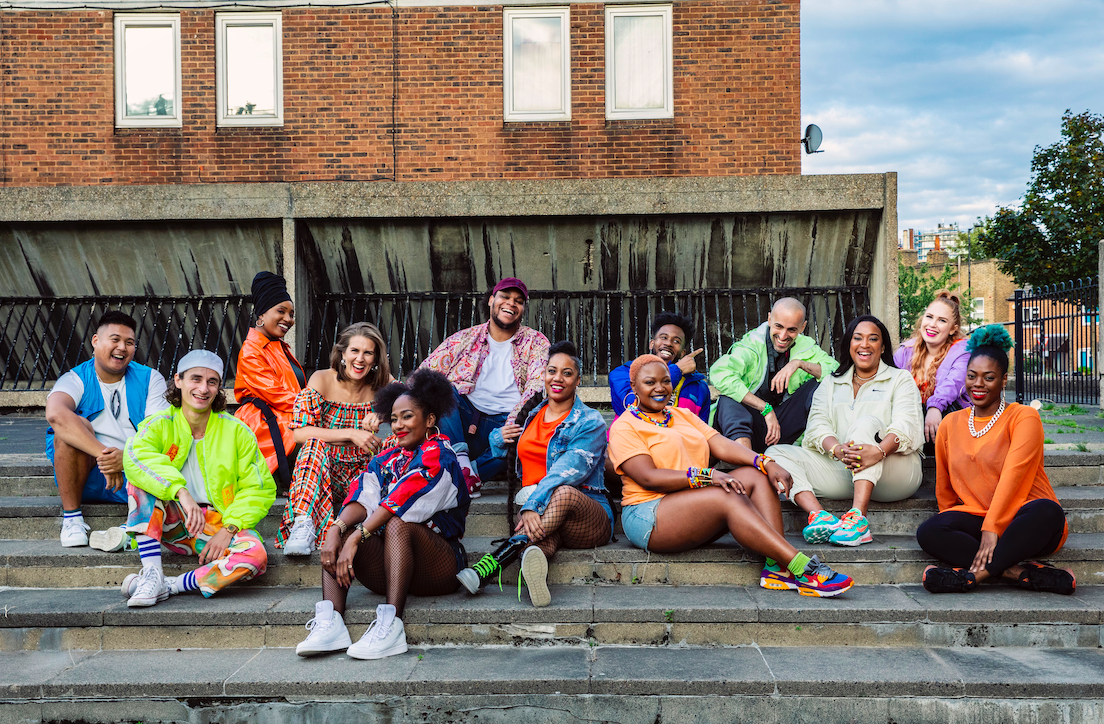 House Gospel Choir unveil long-awaited debut album RE//CHOIRED.
House Gospel Choir have dropped their hotly anticipated debut album RE//CHOIRED, out 23rd October on Island Records.
An extensive, 13-track release, RE//CHOIRED was born out of a love for sound system culture, the healing power of house music and the group seeking to channel the magic of people working together to raise the vibrations.
The LP features some of the biggest producers in dance music, with house legends Todd Terry (2 tracks) and DJ Spen (2 tracks), UKG favourite Wookie, BBC Radio 1 tastemaker Toddla T, Grammy-nominated producer Alex Metric.  As well as UK Gospel legend Nicky Brown and multi-instrumentalist Troy Miller (Roy Ayers, Laura Mvula, Amy Winehouse & Gregory Porter)
RE//CHOIRED opens with the euphoric, piano-led dance energy of 'My Zulu', the first original Todd Terry collaboration with the official video released earlier this week, paying homage to the roots of London soundsystem culture. Further singles include the life-affirming 'Blind Faith', uplifting emotion-tinged Gospel version of Disclosure's 'Latch' and a captivating and thought-provoking modern rework of Crystal Waters' house classic 'Gypsy Woman (Place To Stay)' (celebrating its 30th anniversary next year).
Creative Director & Founder of House Gospel Choir Natalie Maddix explains, "I've always liked that quote from Frankie Knuckles, "house music is for church people who fallen from grace".  When I was growing up, my family was quite religious, and as all young people do, when I was growing up I had lots of questions about faith. Then I discovered raving! At first, they didn't seem compatible, but I felt that a really good party experience is like being in a church – just being with people and feeling uplifted. I thought, I want more people to feel like this."
The feelgood and equally empowering lead single 'Everything Is Love', is the choir's second Todd Terry collaboration and truly celebrates love, light and harmony, which drops alongside the official video on LP release.  Maddix's opening speech in essence describes the power of the dancefloor "In a world that's intent on pulling us apart, us being here is an act of resistance. We are one."
HGC's stunning debut single Salvation was crowned BBC Radio 1 'Hottest Record' by Annie Mac, peaking at #1 in the Music Week Cool Cuts Chart and #5 in the Billboard Dance Club Chart. Further highlights include DJ Spen's Gospel house refresh of Candi Staton's classic 'Hallelujah Anyway', a modern rework the uplifting house classic 'Most Precious Love' produced by Alex Metric and was MistaJam's Self Certified selection on Radio 1 Dance Anthems.
Bringing together a group of outstanding singers, songwriters, DJs and music makers, House Gospel Choir's live sets create a fusion of the biggest house, UKG and gospel tunes that make every performance an unforgettable experience.
"The beautiful thing about House Gospel Choir is that it is proof that all these people with different backgrounds can come together and make harmony.
As a society, there's so much division – we are proof that we are really one race of people, and together we can do something bigger than ourselves." Natalie Maddix.
Their monthly public Mass Choir open rehearsal, at Rich Mix in East London, has featured guest appearances from house and techno icon The Blessed Madonna and electro-pop singer Georgia and incredible female singer songwriters Hamzaa, Sinead Harnett, Ella Eyre, Kamille, Karen Harding & Jem Cooke amongst others.
House Gospel Choir launched their weekly online series 'RE//CHOIRED' at the start of lockdown. The intention; to raise the positive vibrations and help lift the mood of choir members and the public with unique takes on various rave & gospel classics. "I think that's the core of house music to be honest, to bring people from where they're at to a better place," explains Maddix.
Reaching out to their network, they invited special guest appearances from the likes of Barbara Tucker (Louie Vega produced classic 'Beautiful People'), Vula Malinga (Basement Jaxx's 'Red Alert'), Donae'o (UK Funky House track 'I') and Crystal Waters ('Gypsy Woman')
UK vocal Queen Beverly Knight's guest appearance on 'Optimistic' (Sound of Blackness) saw the likes of Viola Davis, MC Lyte, Jimmy Jam & Terry Lewis (the original producers) and Ludacris sharing on IG.  The online viral impact of this unique creative series massively resonated with their audience, doubling their IG & FB followers.
Encompassing an array of different styles and genres, RE//CHOIRED is a landmark release for one of the most exciting musical projects to emerge from the UK in recent years.
To find out more about House Gospel Choir, go to:
Facebook | Instagram | Website