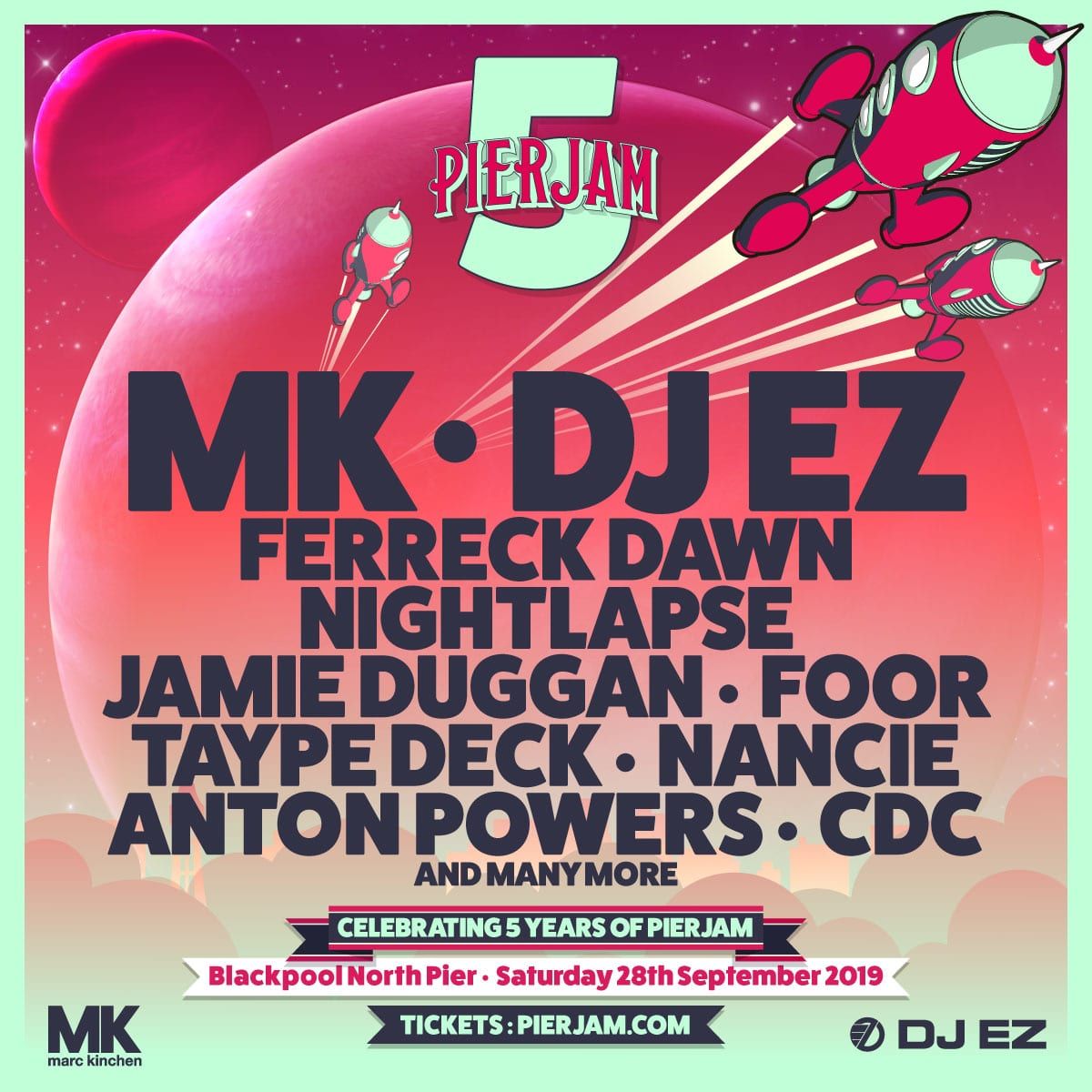 HUGE FULL LINEUP ANNOUNCED FOR 2019 CLOSING PARTY – DJ EZ, MK, FERRECK DAWN, JAMIE DUGGAN, NIGHTLAPSE, FOOR, TAYPE DECK, NANCIE, CDC & MANY MORE!
PIERJAM BLACKPOOL 2019 CLOSING PARTY
CELEBRATING 5 YEARS OF PIERJAM
SATURDAY 28TH SEPTEMBER
BLACKPOOL NORTH PIER
The North West's most exciting series of daytime clubbing events, PierJam, will return to Blackpool's North Pier on Saturday 28th September for the 2019 Closing Party for their
monumental 5th Season at the Iconic seaside venue, and they've just revealed their massive full lineup. The completed lineup sees the previously announced DJ EZ and MK joined by the likes of Ferreck Dawn, Nightlapse, Taype Deck, Jamie Duggan, FooR, Nancie, CDC and many more.
Set across two outdoor stages and 2 indoor arenas of the stunning setting of Blackpool North Pier, the closing finalé of the iconic day time party will feature a huge line up including chart-topper and house music legend MK, who will be heading up a host of house talent on the Sunset Stage. Responsible for tracks such as 'My Head Is A Jungle' and 'Piece of me' – and with more than 20 years experience under his belt entertaining the masses at some of the worlds biggest clubs and festivals – he is sure to go down a treat with the PierJam attendees and locals.
Joining MK on the sunset stage will be the iconic DJ EZ, a master of the decks and renowned for being one of the most creative mixers with instinct and technical prowess, not forgetting owning one of the quickest fingers in the trade with his trademark cue action displays during his sets, his distinctive sound and powerhouse sets always go down a treat.
Ferreck Dawn comes next-up on the huge lineup for the Sunset Stage, a Defected favourite with multiple releases on the iconic house music label – with over 16 years experience under his belt, PierJam attendees can expect only the finest from his set on the day.
Nightlapse comes next on the bill, Area 10 DJ and producer duo – they have remixed some of MK's biggest tracks as well as produced and released songs alongside him. Often playing MK's Area 10 pool party in Ibiza – they are well known for their energetic house sets and are ever growing on the house and dance music scene.
Taype Deck are next up for the Sunset Stage, a leading collective of handpicked DJing talent who all play under the Taype Deck Brand Name. Providing unrivaled high energy sounds and explosive sets that really leave an impact. Anton Powers follows, he has enjoyed great success throughout his DJ'ing, Producing and Presenting career – with his hit 'Baby Make Your Move' causing quite a stir on the music scene, crowds are certain to go wild during his set!
Finally comes CDC – With their forward thinking and energetic sets they have charted in both the Deep and Tech House Beatport Charts and we just know they are the perfect round up to a strong lineup for our main stage.
The Terrace Stage sees a collective of the finest Bass Music talent currently on the scene, and first up is none other than the King – Jamie Duggan. Few can lay a claim of starting a scene, but from the age of 17, Jamie set his goals high. Taking his Niche residency to every corner of the world and exploiting his larger than life persona, Jamie Duggan is a name synonymous with the bass music scene. PierJam attendees can expect a highly energetic bass set filled with the naughtiest of drops to get them moving.
FooR come next on the bill for the Terrace Stage, the DJ and MC duo are currently taking the bass music scene by storm and are well known for their lively stage presence that gets the crowd going wild every single time.
NANCIE completes the lineup for the Terrace Stage. NANCIE's style has evolved into its own unique flavour, taking inspiration from house, bass and tech to create a fusion taste that has become her signature sound. We can't wait to welcome her to the Pier!
We are also welcoming back our favourite PierJam resident DJ's to really get you into the swing of things. Taking to the decks will be Matt Thiss, Mark Johnstone, Mike Reevey, Mat Canning, Michael North, Greig Gardiner, Cameron Lees, Nathan Rostron and Tim McEvoy. We will also be welcoming the Symposium DJ's – hailing from Blackburn.
Featuring two outdoor stages and two indoor arenas at the stunning setting of Blackpool's
North Pier, the outside atmosphere and sea view backdrop of the iconic venue creates
a special kind of clubbing vibe and as the final instalment of their 5th birthday celebrations, organisers will be pulling out all the stops so fans can expect PierJam 2019 to go out with a
bang!
Tickets are currently on sale and can be purchased from www.pierjam.com
VIP Tickets are also available including fast track q-jump entry plus access to the VIP
area with its own private bar & toilets.
EVENT INFORMATION:
PierJam 2019 Closing Party.
Celebrating 5 years of PierJam
Saturday 28th September 2019, 2pm – 11pm
BlackPool North Pier
Sunset Stage:
MK
DJ EZ
FERRECK DAWN
NIGHTLAPSE
TAYPE DECK
CDC
Terrace Stage
JAMIE DUGGAN
FOOR
NANCIE
Over 18s Only (ID required) / Tickets start from £20 + BF available from www.pierjam.com