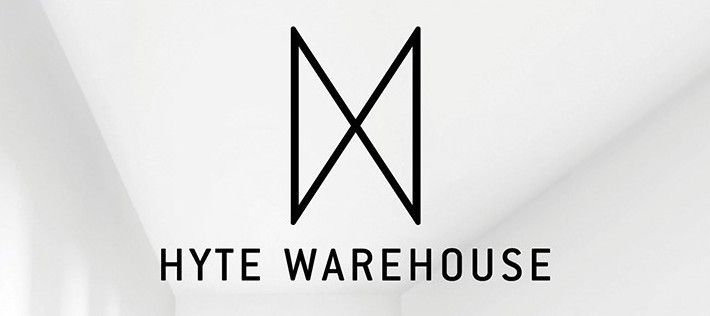 HYTE announces four Warehouse Parties for ADE 2014
HYTE effortlessly segues into Autumn with an impressive run of four special events at ADE 2014. Taking place at the Elementenstraat Warehouse and running from Thursday 16th through to Sunday 19th October, HYTE has put together four events that not only host the crème of the electronic music talent, but that also span the breadth of what the house and techno spectrum has to offer. The likes of Laurent Garnier, Loco Dice, Ricardo Villalobos, Chris Liebing, Maetrik, Raresh, Rødhåd, and
Ten Walls will on be on hand at over the course of the run of events.
16th October – Welcome To The Future
As would be expected of one of Holland's premier electronic music festivals, Welcome To The Future delivers a line-­‐up of epic proportions.
Headlining the party is none other than Laurent Garnier. Laurent is one of the most revered artists in electronic music and needs no introduction with over 25 years of experience in moving dance floors.
Next up on the bill is Maetrik, who you may also know as his alter ego Maceo Plex. Maetrik's incredible rise has been well documented and his unique brand of tough techno and hard-­‐hitting house has propelled him to the top.
Newcomer Recondite will also be playing live on the night. With a critically acclaimed album on Ghostly International, plus EP releases on Hotflush, Plangent and Innervisions, Recondite is responsible one of the most talked about live performances that is not to be missed.
French techno pioneer Scan X is also set to perform live on the night. With a career stretching as far back as 1993, Scan X has an enviable CV and has perfected his unique live show over the years. Completing the bill in perfect fashion is Trouw resident Nuno Dos Santos.

17th October – Ricardo Villalobos & Friends
HYTE is extremely proud to welcome the underground's most infamous outsider Ricardo Villalobos for his Ricardo Villalobos & Friends party. One of the most singularly unique artists to emerge in recent times, with an unrivalled ability to take listeners on weird and wonderfully brilliant journeys, expect the unexpected from one of the scenes most celebrated selectors.
Romanian Raresh who is one third of the much lauded [a:rpia:r] label will join Ricardo & friends on the night, delivering his distinctive brand of leftfield house and techno.
Perlon co-founder Zip is also set to make a special appearance. A DJ's DJ in the truest sense of the word, Zip's transcendent DJ sets are something to behold. Do not miss this rare opportunity to hear him play on the same bill as Ricardo it is a recipe for a night of musical magic.
Dutch icon Steve Rachmad will also perform on the night. With a production career going back as far as 1995, Steve is a Dutch techno veteran and a firm favourite of the ADE faithful.
Fumiya Tanaka is the final friend to play this event. Hailing from Japan, Fumiya shares the same musical principles the others on the bill with and we are extremely excited to witness his engrossing style of minimal house and techno live.

Saturday 18th October – CLR Presents Chris Liebing
HYTE Warehouse continues it's sensational ADE programming on Saturday 18th October with CLR presents Chris Liebing. Founded in 1999, CLR is one of techno's seminal labels and we are extremely pleased to welcome the driving force and founder Chris Liebing.
Joining him on the night is man of the moment Rødhåd. The Berlin jock has risen through the ranks of the techno elite and at this moment in time is arguably techno's most in form DJ. With a style that is always deep, powerful and melancholic -­‐ from dubtechno to techno and back to house, this is the perfect opportunity to see Rødhåd at the top of his game.
Also joining Chris and Rødhåd is British born and Berlin based DJ Tommy Four Seven. Tommy has a long relationship with CLR and is one of the core artists in the labels roster -­‐ thus the perfect addition to the party.
CLR also brings UK talent Rebekah over to Amsterdam for this party. A relative newcomer to the CLR family, Rebekah has quickly settled in, impressing those within the scene with her dynamic DJ sets – a taste of which can be seen on CLR's 2013 compilation 'Reconnected 03' which she recently mixed. Last but not least is versatile Frankfurt native Monoloc who rounds off this techno spectacular.

Sunday 19th October – Loco Dice presents USED + ABUSED
For the final party at the HYTE Elementenstraat Warehouse, Loco Dice brings the latest installment of his beloved Used + Abused party for the first time to ADE.
As figurehead of Desolat Records and one of Ibiza's most successful DJs, Loco Dice has been at the forefront of house and techno over the last decade. With an unrivalled command over the dance-­‐floor Loco Dice is sure to kick things off in grand style.
Innervisions main man Henrik Schwarz will also be performing live on the night.
Famous for creating rich musical tapestries and captivating crowds the world over, Henrik's live show has never been more in demand and we greatly anticipate how it will sound in the stunning surroundings of the HYTE Warehouse.
Following on in a similar vein, Loco Dice has invited another live performer, Ten Walls, to play. Ten Walls shot to fame with arguably the biggest track of 2013, the inescapable 'Gotham'. Since then Ten Walls has gone from strength to strength having developed a truly formidable live show.
Desolat regulars Robert Dietz and Benny Rodrigues have also been called upon to come down and spin records on the night. Having performed at countless Desolat parties in the past they can be relied upon to provide the perfect soundtrack to dance away to. Finally, Rotterdam's famed Toffler resident Jeff Moore is also set to showcase why he is seen as one of the fastest rising talents in the scene.

LISTINGS INFO:
Club Night/ Dates:
16th October – Welcome To The Future
Laurent Garnier, Maetrik, Recondite live, Scan X live, Nuno Dos Santos. Room two hosted by Sekoia ,
Chymera, Tsepo, Florinsz Janvier, Dennis Williams

17th October – Ricardo Villalobos & Friends
Ricardo Villalobos, Raresh, Zip, Steve Rachmad, Fumiya Tanaka. Room two hosted by VBX, Terje
Bakke, Makcim, Carlos Valdes

Saturday 18th October – CLR Presents Chris Liebing
Chris Liebing, Rødhåd, Tommy Four Seven, Rebekah, Monoloc. Room two hosted by Format Records, Flug, JSSL, Doka

Sunday 19th October – Loco Dice presents USED + ABUSED
Loco Dice, Henrik Schwarz live, Ten Walls live , Robert Dietz, Benny Rodrigues, Jeff Moore. Room two hosted by Olivier Weiter, Olivier Weiter, Bram Fidder Venue: Elementenstraat Warehouse, Elementenstraat 25, Amsterdam.

Door Times: TBA
Admission Prices: www.hyte.net/ade

Web: www.hyte.net/ade