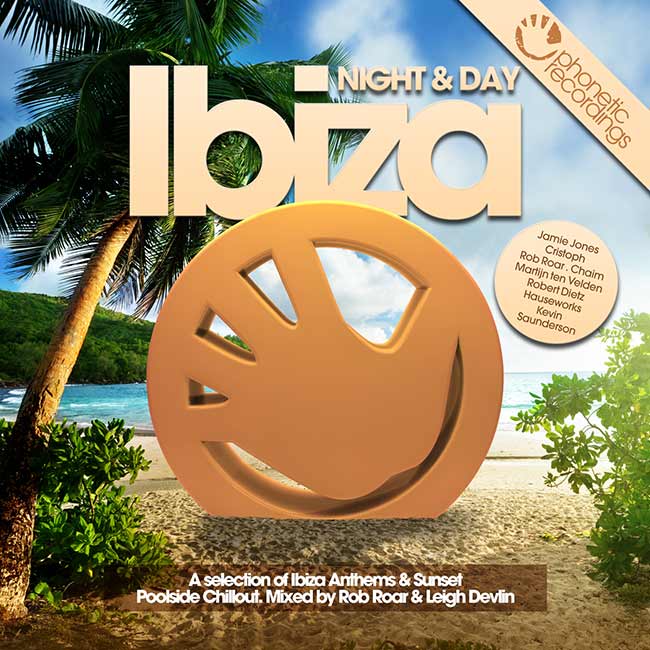 Rob Roar Presents - Ibiza Night and Day
Hot off the back of 'the best Ibiza album of 2014' as voted by DMC, Phonetic Recordings proudly present the brand new Ibiza Night & Day.
Featuring Jamie Jones, Cristoph, Robert Dietz, POPOF, Chaim, Kevin Saunderson, Martijn ten Velden, Rob Roar, Rodriguez Jr., The Slacksons, Elevator Suite, Childs & Moore and many more.
A selection of the finest tunes making waves on the white island. mixed seamlessly by Phonetic CEO Rob Roar and Leigh Devlin of Minus Blue fame.
Rob Roar has a pretty impressive track record when it comes to big Ibiza hits. As a producer, he holds the record for the most Ibiza No.1 hit records of the Summer under his Max Linen guise. He has performed Flashback and Soulshaker at closing of We Love…Space and Manumission at Privilege and MTV.
As a DJ, Rob earnt his stripes growing up on the Island and been luck enough to play pretty much every super-club. Headlining the legendary Sunset Terraza Arena for We Love…Space, Manumission at both Privilege and Amnesia, Clockwork at Es Paradise, Pacha, Mambo, Bora Bora and Eden for Judgement Sundays.
Leigh Devlin came to Phonetic's attention when we heard one of the best chill-out mixes we've ever heard. Since that point, Leigh has ben responsible for mixing all our day albums and in turn, has helped establish the Phonetic Ibiza Night & Day series as one of the best albums around.
Setting things up nicely for those chilled, around the pool, moments is the Day mix. Livening things up with the night album gearing you up for those big nights out.
IBIZA NIGHT (MIXED BY ROB ROAR) : MIX 1
1. Rodriguez Jr. – Persistence Of Vision (Original Mix)
2. Stolen Cargo – Full Moon (Original Mix)
3. James The Cat – The Jam Is Off (Dmarco Remix)
4. Yoga Soul Ft. Angelique Bianca – Never Look Down (Kastis Torrau Remix)
5. Klash Rivera – Be With Me (Original Mix)
6. Rob Roar – Deviant (Rob's 'Terrace Attack' Mix)
7. Martijn ten Velden – I Wish You Would (MTV's Revisited Mix)
8. Rob Roar – Crack Cadillac (Surge Remix)
9. Rob Roar – Deviant (Rob's 'Acid Flashback' Mix)
10. Cristoph – Walkout (Original Mix)
11. POPOF feat. Arno Joey J – Words Gone (Jamie Jones Remix)
12. Rob Made – Its Like That (Original Mix)
13. The Miners & Renato Reis – To The Top (Original Mix)
14. Monrabeatz & Nobad MOJO – Alive (Boogie Matters Remix)
15. Mass Digital – The Way You Talk (Original Mix)
16. Mass Digital – Pump Up The Volume (Original Mix)
17. DASCO Ft. Crystal Monee – Strike Me Down (Martijn ten Velden Mix)
18. DJ Diass – Get It On (Original Mix)
19. Hauswerks – Ghetto Haus (Original Mix)
20. Gene Farris – Dreams (Original Mix)
21. Robert Dietz Ft. Eddie Fowlkes – Turn Around (Original Mix)
22. Chaim – Cosmology (Original Mix)
23. G Club Presents Banda Sonora – Guitarra G (Martijn ten Velden Remix)
24. Kevin Saunderson feat. Inner City – Pennies From Heaven (The Night Remix)
IBIZA DAY (MIXED BY LEIGH DEVLIN) MIX 2 – POOLSIDE AND SUNSET
1. Developing Rhythm & Werner Niedermeier – Worthet
2. Childs & Moore – Pat Chadderton
3. Childs & Moore – The Department Store
4. Elevator Suite feat Celestine – You Don't Know Me
5. Nada – Pink Emergency
6. MinusBlue – Ocean Sky (Extended mix)
7. The Slacksons – Eastern Bloc (Latin Mix)
8. The Slacksons – Come Live With Me
9. The Slacksons – When It's Your Time (Original mix)
10. The Slacksons – When It's Your Time (Yam Who rework)
11. Elevator Suite – Soul Heaven feat Alys Thomas (House Mix)
12. Childs & Moore ft. Celestine – Flying High
13. Childs & Moore – Body Soul
14. Childs & Moore – Disregard
15. Childs & Moore feat. Jay – Waiting For The Sun (Dub Mix)
16. Childsey – Sway
17. Calm Drama – First Light
18. Calm Drama – If They Only Knew