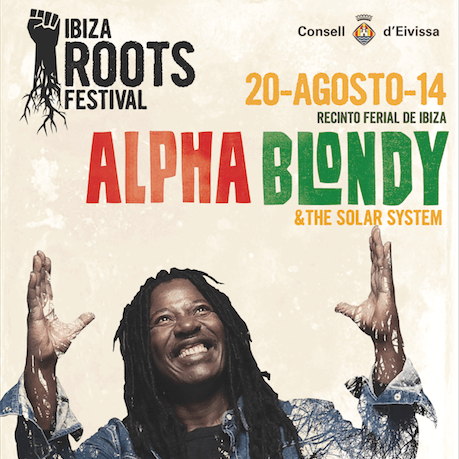 IBIZA ROOTS FESTIVAL line up revealed
August 20th: A historic day for Ibiza. Following the memorable visit of Bob Marley in 1978, and having experienced many transformations since, Ibiza has the great pleasure this summer of having the legendary Alpha Blondy, greatest icon of african Reggae of all time. This historical event that Ibiza Roots Festival confirms for their second festival date, will be August 20th. Alpha Blondy will be accompanied by the multiracial band, The Solar System
The Ivorian star has been preforming at the most important festivals around the world for more than 30 years, recorded 17 albums and is recognized as one of the most important living reggae artist on the planet. His songs became classics over the years such as 'Brigadier', 'Sabari', 'Cocody Rock', 'Jerusalem', 'Apartheid is Nazism' and 'Masada', among many others. He will always be an artist who is legendary, despite the trends and cliches. In every album his origin is kept alive.
He is also a Peace Ambassador for the United Nations and his unique African style offers a reggae sound that creates a series of fusions that contribute to the World Music genre.
Gadjo (Global Gypsy Collective, Barcelona)
They come from Gadjistan and chose Barcelona as the place where they would open their suitcases and air their instruments. Seven musicians bound by their Gadjistani culture, a rich and festive culture with captivating rhythms and funny dances, energetic, theatrical melodies and a mish-mash of languages. Gadjo have toured extensively through Europe, enhancing their musical mayhem as they go, from gypsy-cumbia, balkanic-ska to reggae-swing and surf tango. Sometimes they can appear playing an intimate acoustic set in the market square or under the lights of a festival stage, but wherever they are, expect the dust to fly as the music kidnaps your heart and lifts your feet into an unstoppable dance.
El Rostro de la Medusa (Electro-World, Ibiza)
El Rostro de la Medusa was born in Andorra in 2006 as an experimental project which combined electronic music with analogical and traditional instruments. In that same year, the band moved to Ibiza where they recorded their first album 'Balafia'.
Their music is the common work of artists with different training and interests. They have been experimenting with diverse genres and have succeeded in creating their own powerful style of psychedelic elements.
Papson Sylla (Afro Dance, Ivory Coast)
As a child he was nicknamed the "father of sound" as he ran daily in search for the sound of his djembe. Today, dancer and choreographer Papson Sylla is a teacher in Paris and the Centre Momboye et Brillantine Smoking Center, in which he has his own company, Compagnie Papson that combines traditional African contemporary language gestures, accompanied by important live songs of the griots and drummer. His style is precise and delicate, in a unique fusion of different traditional African dances.
Wontanara (Afro-Percussion, Ibiza)
Led by Johnny Trama, a percussionist who lives in Ibiza, Wontara is the core group of African percussion and African rhythms that includes dance as another method of expression.
Alpha Blondy is an unforgettable act, the heart of Ibiza brings you an exceptional concert with the best international reggae, a festival that will also include performances of theatre, dance, visual arts and other artists, as well as scenery and ambience of unique characteristics. Don't miss out on itŠ advance tickets now on sale!

Tickets for IBIZA ROOTS FESTIVAL August 20th on Sale:
Online:
www.ibizarootsfestival.com
www.facebook.com/IbizaRootsFestival
Ibiza: Delta Discos, Savia / Puerto : Closer (al lado de Burger King, Puerto) / Santa Eulalia: Disquería Holiday y Guaraná / San Carlos : Las Dalias / San José: Es Racó Verd / San Jordi: Can Jordi / Santa Gertrudis: Musset / San Antonio: Tatto Mystic (ex Inem)