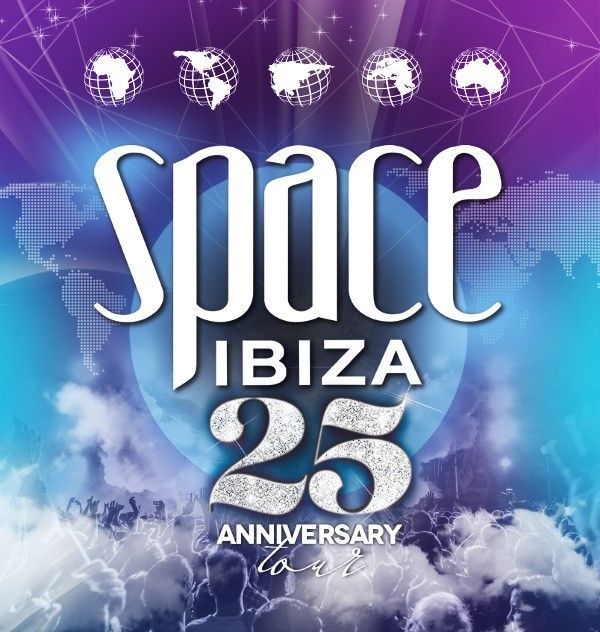 SPACE IBIZA LAUNCHES ITS 25TH ANNIVERSARY WORLD TOUR
Space Ibiza, the most awarded club in the world, has many things to commemorate in 2014. The Platja d'en Bossa-born dream celebrates its 25th anniversary at the very best moment of its history: proof of that is the club being chosen the best in the world at the IDMA Awards and by the renowned DJ Mag and Vicious magazines. In order to share its pride with the whole planet, Space Ibiza will organize a tour which will bring both the spirit and the best music from Ibiza to the four corners of the world.
Space Ibiza will export its essence to extraordinary places such as Moscow (Russia), Johannesburg (South Africa), Guatemala (Guatemala), Jakarta (Indonesia), Dubai (United Arab Emirates), Cologne (Germany), Munich (Germany), and many others still to be announced. The tour will visit 25 cities, one per year of history of the Platja d'en Bossa club.
SPACE IBIZA
A MATCHLESS PARTY FOR A UNIQUE ANNIVERSARY
Space Ibiza celebrated its 25 years in a massive event which gathered more than 10.000 souls in the Platja d'en Bossa club. Space organized a first-class party with cutting-edge technology to commemorate its silver jubilee: an event with electronic music as the main star which did not only celebrate the club's history, but also became the kick-off of a new global tour designed to bring Space Ibiza's happiness to the four corners of the world.
We are proud to invite you to remember the best moments of the unforgettable 25th Anniversary party with the official aftermovie: