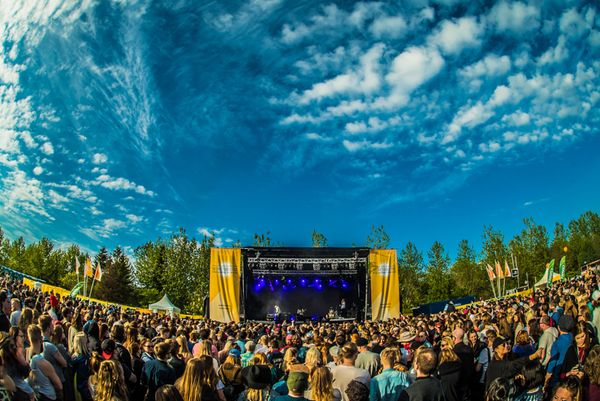 Iceland's Secret Solstice Festival Adds Extra Day with Opening Ceremony Ft. Chaka Khan
With the fourth edition of Secret Solstice shaping up to be one to remember this summer solstice weekend, June 16-18, 2017 in Reykjavík, Iceland, organizers have announced a special bonus for ticket holders in the form of an opening ceremony with some truly formidable guests. Extending the festivities, ten-time GRAMMY winner and Queen of Funk, Chaka Khan will be joined by Icelandic acts SSSóland Fox Train Safari for this extraordinary event on Thursday, June 15th, 2017, the day before the full festival was scheduled to begin.
"In particular, we're thrilled to have legendary local super act SSSól attending our opening ceremony, as part of their final tour marking the band's 30th anniversary," said Secret Solstice Founder Fred Olafsson when speaking on the announcement.
In addition, as has become something of a tradition for Secret Solstice since 2015, an unannounced secret guest will also be scheduled to play the festival's 2017 opening ceremony. While the act won't likely be revealed until the day of the ceremony, the previous two years has seen Busta Rhymes and Sister Sledge filling this slot for the event.
Finally, Native American and Basque Gypsy artist JoaqoPelli, hailing from the USA, will open and bless the downtown Reykjavík event site before festivities begin, in what will be a magical way to kick off Secret Solstice's 2017 event.
With an already stellar lineup including the Foo Fighters, The Prodigy, Rick Ross, Big Sean, Anderson .Paak, and many more, Secret Solstice's opening ceremony on Thursday, June 15th, will come at no extra for existing ticket holders (including VIP and other higher level tickets), or those purchasing a full festival ticket in the future. However, for those wanting just to attend just this opening ceremony event, a super-limited number of 2,000 tickets will be available to the public. Going on sale at 11am GMT on April 13th, guests can purchase tickets to jive with Chaka Khan and the rest of the announced acts for only $52 USD (approx. £42/€49/5,900kr) while they last via Eventbrite.

For those wanting to go for the entire event, tickets are available via exclusive ticketing partners Eventbrite and Tix. Travel packages including full international flight, accommodation, and partner festival passes are available in limited numbers from the event's airline partner WOW air, and other bespoke travel packages available via Festicket and Festlane. WOW air travel packages currently depart from these North American cities – Boston, Los Angeles, Montreal, Miami, Newark, San Francisco, and Toronto.
Secret Solstice 2017 Lineup
Foo Fighters
The Prodigy
Rick Ross
Big Sean
Chaka Khan
Richard Ashcroft
Anderson .Paak & The Free Nationals
Young M.A
Rhye
Seth Troxler
Unknown Mortal Orchestra
Pharoahe Monch
Roots Manuva
Foreign Beggars
Kerri Chandler
Dubfire
Ata Kak
Dusky
Youngr
Högni
Kiasmos
Gísli Pálmi
Úlfur Úlfur
Soul Clap
John Acquaviva
Wolf + Lamb
The Black Madonna
The Vintage Caravan
Amabadama
Emmsjé Gauti
Thugfucker
Lane 8
Tania Vulcano
Left Brain
Artwork
Princess Nokia
Tay Grin
Gibbs Collective
Maxxi Soundsystem
Droog
Yotto
SHADED
Cubicolor
Ocean Wisdom
Novelist
Cymande
Ragga Gröndal
Jam Baxter
Nick Monaco
Soffía Björg
DJ RD
Klose One
BenSol
Vaginaboys
Shades of Reykjavík
Tiny
GKR
Aron Can
Dave
Jimmy Maheras
Glacier Mafia
DJ Sammy B-Side
Þórunn Antonía
Lord Pusswhip
Rix
Krysko & Greg Lord
Kinda Super Disco
Alexander Jarl
Fræbbblarnir
Valby Bræður
Teitur Magnússon
Védís Hervör
French Toast
Hildur
KSF
Alvia Islandia
Kristmundur Axel
Bootlegs
Since When
SXSXSX
JoaqoPelli
Fox Train Safari
Kilo
Captain Syrup
Marteinn
KrBear
Skrattar
Mogesen
Rob Shields
AFK
Seint
Holy Hrafn
M e g e n
DJ Baby Mama Drama
+ More to be announced!
Stay connected with Secret Solstice!
www.secretsolstice.is
www.Facebook.com/secretsolstice
www.Instagram.com/secretsolstice
www.Twitter.com/secret_solstice
www.YouTube.com/SecretSolsticeHQ
SNAPCHAT: SecretSolstice