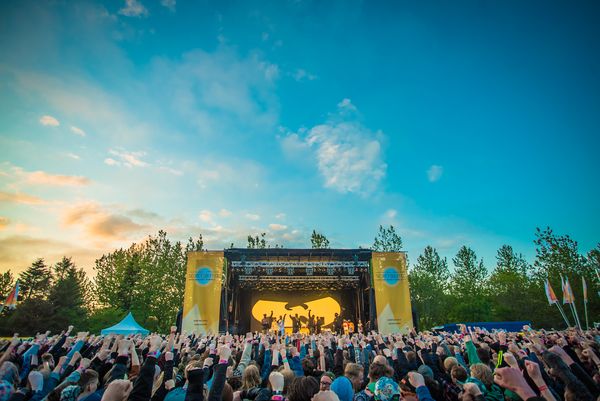 Iceland's Secret Solstice Festival Announces Final Lineup
Iceland's Secret Solstice has just dropped their fifth and final lineup announcement for 2016, as well as announcing the day-by-day schedule for artists performing over the summer solstice from June 16th-19th. The recent announcement takes the third-year festival's lineup to a total of 170 artists.

With a massive range of international and Icelandic artists announced for 2016, including Radiohead, Die Antwoord, Deftones, and many more, Secret Solstice has expanded their lineup with the addition of 42 new names, including AD/D, Serge Devant, Osunlade, Pavan (of Foreign Beggars), Paul Brown, and Sinistarr.

Also announced is the day-by-day lineup four the event's four days in Reykjavík. Radiohead is scheduled to play the festival on Friday, June 17th, during Iceland's national holiday celebrations. Deftones have been billed to headline Saturday, June 18th with South African dance-rap act Die Antwoord, as well as Iceland's Of Monsters And Men featuring on the event's closing festivities on Sunday, June 19th.

Secret Solstice is also following up on the tradition it started in 2015, with a secret headline act scheduled for the opening day of the event on June 16th. While it's still anyone's guess who it will be this year, the festival surprised their patrons last year with the inimitable Busta Rhymes filling this slot.

Secret Solstice made headlines recently for creating the world's most expensive festival ticket at $1 million USD, which has been one of the most written about festival news stories of the year so far. On top of this, the event has been certified CarbonNeutral®, as one of the planet's only major carbon neutral festivals in 2016, largely through their heavy use of 100% renewable geothermal energy.

The event also hosts spectacular side events, including the world's only party inside a 10,000 year old glacier and concert inside a volcano's magma chamber, along with fan favorites including a geothermal pool party and midnight sun boat party. Secret Solstice has kept at least one more of these up its sleeve, with all side parties to be fully announced over the coming weeks.

The full lineup for Secret Solstice 2016 can be found below. Full festival passes covering the entire four days of the event start at 24,900kr (approx. £137/$200USD/€177) and can be purchased from the official Secret Solstice website.
Secret Solstice 4 Day Passes, VIP, Camping and special side event tickets are on sale now at secretsolstice.is, while supplies last!
Stay connected with Secret Solstice!
secretsolstice.is
fb.com/secretsolstice
instagram.com/secretsolstice
twitter.com/secret_solstice
youtube.com/SecretSolsticeHQ
SNAPCHAT: SecretSolstice