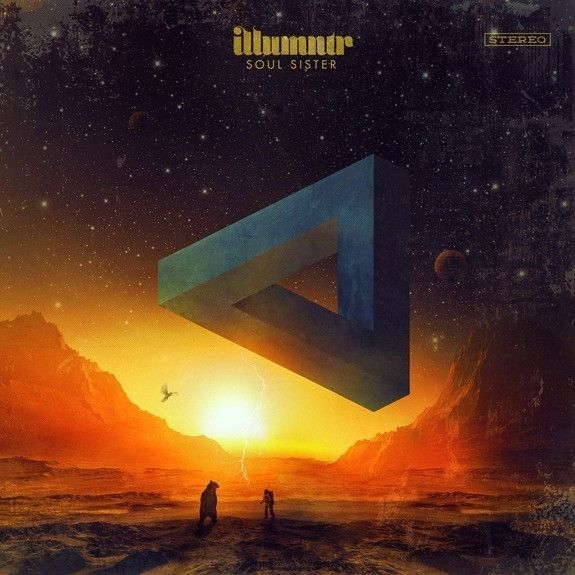 ILLUMNTR – SOUL SISTER
Describing their sound as "deep space gospel", Brooklyn-based duo Illumntr provide Gramatik's funk infused label Lowtemp with future sounds like nothing you've heard before. A soulful collaboration between Bryn Austin Bellomy (singer of super group EXMAG), and guitarist John Russell, Illumntr arrive with their long awaited album release 'Soul Sister' and most unique offering to date. Grab it via Lowtemp now as a free download.

Having already teased their fans with releases such as 'Beyond Say', 'Gulf Hymn', 'Tangled with Bear', and their latest single 'Dark Days', the remaining seven tracks only continue the exceptional production we've become accustomed to. Following a lost astronaut, his cosmic twin and a bear, the 11 track package tells the tale of loneliness and belonging – both tragic and hopeful – across each individual cut. 'Listen Up Brother Man' begins the album and tale with a high-energy rock frenzy featuring heavy electric guitar riffs and rigid percussive bass lines that forces the listener in to submission. Taking you through the journey and further delving into the psychedelic album, 'Little Ghost' creates a wall of sound with its dub infused breakdowns and high pitch modulated vocals that consume the entirety of the track. Ever changing and constantly developing, the remaining runtime keeps the audience on their toes with an LP of genre defining quality.
'Soul Sister' stands alone as one of the most poignant albums to be released on Lowtemp, filled with breaks of funky and sultry rhythms, groovy melodies, and a forward-driven perception. Be sure to follow their bright future across Facebook and Twitter, and stay up to date on any surprises that the guys may have in store!