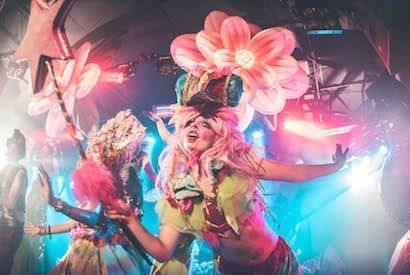 Immersive Club Night 'Foreverland' Announces Headliners for Tour Dates
The visually stunning club night Foreverland has announced that former Radio 1 Xtra DJ and king of mashups, Jaguar Skills, will headline three further dates on its 'Enchanted Forest Rave' tour. The turntablist will now play at Digital in Newcastle on Friday 15th February, the O2 Ritz in Manchester on Saturday 23rd February, and the O2 Academy in Glasgow on 8th March, where clubbers can catch him spinning a genre-spanning and technically on-point headline set. This marks the final lineup announcement for Foreverland's 16-date UK tour – a tour that transforms each venue into an enchanted forest with thematic production, outrageous characters and forward-thinking house, bass, and garage, to create a unique night of immersive raving. Tickets are now on sale from £14 + booking fee from www.theforeverland.com.

Foreverland is one mini-festival environment. Since conception in 2015, it's grown so much in popularity that its hosted stages at Bestival and El Dorado Festival, and the last tour alone attracted 24,000 clubbers across 18 cities.

Its latest theme, the 'Enchanted Forest Rave', pushes the envelope even for a brand known for its wild taste in production. A custom-built stage-set resembling a crumbling, abandoned temple, laden with foliage will be the focal point at each venue where plants and flowers will hang from the ceilings as walkabout characters and mythical beast puppeteers roam the dancefloor. L.E.D and pyrotechnic displays, inflatable creatures, and dry ice and confetti cannons transport crowds into another world, and if that's not enough, face and body painting experts will be on hand to create eye-popping designs throughout the night.
The multi-genre Jaguar Skills is a firm favourite with Foreverland crowds having already headlined three dates on the tour since October 2018. He is a hugely respected producer and DJ whose dexterity in the booth puts him in a class of one. He will cut up and chop tunes with logic defying skill and bring real energy to the dancefloors when he re-joins the tour in Newcastle (15 Feb) and Manchester (23 Feb).
Jaguar Skills will be joined by MC Tyrone better known as the hype man fronting the garage collective, FooR. He'll also appear across the full tour bringing his infectious energy and chants to the proceedings and even getting stuck in amongst the crowds on the dancefloor; a true talent.

No Foreverland party would be complete without its resident DJs, Taim, Bassic and Bitr8. They are the un-sung heroes of the dancefloor with credibility in their own rights, who get the crowds ripe for the headline sets and beyond with a mixture of all things electronic, bassline, garage, tech house and disco.

The Enchanted Forest Rave tour is fully under way, having already visited nine cities from Leicester to Leeds and Birmingham to Bournemouth. Just seven dates remain including a huge New Year's Eve party at The Clapham Grand with MOBO award-winning duo DJ Luck & MC Neat, two dates with one of bassline's fasting rising stars, Skepsis (1st Feb in Lincoln and 2nd Feb in Torquay), and at Switch in Southampton on 9th February, garage pioneers Artful Dodger will star alongside garage royalty DJ Q. For a full list of dates and lineups, visit Foreverland on Facebook at www.facebook.com/theforeverland.
TOUR DATES 2018 / 2019
6th October Oxford, O2 Academy – Jaguar Skills
13th October Leicester, Athena – Jaguar Skills
19th October Leeds, Church – Jaguar Skills
3rd November Cardiff, Tramshed – Artful Dodger
9th November Birmingham, The Mill – FooR
10th November Bournemouth, The Old Fire Station – Nathan Dawe
17th November Edinburgh, ATIK – FooR
23rd November Liverpool, O2 Academy – Nathan Dawe
24th November Bristol, O2 Academy – Nathan Dawe + FooR
31st December London The Grand – DJ Luck & MC Neat
1st February Lincoln, Engine Shed – Skepsis
2nd February Torquay, The Foundry – Skepsis
9th February Southampton, Switch – DJ Q & Artful Dodger
15th February Newcastle, Digital – Jaguar Skills
23rd February Manchester, O2 Ritz – Jaguar Skills
8th March Glasgow, O2 Academy – Jaguar Skills

TICKETS
Super early bird tickets – £11.50 + bf. Prices rise thereafter. To purchase visit www.theforeverland.com

LINKS
www.theforeverland.com
www.facebook.com/theforeverland
www.twitter.com/theforeverland
www.instagram.com/theforeverland
www.snapchat.com/add/theforeverland