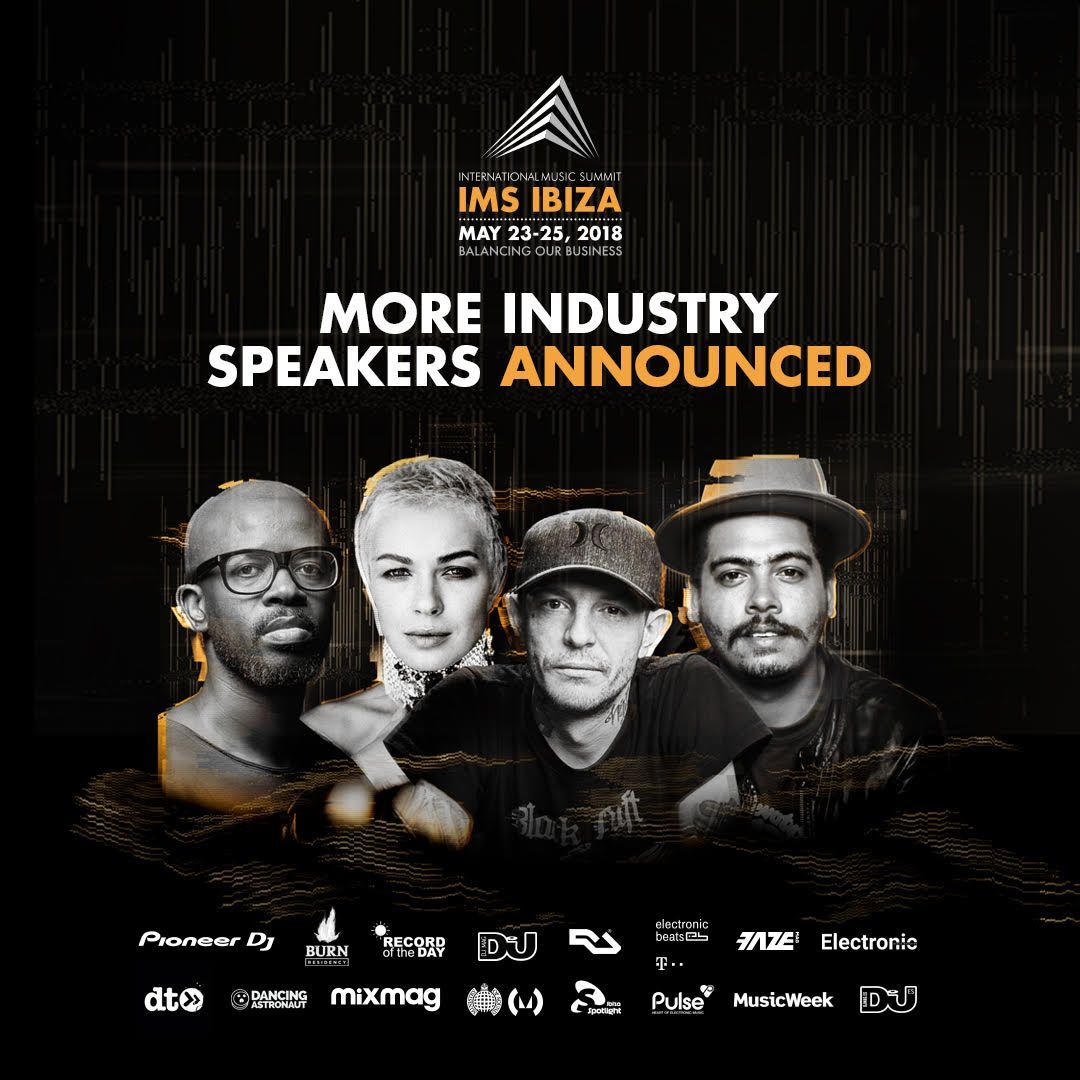 IMS announces more industry speakers!
The 11th edition of IMS Ibiza, in association with Pioneer DJ, assembles the most influential figures in the industry, including artistsdeadmau5, Seth Troxler, Nastia and Bedouin; the management teams behind Solomun, Armin Van Buuren and Black Coffee; agents from Coda and WME; speakers from the legendary events Burning Man, Sónar and BPM plus Scorpios Mykonos; A&R heads from XL Recordings and Toolroom; and leading visionaries on Blockchain, Drug Testing, Sexual Harassment and Mental Health.
International Music Summit (IMS), the premier global platform for business, culture and education within the electronic music industry, returns to the global dance music capital in May 2018 for its annual three-day educational, inspirational and motivational thought-leadership forum. Aimed at industry leaders and artists from the international electronic music sector, it throws a spotlight onto the complex challenges and emerging opportunities that really matter in today's ever evolving industry.
Following the success of the 10th Anniversary event in 2017, IMS today announce 69 new speakers for its summit on May 23-25th 2018. The platform, previously described by media as"the TED of music conferences", continues to be a catalyst for developing and launching initiatives that result in positive change within the electronic music industry.
Electronic titan deadmau5 (Artist, USA) and multi-award-winning DJ and producer Black Coffee(Artist, South Africa) will join the summit, discussing their own unique and inspiring paths to success, their thoughts on the industry and sharing what it takes to build and sustain a successful global career.
IN THE STUDIO…will bring deadmau5 live from his studio in Canada for what's set to be a revealing session lifting the lid on his production secrets. Joining him at the summit during the week will be Chris Johnson (mau5trap, Label COO, USA), head of the label that sparked the careers of Skrillex, Feed Me, REZZ and deadmau5 plus Craig Dimech (AKA Music, Co-Owner/Head of A&R), who will bring further insights from behind the scenes.
IMS Ibiza flies the South African flag with MEET TEAM BLACK COFFEE. From management to agent to Ibiza promoter, IMS Ibiza will present Black Coffee, Lionel Marciano (Black Coffee International Manager, USA) and Amaru Da Costa (Black Coffee, African Manager, South Africa) to discuss his meteoric rise to success, the many challenges he undoubtedly faced and their aspirations for the future. Yann Pissenem (Hï Ibiza/Ushuaïa Ibiza, Owner/Founder/CEO & Artistic Director, France), David Levy (Partner, WME, UK) and Matthew Ligotti (VaynerTalent, Videographer, USA) will complete the line up, adding insight into presenting Black Coffee's recent successful debut season in Ibiza at the newly launched super club Hï Ibiza.
In BLACK ROCK CITY X IBIZA: CULTURAL OPPOSITES OR KINDRED SPIRITS? Dominique Debucquoy-Dodley from Burning Man will lead a discussion exploring and dissecting misrepresentations of the two culture creators, examining their individual ethos and roles as places of freedom and self-expression. The discussion is intended to serve as a mirror held up to both communities to reflect, dispel misconceptions and find shared philosophies. He will be joined by leading underground DJ and Burning Man regular, Seth Troxler (Artist, USA).
Michael Addicott (Pandora, Manager of Curation, USA) and Jonathan Barnes (Pandora, Head of Label Licensing, USA) will reveal the secrets behind getting music heard on the world's powerful music discovery platform and give insight into its unique approach to curation onSEQUENCING THE GENOME: HOW TO GET YOUR MUSIC HEARD ON PANDORA.
The electronic music industry in its current digital form experiences an array of challenges that blockchain technology may have the ability to solve. In recent months a number of start-ups are already targeting the music industry for disruption and with Spotify's recent acquisition of Mediachain, does this signal significant and permanent change or are we simply caught in a state of content creation and consumption? Widely regarded as the best authority on the topic, Benji Rogers (dotBlockchain Media, CEO & Co-Founder, USA) will deliver a Keynote Address onBLOCKCHAIN and later a BLOCKCHAIN 101 – essential viewing for anyone wishing to gain a deeper understanding of this complex subject.
On THE GREAT ANNUAL IBIZA DEBATE, Tamer Malki from Brooklyn-based production & DJ partnership Bedouin will be joined by Paco Osuna (Artist, Spain) and Daniel Schoeps (Solomun Manager, Under My Spell, Germany) who as manager has guided Solomun from a European breakthrough DJ to sell-out shows all over the world. Jessica Capaz (Pacha Group, Artistic Director, Spain), who is at the creative helm of one of the most iconic global clubbing and lifestyle brands Pacha, will also join and speak in public about the direction of the club after its recent refurbishment,
Whilst industry focused, IMS Ibiza continues to be community led in feel; this year spearheading the thought leadership pillar with a KEYNOTE INTERVIEW is Bradley Gunn (Bradley Gunn Raver, UK) arguably Britain's most influential and prolific raver who for the past few years has confronted his personal battle with Asperger's Syndrome by embracing sober clubbing and directed his care-free passion for dancing into an inspirational and ambassadorial role for self-purpose.
Sexual harassment will finally be addressed with a proactive discussion at IMS Ibiza, less talk more action; what can we do, how we can listen, how can we fight it? All questions that Carl Loben (DJ Mag, Editor-in-Chief, UK), Kate Hutchinson (The Guardian, Journalist, UK), Carly Wilford (SISTER Collective, DJ/Presenter & Creator, UK) and others will look to for real positive answers in SEXUAL HARRASSMENT IN DJ CULTURE, presented by leading female platformSHESAID.SO
EMERGING PARTY DESTINATIONS will see Darren James–Thomas (FMLY Agency, Director, UK) share his experience of establishing the talent programme at the newly launched Oasis Festival – Morocco alongside nightlife visionary Thomas Heyne who created the incredibleScorpios in Mykonos, Gustavo Pereira (NEOPOP/BPM Portugal, CEO/Director, Portugal) andMark Newton (Broadwick Live, Director, UK) who has been responsible for leading international festivals Snowbombing and Hideout.
One of the masterminds of today's electronic music scene, Maykel Piron (Armada Music, Co-Founder/CEO, Netherlands), founder of one of the biggest independent dance music labels in the world, will bring his twenty-five years of industry experience to the DIGITAL DEBATE, joining Chris Manning (The Orchard, Senior Director/International Operations, UK) in discussing our ever-changing relationship with the online domain.
ARTIST TAX 101 will provide essential information on wealth management and tax advice fromMaximilien Jazani (Manswell Law Firm, Lawyer, France) responsible for French megastar David Guetta and Thomas St John (Thomas St John, Director, USA) who represents the worlds-highest paid DJ, Calvin Harris.
YOUNG GUNS NETWORK PRESENT DISRUPTORS, NO RULES; Four young entrepreneurs successful in challenging traditional models analyse the ever-changing music business landscape and consider how adaptability and creativity are more crucial than ever to succeed. This exciting panel is comprised of 2017 IMS x Mixmag Visionaries competition winner Mich Mellard (Sync Sync, Founder, UK), Hannan Malik (NOWHERENEAR, Founder, UK), Lauren Pavan (GRM Daily, Chief Operating Officer, UK) and Inder Phull (KRPT, Founder, UK) and will be moderated by Cherie Hu (Billboard/Forbes, Tech Columnist, USA).
Electronic music was built by people doing things on their own terms. From Phuture birthing acid on a TB-303 to London vocalists utilising YouTube to kickstart the UK's rap revolution, a do-it-yourself ethos has always pushed the movement into the future. In MIXMAG'S 5 UNDER 25moderator Jaguar Bingham (Mixmag TV, Presenter, UK) will meet Caroline Simionesu-Marin(A&R Manager, XL Recordings, UK) and other young visionaries who are changing the shape of the electronic music scene.
IMS Ibiza continues to highlight, examine and discuss some of the most important issues facing our industry today. During the GIVE IT AWAY OR MAKE IT PAY panel Mark Lawrence (AFEM: Association for Electronic Music, CEO, UK) will be joined by Danny Howard (BBC Radio 1 DJ, Nothing Else Matters, UK) Jenni Cochrane (AEI, Director of Culture & Partnerships, UK) andSimon Hills (Axtone, Label & Artist Manager, UK) to examine a new approach for making music accessible online, moving away from the traditional DJ-only focused way of release towards multi-platform streaming to guarantee equal and free access to online music.
IMS Ibiza 2018 will bring together representatives from leading agencies, organisations and companies to set the global electronic music agenda and champion new content platforms. Inspiring a new generation is Mike Malak (Coda Agency, Agent, UK) who will present KID Talks (Knowledge, Identity, Discovery), featuring inspirational people in all kinds of careers (and all under the age of 30).
Fiona Measham (Durham University Professor of Criminology/The Loop Director, UK) has for over two decades conducted research exploring changing trends in legal and illegal drugs; the night time economy and the socio-cultural context to consumption, making it her driving mission to help inform partygoers how to enjoy themselves safely. Because knowledge is our best weapon she will join IMS Ibiza to share her research and learnings in THE LOOP: IS DRUG TESTING THE SOLUTION?
With each year come milestones and achievements celebrated by labels, artists and events alike, with 2018 being no exception. Firstly, 25 YEARS OF SÓNAR: SHAPING UNDERGROUND CULTURE, the world-renowned Barcelona festival will be represented by Enric Palau (Sónar Festival, Co-Director, Spain) and Georgia Taglietti (Sónar Festival, Head of Communications, Spain) who will examine its achievements and explain its extraordinary and innovative contribution to the genre.
Joining the celebration with an equally impressive milestone is 25 YEARS OF POSITIVA RECORDS. The pioneering UK major label is known for breaking electronic tracks into the mainstream and the panel will have a special focus on THE CHANGING FACE OF A&R in the last 25 years. Leading this will be the labels leading A&R directors throughout this time – Jason Ellis, Nick Halkes and Dave Lambert.
Hot on the heels with their own impressive anniversary is UK based Toolroom. Now a global brand in dance music it has diversified beyond a traditional record label model into successful arms in radio, events and artist management. Founding brothers Mark Knight (Artist, UK) and Stuart Knight (Toolroom, Managing Director, UK) will share the history of the label, it's strong musical vision and tight artist roster in – 15 YEARS OF TOOLROOM.
IMS Co-Founder, Pete Tong states: "Entering our 11th year, it's vital for IMS Ibiza to assemble the best and brightest minds in the industry to debate the issues that affect us most and to discuss routes to progress and succeed. I'm really proud to announce our latest wave of speakers, who represent all sides of the electronic music industry, from accomplished leaders who bring a wealth of experience through to the new generation who bring fresh ideas and thinking to push our genre forwards. We look forward to welcoming all to IMS Ibiza in May."
IMS Ibiza 2018 New Speakers Announced:
Amaru Da Costa (Black Coffee, African Manger, South Africa)
Andreea Magdalina (SheSaid.so, Founder, USA)
Ashley Howard (PRS For Music, Dance Account Manager, UK)
Bedouin (Tamer Malki) (Artist, USA)
Benji Rogers (dotBlockchain Media, CEO & Co-Founder, USA)
Black Coffee (Artist, South Africa)
Blaise DeAngelo (Remedy State, Co-Founder, USA)
Bradley Gunn (Bradley Gunn Raver, UK)
Carl Loben (DJ Mag, Editor-in-Chief, UK)
Carly Wilford (SISTER Collective, DJ/Presenter & Creator, UK)
Caroline Simionesu-Marin (XL Recordings/New Gen, A&R Manager/Founder, UK)
Cherie Hu (Billboard/Forbes, Tech Columnist, USA)
Chris Johnson (mau5trap, Label COO, USA)
Chris Manning (The Orchard, Senior Director/International Operations, UK)
Craig Dimech (AKA Music, Co-Owner/Head of A&R, USA)
Dan Tait (Pioneer DJ, Editor – DJsounds, UK)
Daniel Schoeps (Solomun Manager, Under My Spell, Germany)
Danny Howard (BBC Radio 1 DJ, Nothing Else Matters, UK)
Darren James-Thomas (FMLY Agency, Director, UK)
Dave Lambert (Positiva, Head of A&R: 1993-1998, UK)
David Levy (WME, Partner, UK)
deadmau5 (Joel Zimmerman) (Artist, USA)
Dominique Debucquoy-Dodley (Burning Man Project, Communications Manager, USA)
Doumi Busturia (Woomoon/Storytellers, Founder, Spain)
Ed Karney (GRADE Management, Director, UK)
Enric Palau (Sónar Festival, Co-Director, Spain)
Fiona Measham (Durham University Professor of Criminology/The Loop Director, UK)
Georgia Taglietti (Sónar Festival, Head of Communications, Spain)
Grego O'Halloran (Hï Ibiza/Ushuaïa Ibiza, Operations Manager, Spain)
Gustavo Pereira (NEOPOP/BPM Portugal, CEO/Director, Portugal)
Hannan Malik (NOWHERENEAR, Founder, UK)
Inder Phull (KRPT, Founder/CEO, UK)
Jaguar Bingham (Mixmag TV, Presenter, UK)
Jason Ellis (Positiva/Virgin Records, A&R Director: 2008-present, UK)
Jason Swamy (NetEase Fever, Co-Founder/Chief Architect, China)
Jay Gregory (Airpusher Collective, Co-Founder & Event Producer, USA)
Jenni Cochrane (AEI Group, Director of Culture & Partnerships, UK)
Jessica Capaz (Pacha Group, Artistic Director, Spain)
John Acquaviva (Plus Eight Equity Partners, Managing Partner, USA)
Jon Rundell (Artist, UK)
Jonathan Barnes (Pandora, Head of Label Licensing, USA)
Kate Hutchinson (The Guardian, Journalist, UK)
Kelly Money (Little Empire Music, Vice President, UK)
La Fleur (Artist, Sweden)
Lauren Pavan (GRM Daily, Chief Operating Officer, UK)
Lionel Marciano (Black Coffee, International Manager, USA)
Mark Knight (Artist, UK)
Mark Lawrence (AFEM: Association for Electronic Music, CEO, UK)
Mark Newton (Broadwick Live, Director, UK)
Matt Riley (AWAL, Senior Director, Creative, UK)
Matthew Ligotti (VaynerTalent, Videographer, USA)
Matthew Stuart (ATC Management, Artist Manager, UK)
Maximilien Jazani (Manswell Law Firm, Lawyer, France)
Maykel Piron (Armada Music, Co-Founder/CEO, Netherlands)
Mich Mellard (Sync Sync, Founder, UK)
Michael Addicott (Pandora, Manager of Curation, USA)
Mike Malak (Coda Agency, Agent, UK)
Nastia (Artist/DJ, Ukraine)
Nick Halkes (Positiva/EMI Dance, Founder/Managing Director:1993-1999, UK)
Paco Osuna (Artist, Spain)
Pete Tong (BBC Radio 1, Broadcaster, UK)
Rado Docheva (Demand Artists, Co-Owner, Italy-Bulgaria)
Seth Troxler (Artist, USA)
Shino Allen (Tsumi, Managing Director, UK)
Simon Hills (Axtone, Label & Artist Manager, UK)
Stuart Knight (Toolroom, Managing Director, UK)
Thomas Heyne (Scorpios Mykonos, Founder, Greece)
Thomas St John (Thomas St John, Director, Los Angeles)
Yann Pissenem (HÏ Ibiza/Ushuaïa Ibiza, Owner/Founder/CEO & Artistic Director, France)