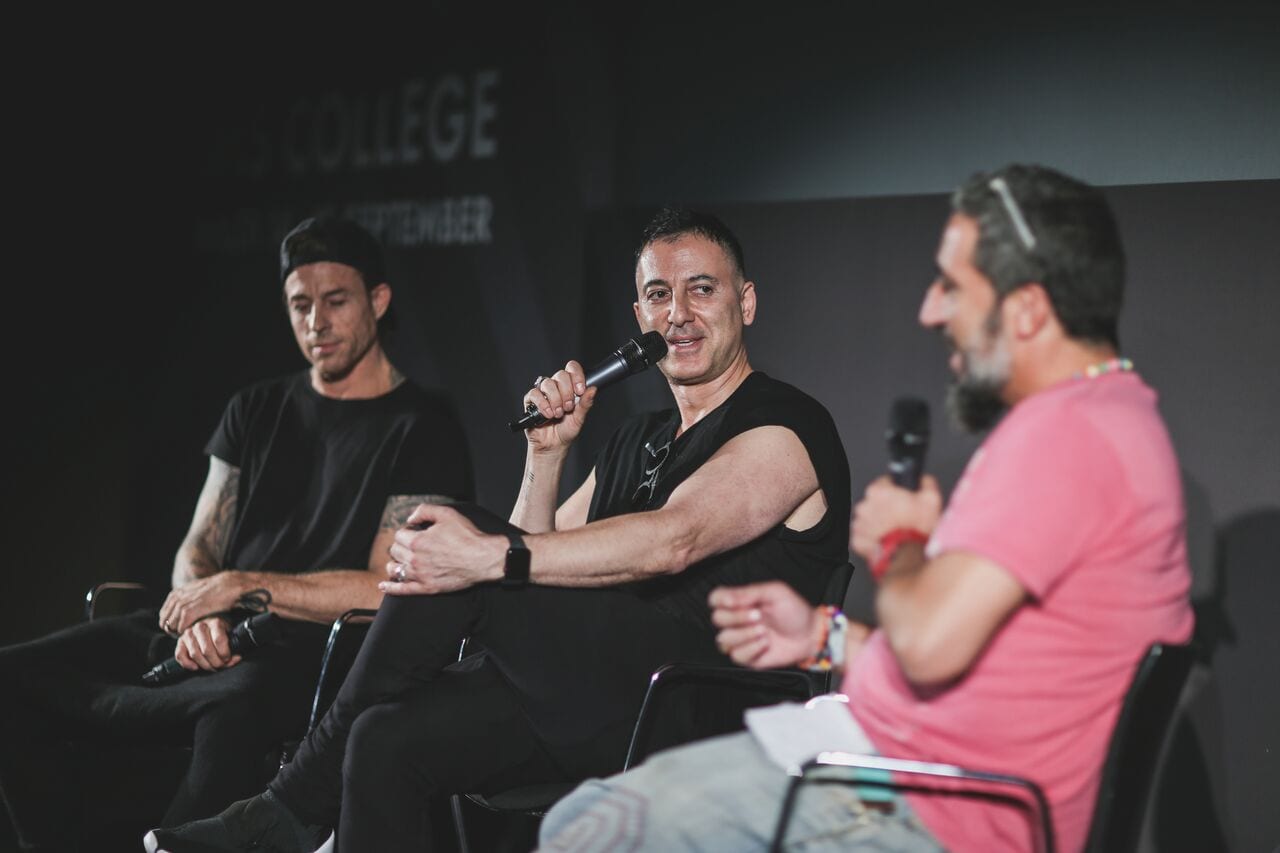 IMS College Malta 2018: September 14-15 Summer Camp Highlights
IMS College Malta 2018: September 14-15 Summer Camp Highlights

A CRASH COURSE IN ELECTRONIC MUSIC
PERFORMANCE – PRODUCTION – PROMOTION- PUBLISHING
LEARN BY DAY – PARTY BY NIGHT

THE THIRD EDITION OF IMS COLLEGE – MALTA EDUCATED & INSPIRED THE NEXT GENERATION OF ELECTRONIC MUSIC INDUSTRY VISIONARIES & CREATIVES OVER A WEEKEND OF DAYTIME LEARNING AND NIGHT TIME PARTIES

A revealing Q&A with Dubfire, representatives from AFEM, Beatport, elrow & Toolroom Academy, production masterclasses from Berklee School of Music & Point Blank Music School and more.
IMS College returned to Malta for a successful third annual summer camp, providing an invaluable experience for the hundreds of delegates who attended from countries across the globe. By day industry thought leaders and artists gave valuable insights on the four key educational pillars of IMS College – Performance, Production, Promotion & Publishing, by night delegates enjoyed special night time events featuring performances from world leading artists.

IMS College – Malta Day 1
The Summer Camp began with an introduction from the IMS Partners and representatives from theAssociation For Electronic Music, who greeted a full auditorium of DJs, producers and emerging industry professionals. They collectively reinforced the core aims of IMS College: to inspire and motivate as well as provide a solid educational foundation.

The opening Keynote Address was an insightful discussion covering the importance of the four educational pillars, with Nacho Marco (Berklee College of Music, Professor, Spain), Mark Lawrence (AFEM/Black Rock Publishing, Advisor/Director, UK), Paul Arnold (Ultra Music Publishing & Records, A&R, UK) and the Mambo Brothers (Artists, Spain) sharing insights and knowledge.

In Mixmag's Future of Dance Music five leading industry professionals joined Jaguar Bingham (Mixmag TV, Presenter, UK) in an engaging discussion on the evolution of the industry according to the next generation currently shaping it. Tobias Oxnam (Netil Radio, Director, UK) discussed the impact of streaming, the challenges of copyright on Facebook and the current knock on effect of numerous streams being taken down, posing the question "where is the next place for our music to exist?" The need for the electronic music scene to further embrace diversity was also examined in depth, with Fred Coneybeare (Keep Hush, Founder, UK) and Freddy Masters (Keep Hush, Co-Founder, UK) noting we've still got a long way to go, we need more women curating line ups and being at the forefront."
The importance of strong management was highlighted on Making Your Mark – How To Stand Out On Your Local Scene, with Manu Gonzalez (Artist, Spain) noting "my mind was in a box, management helped unlock that to take me to the next level." In the same discussion, The Mambo Brothers (Artists Spain) emphasised the need to build your profile on a local level to break through, with locally based talent Carl Bee (Artist, Malta) adding "to get noticed you need to be different from what others are doing, there's a lot of competition being on a small island."

Point Blank Music School hosted two informative and engaging sessions on day one; Ski Oakenfull(Point Blank Music School, Head of Curriculum, UK) presented a detailed track deconstruction masterclass in Ableton Live, breaking down the musical sounds and techniques in Calvin Harris's 'One Kiss'. Tenishia (Artist, Malta) joined Point Blank's DJ Ravine (Point Blank Music School, Content Creator, UK) in a production masterclass, using an unreleased track to illustrate how he works in the studio and his essential tips and tricks.

Publishing 101 lifted the lid on a complex subject that is often overlooked by emerging talent, explaining what it is and why it matters. Paul Arnold (Ultra Music Publishing & Records, A&R, UK) explained "a good publisher is like having a good manager, they can help you grow as an artist." Key takeaways in this essential discussion were the importance of having a publishing deal early to maximise your lifetime royalty income value and the fact that artists can often earn more money from publishing than record sales. Mark Lawrence (AFEM/Black Rock Publishing, Advisor/Director, UK) expanded "a publisher can help inspire the producer to change their track slightly for sync purposes, giving feedback on what can make it more interesting for brands."

The Beatport curated How To Set Up and Run An Independent Record Label bought together guests from Toolroom and Alleanz to map out the processes and challenges behind record label mechanics from conception to content delivery and production. In a landscape where 25,000 new tracks are uploaded to Beatport each week, emerging labels were advised to build a brand, not just a label, stay true to your sound and understand your market, with Jamie Kent (Toolroom, Head of Sales, UK) remarking "when we align ourselves back to what we believe in, everything goes well and works. If you're dedicated to a sound, why deviate from it?"

Day one came to close with Ibiza born and raised duo the Mambo Brothers starting the party proceedings with a sunset set at Medasia Playa with fellow Ibicencan Manu Gonzalez finishing off the night with an energetic set at Playground.
IMS College – Malta Day 2

Opening day two of IMS College was Staying Sane in the Game a frank discussion on mental health in the industry and the all too common challenges artists and professionals can face working in music.Christine Brown (Help Musicians, Director of External Affairs, UK) noted "people who work in music are three times more likely to have some type of mental health issue or challenge" with Tristan Hunt (Association For Electronic Music (AFEM), Regional Manager, UK) observing "20 years ago we were not having this conversation, hedonism was the dominant approach in our industry. For once mental health is top of the agenda." The assembled panelists, including AEI Group's Jenni Cochrane (AEI Group, Director Of Culture And Partnerships, UK), provided some practical tips to help protect your mental health: Don't suffer in silence, reach out for help and make regular time to disconnect.

Elrow's Victor de la Serna (elrow Family, Music Director, Spain) gave a fascinating insight into how the global brand has built from its roots as a club in Barcelona to a global team that can now produce 5 events on 5 different continents in the same day. The emphasis is always on the consumer experience – "the production budget is much bigger than the booking budget" – with the core team fiercely protective of the strong brand image they have cultivated – "we're very protective about our brand and all our partner promoters have very specific brand guidelines about what they can and can't do."

Nacho Marco (Berklee College of Music, Professor, Spain) brought a modular analogue setup to IMS College and created a full track from scratch only using the modular system in Berklee College of Music's Applied Analogue Synth Workshop, recommending to participants "I urge you to try using analogue synths and not only rely on software."
Tools Of The Trade was a practical discussion highlighting the techniques and platforms that help artists and labels grow in the industry. Inder Phull (KRPT, Founder, UK) covered the importance of avoiding paying click-farms and other companies for followers and instead focussing on growing a truly engaged audience. "There is no point having 100k followers but only 10 likes on each post, you need to speak with and engage your fans". Sebastian Simone (Warner Bros. Records, Head of Digital Strategy, UK) highlighted a platform called VidIQ which allows users to look at YouTube videos and get a full insight into the metadata behind the video and what optimization strategies have been used, giving you a chance to learn what is making the video so successful on the platform. Luke Curtis (Dance Music Photographer, UK) discussed the value of the press kit and how to ensure your brand identity is consistent across all platforms.

In HOBBY TO PRO – LAUNCHING YOUR OWN MUSIC BUSINESS, IMS Visionaries 2016 winner Inder Phull (KRPT, Founder, UK) was joined by Luke Curtis (Dance Music Photographer, UK) who shared his inspiring journey and tips on launching a business. Key takeaways included the importance of finding mentors, building a network and maintaining consistency and self-belief as things don't always go to plan.
IMS College closed with a rare intimate Q&A with Grammy award winning artist Dubfire (Artist, USA), who revealed he owes his success to having a strong team behind him, also advising the audience "The main thing is to take yourself seriously. Adhere to your own standards and don't let other people tell you who they think you are." The wide-ranging discussion covered his early days as part of production duo Deep Dish and his subsequent rebrand, his approach to playing sets, his view of social media and the future of the hybrid live visual show.

Closing IMS College – Malta in style was the debut of global party phenomenon elrow in Malta, an unmissable party that carried on well into the night featuring Dubfire, Camelphat and the imitable elrowperformers and party production surprises.

Full length videos of all of the sessions from the third edition of IMS College – Malta will be available soon on www.internationalmusicsummit.com