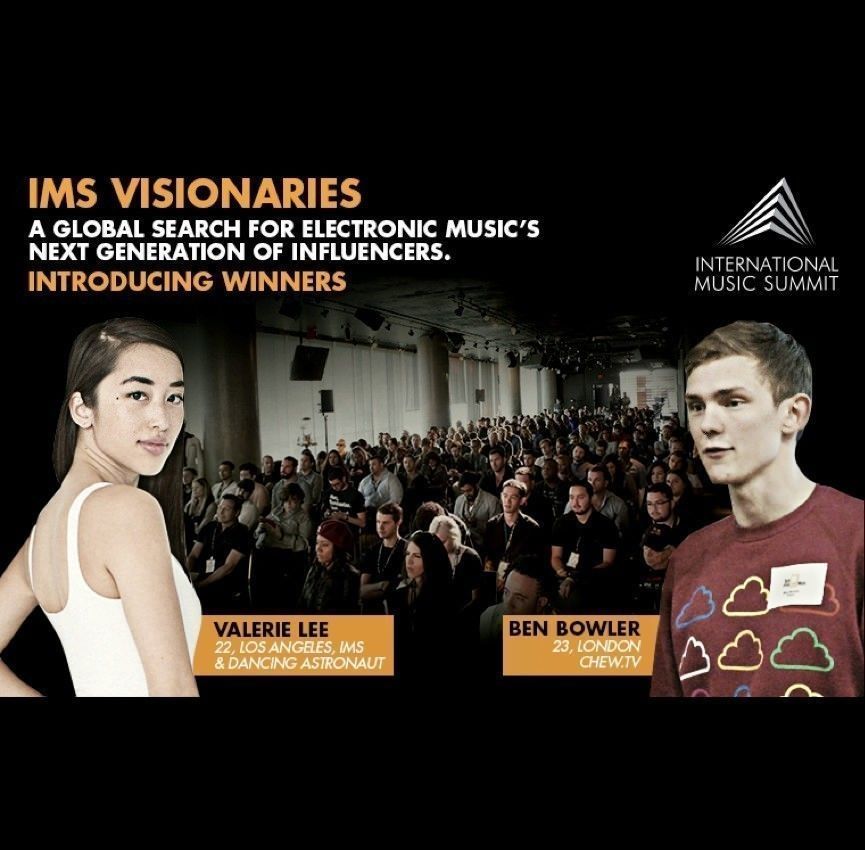 IMS Ibiza and Engage Announce Winners of Visionaries Competition
Ben Bowler and Valerie Lee named as winners of the forward-thinking contest for young industry leaders

Launched with the aim to find and cultivate the next generation of industry influencers, the IMS Visionaries initiative has announced Ben Bowler and Valerie Lee as winners of their pioneering contest to help grow and innovate the electronic music industry.

Providing them with a solid platform to share their ideas – with IMS highly revered for its position as one of the leading industry gatherings in the world – Ben and Valerie symbolize the next generation of talent at the frontline of the evolving electronic music scene.

IMS Ibiza Winner
Ben Bowler – Founder Chew.TV
@benbowler
Winning Submission: http://bit.ly/1E6c1pt

Bowler delivered a submission on "The Return to Music as a Shared Experience". He explores the history of music with the aim of reframing the discussion on the future of the music industry, from how we can use new technology or subscription services to continue the current recorded music model, to how we should expand into new areas of live experiences and brand partnerships in order for the industry to grow in the future.

He is a the young founder of Chew.TV, a live streaming community for DJ's that allows artists to share mixes whilst building and engaging a global fanbase – offering users the chance to learn from professionals who are using Chew to broadcast from studios, educational facilities and events across the world.

"I'm so excited to have won IMS Visionaries! Both the competition and the conference itself have given me and my company Chew a real step up. I'd love to connect with anyone in the industry looking to use live video in their strategy, of course – but on top of that I love talking the future of music with anyone in music. We can only improve our industry by discussing past, present and future with others in the field."

IMS Engage Winner
Valerie Lee –Content Manager, IMS / Editor, Dancing Astronaut
@ValerieChris_
Winning Submission: http://bit.ly/1ONhffr

Valerie delivered a submission entitled "Save The Rave: Understanding the Intersection of the EDM Phenomenon and US Policy" where she examines US drug policy in relation to electronic music culture and calls to make a change for a better tomorrow.

An editor of Dancing Astronaut and a recent graduate of the University of Southern California, Valerie is a writer with a new media mindset and a passion for chasing after stories that bridge pop culture with social and cultural issues.

Her interest in drug policy reform was inspired by her involvement in the dance music scene, and since, her interest in music and drug policy relations has led her to being published in The Huffington Post, and she has since become a part of the IMS team as content manager. She explains:

"Months later, I still am experiencing the incredible after effects of winning IMS Visionaries and getting involved with IMS. Dance music can so often be such a closed off industry since we all have deep roots as an intimate community, so to have IMS offer such an open and inviting platform for young industry hopefuls to vocalize and share their ideas for improving and moving forward is such a unique and valuable opportunity. Thank you IMS!"

Both winners are now integrated in the IMS community and it is the aim to cultivate their continued growth. IMS Visionaries received an incredibly high caliber of submissions this inaugural year and will continue the search in years to come to find and cultivate young visionaries.