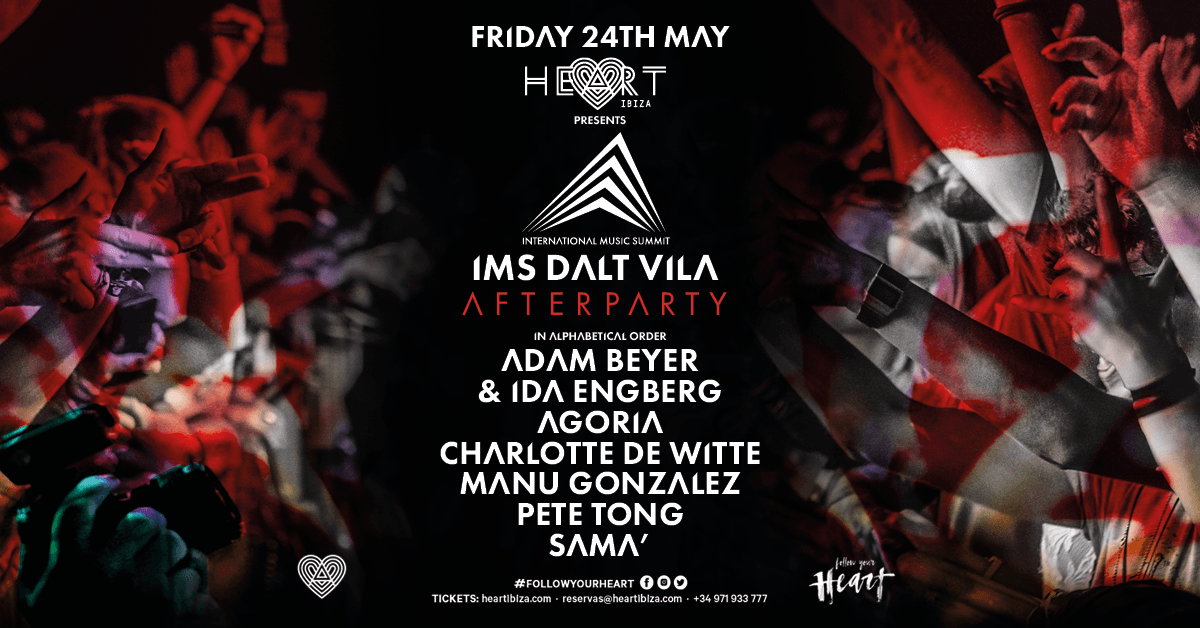 IMS Ibiza Announce Official Dalt Vila After Party At Heart Ibiza
International Music Summit (IMS) today announce the official IMS Dalt Vila after party, taking place at Heart Ibiza. Following the flagship event of IMS Week 2019, the seven hour IMS Dalt Vila closing celebration marks the end of the 12th edition of the three-day summit.
Featuring House and Techno's established leaders along with emerging trailblazers, the after party will take place at Heart Ibiza, an impressive venue that provides a stimulating multisensory experience, with an intimate dancefloor equipped with a beautiful LED video wall and an outdoor terrace with views across Ibiza town's iconic Dalt Vila.
Opening the after party will be French DJ, producer and composer Agoria, bringing the energy of Dalt Vila to the Heart Ibiza dancefloor. Also performing will be Swedish producer, founder of Drumcode Recordsand certified underground icon Adam Beyer who will play b2b with fellow Drumcode affiliate Ida Engberg, showcasing the combined talents of techno's most celebrated power couple. Adding to the lineup is Belgian DJ and Producer Charlotte de Witte, who will bring her signature style of stripped-down techno to the unmissable event.
Also performing will be SAMA', a pioneering and fast emerging producer, DJ and composer whose recent Boiler Room stream from Palestine has had over 2 million views. Adding further strength is BBC Radio 1's legendary Pete Tong, co-founder and curator of IMS Ibiza, plus homegrown Ibizan talent Manu Gonzalezwho will play the closing set of the night.
Tickets are available now for €25 in advance or with a wristband obtained from the Heart Ibiza promo team at IMS Dalt Vila. Limited tickets will be available on the door for €40. Free entry all night for IMS Ibiza Delegates.
Boiler Plate:
The Mission
International Music Summit is an educational, inspirational and motivational thought leadership platform dedicated to creating and encouraging the awareness of, and appreciation for, electronic music, and the artistry related to DJing and related art forms – primarily through the presentation of summits and events that celebrate both the historic and ongoing contribution of the genre to culture worldwide. IMS annually hosts major events globally in Ibiza, Los Angeles, China and Malta. IMS was created by Ben Turner, Danny Whittle, Mark Netto, Pete Tong & Simeon Friend. www.internationalmusicsummit.com