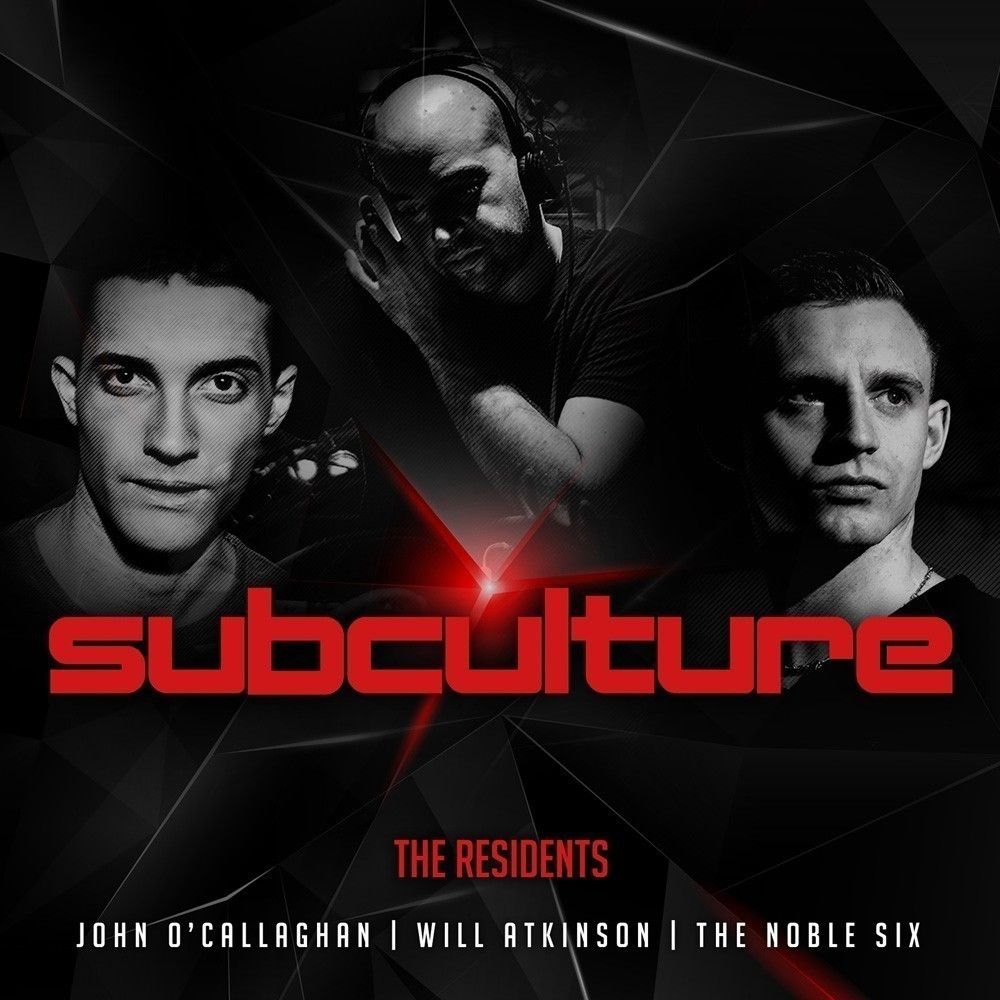 In Conversation With Will Atkinson and The Noble Six
At the end of November John O'Callaghan released his new 'Subculture – The Residents' mix-comp. Co-mixers for the 3-disc release were fast emerging stars of stage and studio, Will Atkinson & The Noble Six.
As part of our series of In Conversation With… interview pieces, we thought we grab a bit of roundtable with his two Residents and discuss all things Subculture. In the process we'll hopefully get some low-down on how Will and Andrew first became involved in the marque (which now encompasses a radio show, a 75-release-strong record label, continent-hopping tours, new talent development and latterly mix-compilations). For the inside track on all things Subculture, read on!
Hi chaps, where do we find you today and what have you been up to?
Will Atkinson: It's Monday morning and I'm sitting here in my flat in Glasgow talking to you guys. I've been here & there gigging, and have been doing a lot of thinking about where I'm taking my sound next year. I'm working on a heap of new material but keep switching between tracks… So it's time to get something finished!
The Noble Six: Hey guys! You find me in the studio today. Just wrapped up my mix not too long ago for the Subculture triple CD and now working on lots of new originals, collabs and remixes that will be out in 2015!
Cool! So start off by telling us how and when Subculture first came onto your radar, and latterly how you became involved?
The Noble Six: The first Subculture track I ever heard was Matt Everson's 'Heist Manoeuvre'. The fourth release on the label, I think. I absolutely loved that record. As for how I got involved, well I think I owe it to my remixes of 'Déjà vu' and 'Tula'. Those definitely put me on their radar, I think. They both received lots of support from John himself, Aly & Fila, Bryan Kearney and Sneijder and others. After then John got in touch, asked me to do a remix for the label and the rest is history!
Will Atkinson: Funny that! It was 'Heist Manoeuvre' and particularly Nick Sentience's remix for me too. That was when I first became properly aware of the brand and started following their movements. I started sending John tracks during the later half of 2010 but it wasn't until 2012, when John signed 'Watch Out' that I became properly involved with the label.
'Subculture – The Residents' marks your first mixing of a mix-comp disc. How did you find the process in general?
Will Atkinson: I've been buying Compilations since I was 7-8 years old – stuff like Clubbers Guide, The Annual, Trance Nation etc. So to be 'that guy' selecting and organizing the flow of the mix was a massive responsibility but one I hugely enjoyed and also found incredibly fulfilling.
The Noble Six: Likewise, I always loved listening to mix-compilations growing up so to have mixed one of the CDs of 'The Residents' alongside John, and Will is pretty unreal. I had lots of fun doing it. The only hard part really was finding the right tracks to put on it. Go them eventually though and really happy with how it turned out.
What was your approach to the mixing of your disc?
The Noble Six: I kinda took the same approach to how I'd play a live set actually. The build up, the energy that takes everyone on a journey – that is what its all about to me.
Will Atkinson: I Dug through roughly 100 tracks and managed to whittle down to a shortlist of 25-30. That was the easy bit. But the final 17 was tough! Boy, was it tough. There were a lot of exclusives I decided to leave out from myself and others that just didn't quite fit the flow of the mix.
What kind of music mix/progression were you going for?
Will Atkinson: I wanted to reflect a vibe you can expect to hear in one of my Club sets, but still stay true to a Subculture sound. The mix is very Trance orientated and even the Techno, I feel, has a very Trance-like texture. I could have played 10 exclusive Atkinson bangers and another 6-7 anthems from everyone else but that doesn't reflect the way I play a DJ Set.
What's your favourite time of the night to play: 1) 12.00am – 02.00am, 2) 02:00am – 04:00pm, 04:00pm to 06:00pm or later?
Will Atkinson: 11:00am – 02:00am – perfect time to build the atmosphere, go to some deep places and then let rip in the final hour!
The Noble Six: Anytime is a good time for trance!
If you had to choose three adjectives words to describe what you'd like clubbers to experience when you're behind the decks, what would they be?
Will Atkinson: Euphoria, Confused, Adrenergic The Noble Six: Euphoric, Emotional, Connected
If you had to pick out three key tracks (other than your own productions) in your mix that exemplify the disc, which would they be?
The Noble Six: Tough one but I'd have to go with Neptune Project – Numb, Factor B – Stratos Galaxias and Matt Bowdidge – Shadow Of You. All have that classic trance sound that I love, but then I'd say every track on the CD has that classic feel.
Will Atkinson: Under This feat. Seth Vogt – Seek & Find, Sebastian Brandt – Beautiful Repercussion and Vertical Mode – Alien Rock
How did you first meet Subculture boss John O'Callaghan?
Will Atkinson: To be honest I can't exactly remember. Possibly Coloursfest 2012? Definitely sometime between 2010-2012! Coincidently the years I was at college and also a Post Grad. These ones still remain a mystery!
The Noble Six: In person for the first time in person, it was in Amsterdam for the FSOE vs. Subculture weekender. A real class act and super down-to- earth guy!
'The Residents' means of course just that… When was the first time you played a Subculture night and what did you take away from the experience?
The Noble Six: Not counting the joined FSOE vs. Subculture weekender, my first just Subculture night was in Argentina in July. By far my favourite gig to date – an unforgettable night. I now see why everyone says Argentina is the best place they have played. The crowd there is on another level and just plain passionate about their trance!
Will Atkinson: The first Subculture night I played was in Toronto earlier on in the year. I went in with a Techno-head on and ended up running nearly running out of Trance tunes so I learned to respect the brand you're playing under and also research the crowd you are playing too.
You've had quite a few releases on the Subculture label now. Which do you feel have been the biggest of the bunch to date?
The Noble Six: I'd say my collab with the talented Chris Metcalfe called 'Ocean Avenue'. Definitely my favourite one on Subculture to date – I loved working on this one!
Will Atkinson: 'Victims'. It is my most successful record to date. I'd say 'Isolator' is my second most requested Subculture track. I also have high hopes for 'Sharpshooter' forthcoming early December.
There are also quite a few of your own productions/remixes on your disc… Were they purpose produced for the compilation or was it a case of already having them to hand to use?
The Noble Six: The only track I made specifically for the compilation was the intro 'The Source'. The rest were already in the making or already made.
Will Atkinson: No there was nothing made on purpose for the compilation. We were working with quite a small timeframe. I only had 6 weeks to gather music, have licensed and then actually mix. Between that I had gigs in America, Argentina, Ibiza, Canada – so it couldn't have come at a tougher time in terms of getting exclusive stuff really. Regardless I am still 100% satisfied with the final track selection and think the music I already had ready fits in perfectly.
Subculture are fast approaching their 75th release… Outside of your own tracks, what's your favourite Subculture release to date?
Will Atkinson: John O'Callaghan – Desert Orchid
The Noble Six: Wow so many good ones aha lets see I think my all time fave Subculture release has to be John O'Callaghan vs. Neptune Project – Rhea. Massive track!
The album is fully out now. What kind of early reactions are you picking up regarding your mix through your social media?
Will Atkinson: All extremely positive! People seem to love the mix, which – surprise, surprise – is exactly the reaction I was aiming for!
The Noble Six: All really positive so far really happy that everyone's enjoying it, and a massive thanks to all for their support!
What are your current top ten biggest tracks?
The Noble Six
The Noble Six vs Chris Metcalfe – Ocean Avenue
Neptune Project vs The Noble Six – Time
Factor B – Stratos Galaxias
Neptune Project – Numb
Plumb – Need You Now (Bryan Kearney Remix)
John O'Callaghan – The Saw
Starparty – Im In Love (Sneijder Remix)
Matt Bowdidge – Yamba
Aly & Fila, Ferry Tayle – Nubia
Arctic Moon – Revolution (James Rigby Remix)
Will Atkinson (In no particular order…)
Will Atkinson – Sharpshooter
Will Atkinson – Harvester
Sean Tyas – Try To Hold On
Under This – Olympus
John O'Callaghan – The Saw
Dj Ange – Esker
Will Atkinson – Fresh Meat
Dave The Drummer – Hydrogen
Josep – Overload
Gai Barone – Mr. Slade (Solarstone Mix)
Finally what are your runnings up to New Year and any early plans you'd care to share for 2015?
Will Atkinson: I've got a lot of time for the studio which is always nice. Strangely enough I don't feel Christmassy at all but that shopping 'aint gonna do itself. I also have a few gigs to see out the year. Cream's Birthday at Nation in Liverpool, Milan with Jordan Suckley, Monday Bar Cruise in Sweden, Subculture Dublin and I'll be bringing in the bells from L.A. 2015, I'll be pushing on with the rebirth of Mainline – my monthly Radio Show which will be reformatted and extended to 2 hours. I'll also be taking my sound up the next level. I have a huge vision and it's starting to come together nicely.
The Noble Six: Lots and lots of studio! Got loads of originals, collabs and remixes that im currently working on and will be coming in 2015. As for things I could share right now I have my collab with Neptune Project called 'Time' coming early next year on FSOE so look out for that one + lots of shows that will be coming up in the new year. So bring on 2015!
Thanks guys. Look forward to hearing even more from you!
The Noble Six: Thanks for having me guys. It was a pleasure – cheers!
Will Atkinson: Likewise – it was a blast!