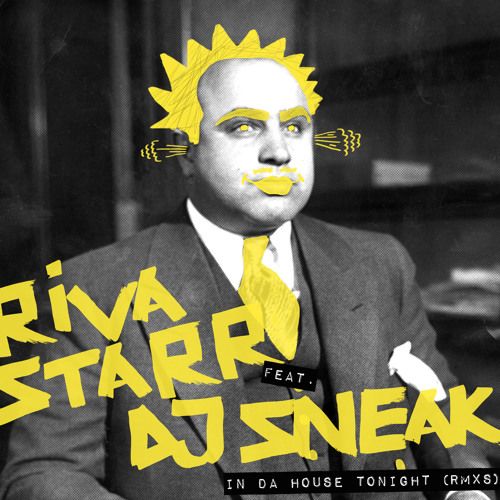 Riva Starr Feat. DJ Sneak - In Da House Tonight (Remixes)
This week sees the illustrious Snatch! Records deliver a comprehensive remix package of label boss Riva Starr and self-proclaimed House gangster DJ Sneak's 2013 dancefloor shaker 'In Da House Tonight'.
This special four-track offering features exclusive re-rubs from some of House music's finest such as Greece's Detlef and Germany's Emanuel Satie and Pele & Shawnecy plus comes after a succession of acclaimed EP releases from artists such as Philip Bader & Nicone, Santos, David Keno, S-Man, Pirupa, Genghis Clan and Paride Saraceni amongst others.
Each artist delivers their own unique take on the original thus pushing it into three completely different musical journeys. Emanuel Satie's remix is a twisted tech-house workout, Detlef's is apumping TB 303-tinged groover and Pele & Shawnecy's is a full-on Jackin' House synth-led roller. In addition, there's also a bonus DJ promo only 'Dub' version of Detlef's killer remix.
All mixes included complement each other extremely well and offer something different, making this a sublime package and another Snatch! release for you to add to your collection. 'In Da House Tonight (Remixes)'is available via Beatport on February 22nd and the rest of the world two weeks later.
FIND RIVA STARR ONLINE:
www.facebook.com/rivastarr
https://soundcloud.com/rivastarr
https://twitter.com/rivastarr
FIND DJ SNEAK ONLINE:
http://djsneak.com
https://twitter.com/DJ_Sneak
https://www.facebook.com/sneakthedj
https://soundcloud.com/dj-sneak
FIND SNATCH! RECORDS ONLINE:
http://snatchrecords.comS
www.facebook.com/snatchrecords
https://twitter.com/snatchrecords
https://soundcloud.com/snatchrecords
Tracklist
01. Riva Starr Feat. DJ Sneak 'In Da House Tonight' (Emanuel Satie Remix)
02. Riva Starr Feat. DJ Sneak 'In Da House Tonight' (Detlef Remix)
03. Riva Starr Feat. DJ Sneak 'In Da House Tonight' (Pele & Shawnecy Remix)