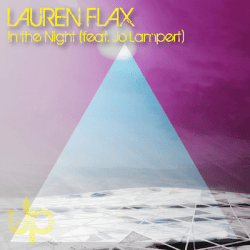 Lauren Flax - In the Night
Get Up Recordings gets deep with Lauren Flax's new single, "In the Night (feat. Jo Lampert)". Miami-born legend Mystic Bill takes the track on an even further journey with his entrancing remix.
Lauren Flax, originally from Detroit, is a NYC-based DJ, songwriter, and producer. She is currently a member of the band CREEP with long-time collaborator Lauren Dillard and holds a monthly party with Gavin Russom called C//ty Club in Brooklyn. Flax was also the Fischerspooner tour DJ from 2008 – 2011. Her debut single, "You've Changed", was released on DJs Are Not Rockstars, an indie dance label run by Mark Davenport and Alexander Technique and featured vocals by Sia of Zero7 fame. In 2010, Sia re-recorded the track and released it as her first single from the album We Are Born.
Flax is no stranger to Get Up Recordings, having remixed Alinka's track "You're Basic" back in 2014. "In the Night" sees her really honing in on her unique abilities as a songwriter. The lyrics were made for vocalist Jo Lampert's voice to take full advantage of, and she does so, one hundred percent. The bass line and echoing effects of the keys really add depth to this already dark late-night track. Lauren also throws in the Flaxy Dub for good measure, with the same vital key elements as the original and just as smooth.
Taking on the remix duties for the release is Mystic Bill. His introduction to the dance music scene began during his teen years while growing up in Miami. While working at Flamingo Record Pool, which was run by Bill Kelly (WMC fame) and Richard McVay, he discovered house music. The promos with acid and house mixes from Chicago really captured his attention so much that he moved there to be a part of the happening scene. He held residencies with many of the now Chicago legends – Johnny Fiasco, Ralphie Rosario, Derrick Carter, and Mark Farina. He started to produce, with his first remix being for Kay Ladrae's track "Lack of Love", and has had releases on Trax Records, Relief, and Swing Street. Mystic Bill also has future releases coming out on Classic Music Company, Rong Music, and Snuff Traxx. For his remix of "In the Night", he takes it on a twelve-minute-plus journey and really drives it home with the constant beats of the percussion and repetition of the beautifully haunting vocals. He allows the listener to get lost in the music, but doesn't let them know that twelve minutes have passed and that is the real magic of it.