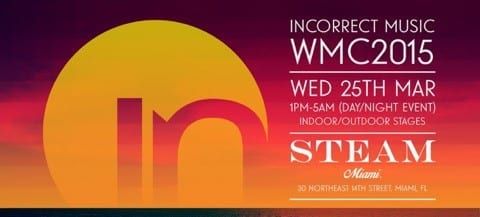 INCORRECT MUSIC WMC 2015 SHOWCASE
MIAMI, Wednesday March 25, 2015 – STEAM MIAMI welcomes Detroit-based Incorrect Music for a monster showcase that will take audiences through a full day and night of techno from the industry's heavy-hitters. Featuring music by Incorrect Music label boss, Anthony Attalla along with an overflow of sought-after names including Carlo Lio, Chus & Ceballos, Cocodrills, Coyu, Ivan Pica, Luigi Rocca, Marco Lys, Nathan Barato, Pirupa, Prok & Fitch, Ramon Tapia, Simone Vitullo, Supernova, Teenage Mutants and Uto Karem, this colossal line-up will have the walls, both inside and out shaking well into the early hours of the following day.
Incorrect Music is an independent music label out of Detroit, MI with a focus on releasing tracks inspired by the city's rich techno history. Spearheaded and owned by Anthony Attalla, the label boasts a broad roster of gifted artists, which is why it comes as no surprise that the label has enjoyed tremendous success at an alarming pace. With over 70 Top 100 tracks on various Beatport Charts, Incorrect Music continues to spread its wings globally with artists from more than 20 different countries. Come and witness what happens when the sounds of Incorrect Music invade Miami at STEAM Nightclub on March 25th.
Tickets are available here: http://steam.wantickets.com/Events/175933/Incorrect-Music-WMC-2015-w-Athony-Attalla-Friends/