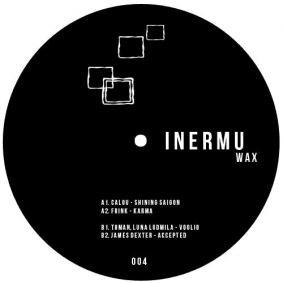 Inermu Wax returns for a second V/A installment
Inermu Wax returns for a second Various Artist installment in June with tracks from label founder James Dexter himself, Toman & Luna Ludmila, Frink and Calou.
Launched in mid-2018, James Dexter's Inermu Wax sub-imprint has quickly become one of London's go-to labels for stripped back, high quality house, releasing material from Mihai Popoviciu, Clive Henry, Tuccillo, Dudley Strangeway and more over the past twelve months. Following an initial Various Artist release to launch the project, Dexter will now ready the second V/A offering on the label featuring fresh productions from Calou, Frink, Toman & Luna Ludmila whilst also contributing a track to the package himself.
Calou's 'Shining Saigon' opens the package through a combination of deep chords, snaking sub-bass and punchy kicks, whilst Frink employs hazy pad swells, skipping hats and a slick, rolling groove throughout 'Karma'. Next, rising Amsterdam talent Toman combines with Luna Ludmila to reveal the infectious and bubbling 'Voolio', before handing over to label boss James Dexter who fuses a trademark combination of warped vocal hooks, laser precise percussion arrangements and blissful melodies as he closes the package in style with 'Accepted'.
Various Artists 'V/A Vol. 2' drops on Inermu Wax in mid-June 2019.
Tracklist
1. Calou – Shining Saigon
2. Frink – Karma
3. Toman, Luna Ludmila – Voolio
4. James Dexter – Accepted