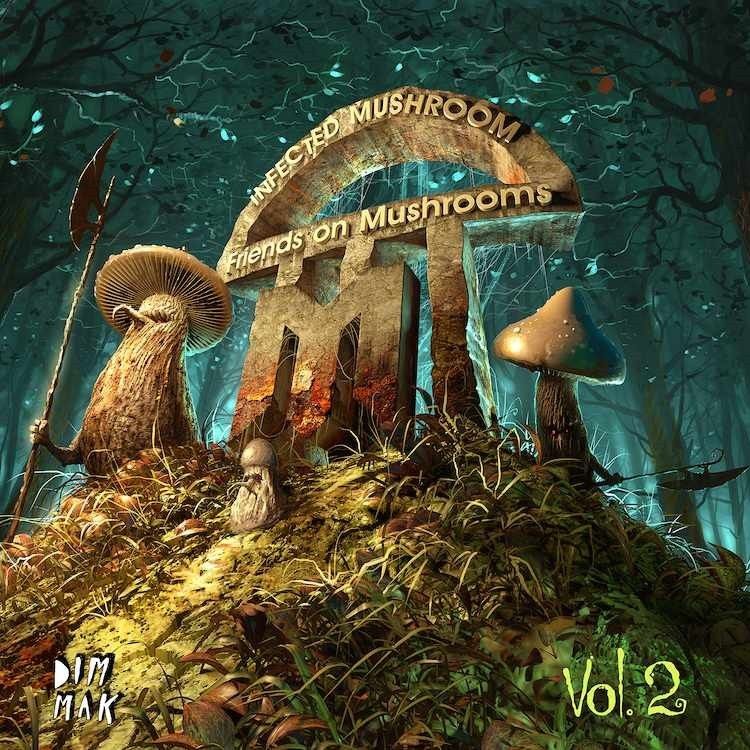 Infected Mushroom – Friends On Mushrooms, Vol. 2
Electro rock/dance duo Infected Mushroom have just released their new EP Friends on Mushrooms, Vol. 2 on Dim Mak Records.
The second instalment of their Friends on Mushrooms series, Friends on Mushrooms, Vol. 2 sees the Israeli psychedelic dance music progenitors teaming with a slew of new collaborators, including electro artist Savant, who lends his touch to the breathtaking opener "Savant on Mushrooms"; New Zealand-born singer Kelsy Karter on "Now is Gold"; and Norwegian duo Pegboard Nerds on "Nerds on Mushrooms." Also included on the EP are tracks "Trance Party," which takes listeners on a sonic journey that appeals equally to Infected Mushroom's core fan base as well as new generations to come, and closer "The French." On Friends on Mushrooms, Vol. 2, Infected Mushroom forges new sonic territories, while taking giant leaps in creating a complex and captivating soundscape.
About Infected Mushroom:
Originally formed in 1997 and hailing from Kiryat Yam, Haifa District, Israel, INFECTED MUSHROOM—composed of founders Amit "Duvdev" Duvdevani and Erez Eisen—has certainly left their stamp on the electro dance and rock genres, having worked with the likes of Perry Farrell (Jane's Addiction) and Jonathan Davis (Korn). In the process, the group has issued such hit albums as 2009′s Legend of the Black Shawarma (which peaked at #9 on Billboard's Top Electronic Albums chart) and Army of Mushrooms (2012) and has scored such dance hits as "Killing Time" and "Smashing the Opponent." As one of Israel's most successful bands, they have amassed a loyal worldwide following, have sold out multiple tours, have garnered millions of YouTube views, and have twice been voted into the top 10 for DJ Magazine's Top 100 DJs poll (please note, however, that they are not simply "DJs").
Track listing for Friends on Mushrooms, Vol. 2 :
1. Savant on Mushrooms Feat. Savant
2. Now Is Gold Feat. Kelsy Karter
3. Nerds on Mushrooms Feat. Pegboard Nerds
4. Trance Party
5. The French