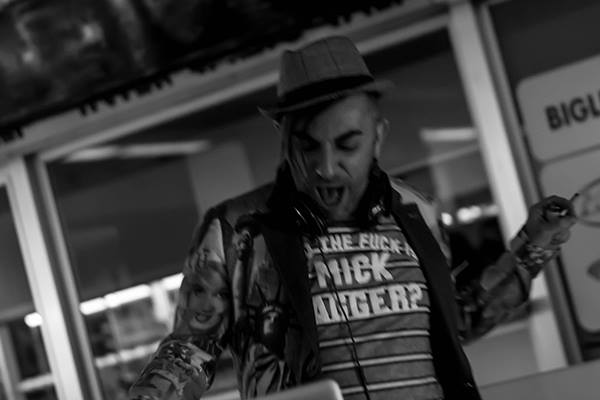 Inside Young NRG Productions – Interview with Stex
Stefano Ricci (Aka Dj Stex ) is one of the Break Electro Funk, Nujazz's ,Chill, House italian makers, a forefront when all began with Teo Ederle and his crew during 1988, known as the youngest NRG Posse. He's the figure behind Dasya & GLP. (He's him behind Dasya)… He arguably produced more chill music tracks than other breaker's DNB and launched into a worldwide many musical genres. Stex carved himself a great career, laying his roots firmly within the realm of Electro scene.
Show with a 120-180 Minute Live DJ Power Set including Live syths, percussions action.
The DJ Set is totally variable from uplifting electro, break, progressive, techno to 90's revival set with the best dance tracks and Anthems out of 15 years till now.
where does the name Stex?
From a friend who is reminded of Stax Records and played with my name: Stefano. Stax Records is an American record label, founded in Memphis in the state of Tennessee in 1957 and active until 1976, the year in which it closed due to bankruptcy. The name is a portmanteau of the names of the two founders, Jim Stewart and Estelle Axton
Could you please describe your current studio setup?
Currently I am running ProTools Le – Logic 9 with various bits out analog outboard compressors synthesizers and pre amp valve.
How would describe your own production signature?
I always liked to experiment, and always will. I come from jazz, hip hop and roots in the productions I always try to keep them and many Funk!!
Do you have any production heroes or a favorite piece of music that you aspire to?
I love Goldie, John Coltrane, Coleman Hawkins, Miles Davis and many more…
how is your work day?
intense and rewarding. live in the studio. 16 to 18 hours a day. I take care of everything, graphics, public relations, music production, management. When I do not create and produce, I dedicate myself to looking for new artists, I try to maintain a living contact with the audience, the fans.
what is your best production at the time and that of all the times you've produced?
Earth (remixes) a great collaboration with Spanish artists, Canadian, British, German.
Geon, McTwist,The Random Scarves, Jazz K Lipa
My First release : Rapina'Jazz vol.1
an album full, 13 musicians, hip hop jazz all played live. I on vocals. Rap on jazz.
When did you first get into electronic music?
1995 , I start with jungle.
1989 to 1995 we produced hip hop, acid jazz with a band of 13 elements after for economic, budget too high and we had to change the group for artistic choices by the author, I started to compose jungle, drum'n'bass, trip hop, chillout, nujazz for a few years now and I'm producing breakbeat, funkybreak. Every now and then I like to change alias to produce tribal house, tech house, techno keeping that line in jazz
Some big names like Geon and Chambers feature on your productions. Is there anyone you're planning to work with next?
We have a few artists in mind, but it would also be cool to work with Colombo.
What is the one piece of equipment in your studio that is the most valuable to you?
hard to say, I love a great deal of the pre amp tube, I use it a lot to give that sound, color approaching a lot to the sound of vinyl.
What proportion of time do you spend collaborating as opposed to working on solo material?
most of the time working alone, just born a collaboration such as proposing remix, time for promotion is 99 percent is dedicated to promoting the disc, the artists who worked on the project, at least two weeks is dedicated to promoting everything. post on the forums, email, suggestions for reviews, contact with the public online.