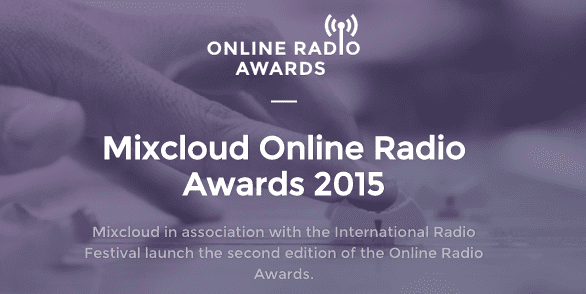 International Radio Festival and Mixcloud Online Radio Awards Winners
After the successful launch of the Online Radio Awards in 2014 the International Radio Festival have once again joined forces with Mixcloud to recognize the outstanding curatorship, production and creative talent within the online radio industry.
Ultimately, Mixcloud is about discovering great radio content, and that's where the Online Radio Awards come in. The company launched the awards last year to help celebrate and champion the best content in the growing sector of Internet radio.
Over 5,000 radio makers and listeners nominated shows for the categories of Best Online Radio Station, Best Online Music Show and Best Online Talk Show, with 24 sub-categories spanning a range of genres and territories. The 130 shortlisted nominations were whittled down to the 24 winners by a panel of industry judges that include programme makers and executives from LA's KCRW, SXSW, 7digital, Mixcloud and last year's winner NTS Radio.
The three biggest winners of the day are Red Light Radio for Best Online Radio Station, The Selector for Best Online Music Show, and Serial Podcast for Best Online Talk Radio Show.
Phil Catchpole, Programme Manager of The Selector – a radio show produced by the British Council – said: "We are absolutely delighted to win the Best Online Music Show. Mixcloud has become the place to share radio shows online and to be recognised as one of the best shows on the platform is a wonderful thing."
Orpheu de Jong and Hugo van Heijningen, Co-founders of Amsterdam's Red Light Radio, will be flown out to the International Radio Festival in Zurich later this year as winners of the Best Radio Station award. "When we had just started with RLR almost 5 years ago, we were amazed to be invited to the International Radio Festival. It was the first Red Light Radio trip abroad and a lot has happened since. We are very honoured to have won the award now 5 years later and are excited to come back to the festival."
And the winners are…
Overall Winner: Red Light Radio
Best USA & Canada Radio Station 2015: TRP Radio
Best Central & South America Radio Station 2015: Radio Colmena
Best Asia Pacific, Middle East & Africa Radio Station 2015: Ness Radio
Best Europe Radio Station 2015: Red Light Radio
Best Online Music Radio Show 2015: The Selector
Best Ambient/Chillout Radio Show 2015: Cinambientique
Best Bass/Dubstep/D&B Radio Show 2015: Hospital Records Podcast
Best Country/Folk/Blues Radio Show 2015: Keb Darge on Soho Radio
Best Dance Radio Show 2015: Orgasmic on Rinse FM France
Best Electronica/Beats Radio Show 2015: Kutmah – Sketchbook Radio
Best EDM/Big Room Radio Show 2015: UMF Radio
Best Funk/Soul Radio Show 2015: Stamp the Wax on Radar Radio
Best Jazz Radio Show 2015: Jazzman Records on NTS
Best Pop/New Music Radio Show 2015: The Selector
Best Rock/Alternative Radio Show 2015: Rough Trade Shops – Counter Culture Radio
Best World Radio Show 2015: Sadisco on Frission Radio
Best Hip Hop/R&B Radio Show 2015: Hip-Hop Journal on Brooklyn Radio
Best Online Talk Radio Show 2015: Serial
Best Business Radio Show 2015: Startup
Best Comedy Radio Show 2015: WTF with Marc Maron
Best Culture Radio Show 2015: Serial
Best Lifestyle & Health Radio Show 2015: Tim Ferriss
Best Sport Radio Show 2015: The Football Ramble
Best News & Politics Radio Show 2015: The Globalist (Monocle)
Best Science & Technology Radio Show 2015: Product Hunt
More info on the judges, finalists, winners here: https://www.mixcloud.com/onlineradioawards/
About the International Radio Festival (IRF)
Founded in 2010, the IRF is a Zurich-based organization, being the FIRST and ONLY international radio festival of its kind, celebrating the world's most consumed medium — Music Radio. A must-attend event, the IRF brings together Music Radio Anchors, Radio Programming Heads, Record Labels, Music Managers & Agents, Lifestyle Brands/Services and their Marketing & Advertising Agencies, Media Professionals and Educational Establishments. The IRF is the key place where the Music Radio world comes together to celebrate and showcase some of the best music programmes, to deliberate and collaborate, to network and to discover trends about their Industry. The IRF was as a finalist in the 2011 British Swiss Business Awards, and invited by the Swiss Federal Government to be part of their presence during the 2012 London Olympic Games – they will also be at the 2016 Rio Olympics.
www.internationalradiofest.com
About Mixcloud
Mixcloud is the world's leading platform for on-demand radio. Inspire you ears and discover new music & ideas from a community of over half a million recognised DJs and radio presenters. With a growing reach of over 10 million monthly listeners, the award winning service is available on the web and on-the-go through free mobile apps. By partnering with innovative brands such as Red Bull, Adidas and Coca Cola, Mixcloud has been instrumental in pioneering branded content and native advertising around music and radio formats. www.mixcloud.com