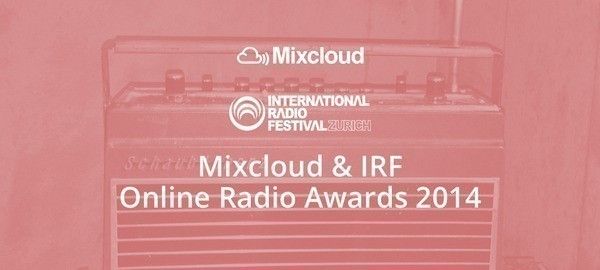 INTERNATIONAL RADIO FESTIVAL & MIXCLOUD ONLINE RADIO AWARD WINNERS
Mixcloud joined forces with the International Radio Festival to launch the inaugural 'Online Radio Awards 2014' with the objective of recognising outstanding curatorship, production and creative talent within the online radio industry.
60 Radio Shows and 25 Radio Stations from all around the world were shortlisted and passed on to a panel of industry judges which included Tony Prince (DMC), Brad Wete (Billboard), Karen Pearson (Folded Wing) and Phil Catchpole (British Council).
Over 20,000 votes were recorded and the overall winners will be flown to Zurich to have their show aired at the International Radio Festival 3 – 7 September 2014 in Zurich.
The overall winner of the 'Best Online Radio Show' is Solid Steel Radio Show
The overall winner of the 'Best Online Radio Station' is NTS Radio.
Winners of each category in Online Radio Show:
Overall Best Online Radio Show 2014: Solid Steel Radio Show
Runner Up Online Radio Show 2014: The Selector
Best Dance Show: Carl Cox
Best Pop Show: The Selector
Best Electronica Show: Solid Steel Radio
Best Talk Show: All Things Considered
Best Funk & Soul Show: Wah Wah 45s
Best World Show: Giles Peterson Worldwide
Best Hip-Hop Show: Prince Paul
Best Indie/Alternative Show: Blues Kitchen Radio
Best Jazz Show: Ronnie Scotts
Best Mix Series: Oki-Ni and Resident Advisor
Winners of each category in Online Radio Station:
Overall Best Online Radio Station 2014: NTS Radio
Runner Up Online Radio Station 2014: Brooklyn Radio
Best Asia/Pacific Station: Base FM
Best EMEA Station: RBMA Radio
Best North American Station: Brooklyn Radio
Best South American Station: Radio Cómeme
Best UK Station: NTS Radio
Paul Noble – Founder Monocle 24 says: "I can't think of a more formative listening experience than Solid Steel on Kiss FM in the 90s. Recklessly surfing across boundaries in search of the funk, Matt, Jonathan, DK, DJ Food and the rest of the Ninja gang introduced me to pretty much every great artist and scene I've gone on to love. A well-deserved win and so pleased to see the show still going strong 25 years on. Once again NTS are punching way above their weight. This station has taken the underground sound of London into corners of the globe thanks to their broadminded selection of DJs and tasty production values. A couple of weeks last year were spent on a road trip in Texas listening to them streaming live on my phone in perfect quality. Hats off to Femi and the team for making it all happen. "
Mixcloud Co-founder Nikhil Shah says: "We decided to start these awards to showcase and celebrate the amazing talent in the online radio industry, and the winners are testament to that. We urge you to have a dig through the winners and the shortlist as there are some amazing shows and stations there to inspire your ears!"
Darryl von Däniken – Festival Director (International Radio Festival) says: "The festival broadcasts its congratulations to the winners of the first Online Radio Awards and looks forward to showcasing their stations and shows at this years IRF live on-air across the world".
www.mixcloud.com/onlineradioawards