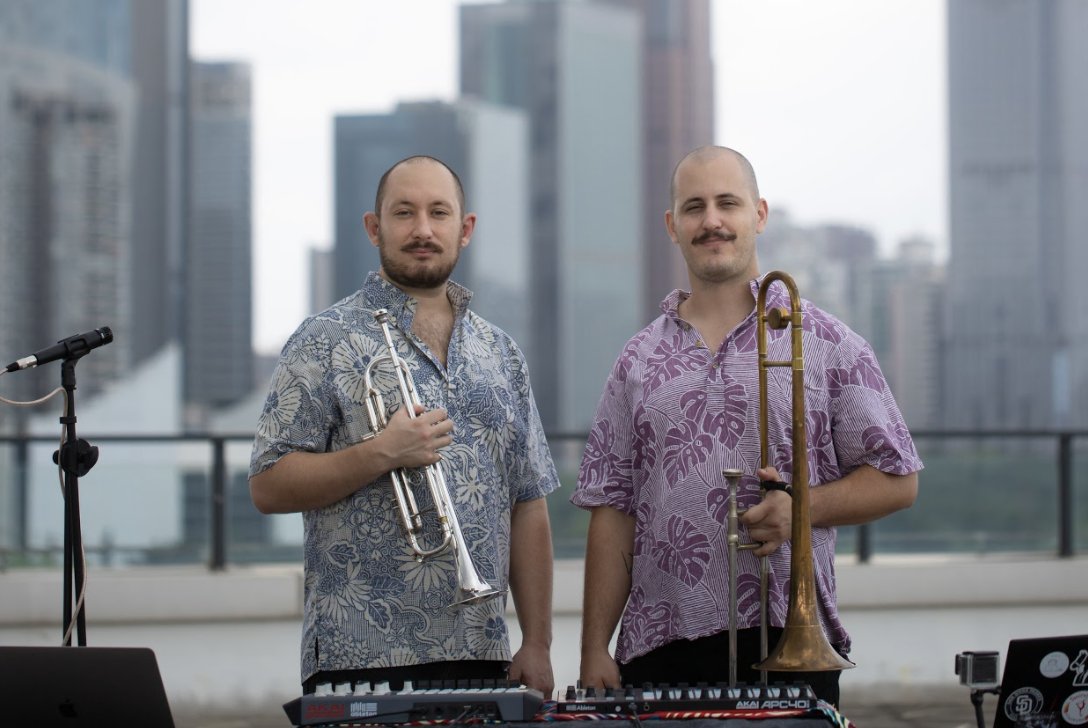 Intro To Music Theory Release 'Date Shakes', Out Now
Acclaimed DJ/production pair Intro To Music Theory return to the release radar with 'Date Shakes', another enchanting original production. The established musician's latest endeavor serves as the second lead single ahead of their debut album 'First Inversion', and is a direct follow-up to 'The California Almond' from the tail end of last month. Out now on HMP Records, 'Date Shakes' is available to listen to across all streaming platforms..
'Date Shakes' immediately begins with a wholly enchanting ambiance, and prominently features this infectiously feelgood, funky tone throughout its entirety. Wispy vocals, courtesy of Bristol-based artist Matt Preston, are quickly introduced into the jazzy sonic space, adding an atmospherically heady touch that is paired flawlessly alongside the anthemic tune's soaring instrumentation. Trumpet horns, drums, and propulsive production elements characterize the rest of this larger-than-life musical offering, a quintessential lively hybrid of electronic dance music and expertly executed live performance.
"'Date Shakes' is inspired by a midsummer sunset overlooking Crystal Cove State Park and the bittersweet memories of a love long past." – Intro To Music Theory
"It was an honor and my privilege to collaborate with IMT. As a fan, I was excited to hear the tracks before the rest of the world. 'Date Shakes' captures your attention early and never lets you go. The smooth melodies allow me to take my mind to a better time with friends I love and people I care for. May it bring the same to you the listener as well!" – Matt Preston, vocalist
Originally hailing from Los Angeles, California, Intro To Music Theory is a Hainan, China-based DJ/production duo who has been actively releasing their own unique take on dance music since 2019. Over the last several years, the pair, consisting of Matt Waters and Matthew Busch, have released their debut EP, 'Toot The Bad Horn', and have also recently experienced great success within the budding NFT and crypto space. Maintaining this upwards trajectory with ease, the trailblazing pioneers are slated to continue their impressive accomplishments with 'First Inversion', their debut virtual LP set for release next month.
FIRST INVERSION 6/11 VIRTUAL LAUNCH PARTY DETAILS
To celebrate its launch, IMT has partnered with innovators in the NFT landscape to throw a virtual party, free with RSVP. Those involved include leaders in interest-bearing non-fungible tokens, Charged Protocols, the community-based account Token Smart, the budding DAOrecords imprint, as well as Bittrees, a company that services virtual space and champions artistry. The event features fun scavenger hunts, exclusive giveaways, and performances from IMT, as well as Godcloud and Beacon Bloom.
Overall, IMT's latest lead single 'Date Shakes' sets an exciting precedent as for what to expect next month with their imminent, much anticipated debut album 'First Inversion'.