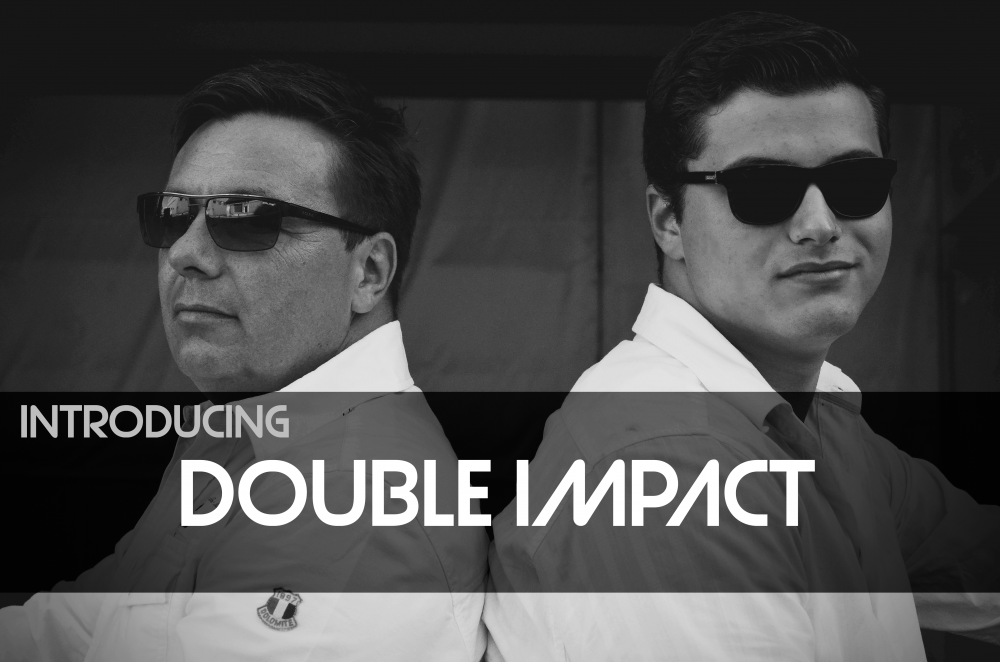 INTRODUCING DOUBLE IMPACT
Swiss DJ and production duo Double Impact have been turning heads in their native country over the last two years. On first look they may seem like an unlikely pairing and you can't help but wonder how they work together, but with a 28-year age gap between the two, it actually all makes perfect sense. A young producer with a hunger for modern electronic sounds working with someone that's experienced the timeless musical movements of the 70s and 80s. Most of the music we love is massively inspired by decades behind us, but there's a serious shortage of people that can say they were actually there and soaking it all up. This makes Double Impact different and it's not a gimmick, the musical inspirations are audible and on reflection, you can't help but wonder why more people aren't doing the same thing. We caught up with the pair to talk music, generation gaps and more.
How are you guys? What's happening in your world this week?
We're fine thanks! We are working on a Deep-/Tech-House track with a more experimental Trap part. We would like to find new ways to construct our tracks and differentiate from others. Therefore, we're very excited to hear the final version of Tech-Deep-Trap!
For anyone new to you and your music – tell us about what Double Impact is all about.
Originally, we are a B2B DJ duo with a solid foundation of playing real instruments. What makes us unique, besides the below mentioned live sets, is our age: Kevin is 22 and Benno is 50. A consultant once recommended we work as 'Daddy – Junior', but this is not really what we are about. Kevin has a great Dad and Benno has two sons. It might look like a good marketing strategy, but it's only a gag really. We are not identical, but we are similar in respect to our attitude towards life, ethics and musical gusto. On the other hand, it is quite interesting to have a mash-up of Kevin's youth and Benno's experience. We play and make music off the beaten track and we love to work this way. There are several B2B acts we're enjoying in the business right now (e.g. Dusky, Daft Punk, Disclosure, Knife Party, Dimitri Vegas & Like Mike, Nervo, Art Department, etc.) and we feel that we've got something different to offer. From our understanding, they are acting more as individuals together. Whilst one DJ is spinning a record, the other one is picking/preparing the new track or encouraging the crowd, the gear is in control of a single DJ at a time only. We share the gear all the time – the mixer is OURS. During a mix or spinning a track, both work with the gear and the mixer at the same time, bringing new ideas (e.g. FX, remixes, re-edits, etc.) to the performance. The crowds appreciate this, since they watch us working constantly and not just pressing the play-button and immediately raising the Jesus-pose.
Where are you guys from?
Benno: Basel, Switzerland. Born in the heart of Switzerland, where the world famous cheese Emmental is from!
Kevin: Near Zurich, Switzerland. Living in a little village with 300 habitants and 800 cows.
Your musical influences growing up?
Benno: My parents were big fans of Jazz and have always had a huge collection of vinyl. Jazz music was played all day long and we visited, with the whole family, many concerts. Since my parents were educated in classical music (violin and piano), they wanted me to learn an instrument too. I went for drums and played them for over 20 years. When I was old enough to discover my own music taste, I very quickly got into Funk and R&B. This was rhythm in its purest form: dry drums and fat bass combined with melodic vocals, it's still driving me today.
Kevin: I played violin for about 8 years, but in this time I didn't know what music style I really preferred. Then I fell in love with electronic music and the violin went away.
Where do you place/describe your sound?
Our sound is very personal. We have several beliefs in our sound.
First, the sound must be memorable in respect of our own gut instincts: either we instantly like it or not; there is no room for
discussion or academic analysis.
Second, we like to turn something upside down, rather evolutionary than revolutionary. For example taking elements from one genre and spicing them up with components from another, or, leaving the conventional structure of tracks (intro, verses, chorus, breakdown, outro) and assembling it in an original way.
Third, we are very much driven by our own physical state and mood on the day. This sounds a little bit strange, but we both went (and partially still are going) through some physical deep hits. In association with our moods and the seasons, we sometimes produce a pushy sound, sometimes a smoother one. The smooth tracks are good for a warm- up, the pushy ones for peak time.
Fourth, we cannot and are not willing to decline our roots. We therefore go for a strong melodic hook every time. In the beginning,
when we could not afford to bring in a vocalist, we set the focus on an instrumental hook. When we started with spoken word phrases and finally vocals, we decided that we do not want to provide platitudes. We strive to write a strong statement or sample, significant speeches or spoken words.
Last but not least: forget the above-mentioned presumptions 🙂 We are producing dance music to be played in clubs and festivals and the enjoyment that comes from that is the most important factor in anything we produce.
What genres do you tend to drift towards?
We're House orientated, preferably Deep and Tech. For specific occasions, e.g. festivals, we are also open to some Electro and Progressive-House. Anyhow, this is a very interesting question and the answer will probably defer in near future since genres are coming and going or evolving. House changed a lot during the last couple of years. If you look at the more electro-oriented House, people are saying this is "Electro-House", next season they call it "Big Room" and in the USA "EDM". As we like to produce cross-genre tracks, e.g. the upcoming track "Elation" is a cross-over of Tech-House and Trap, we are not bound to a specific genre. We'd rather push for a unique dance feeling in clubs.
Are you also DJs? If so – how did you get started as DJs?
As Precious Kay (Kevin) and Sin Gin Smythe (Benno) both have had a successful career as DJs. I started at the age of 17 when at that time the so- called "Mobile Discos" came around. That was a long time ago (33 years)! At that time, DJs were not the stars, as they are now. After doing this for a couple of years, I had to earn money and entered casual business. I ultimately dropped the DJing when I married and became father of a fantastic son. 4 years ago, settled and with less inspiration in my daily job, I picked up my passion again, bought great gear and brushed up my skills. Beginning in 2013, I decided to professionalize my hobby and subscribed to the "Ministry of Sound International DJ Academy". During this intensive DJ-workshop, I met Kevin and we quickly discovered our common vibes. Star DJ tutor Jonathan Lewis aka Ellaskins (known from Youtube as "DJ Tutor") and famous producer and DJ Jamie Lewis from Ministry of Sound then encouraged us to team up – "Double Impact" was born.
How long have you been actively making music?
Kevin: More than 6 years now. The Double Impact B2B team is around 2 years old now.
Where have you played?
We have played in lot of clubs, festivals and also in special locations and functions. Below you'll find just a little list of references.
Kaufleuten – Zurich
Club Diagonal – Zurich
Indochina – Zurich
Club Q – Zurich
Queens – Zurich
X-Tra – Zurich
Frieda's Büxe – Zurich
Garden Club – Winterthur
Frauenfeld Festival – Frauenfeld (Bacardi Dome)
Wake the Lake Festival – Weesen (Redbull DJ truck)
What's your most memorable gigs?
Benno: I don't have to think long about that. It was, for sure, our first gig as "Double Impact". We were booked for a night's entertainment during a wakeboard competition. This competition was held at a very scenic place: a lake in the middle of the Alps. Since this event is taking place at the beginning of August, it is normally warm and cosy, but in 2013 a cold front rushed in and the whole day was foggy and wet. We met 4 hours before the gig and soon caught a cold and back pain too. In addition, nobody knew "Double Impact" and the wake-boarders and their fans were used to listening and dancing to D&B. Although we had a DJ-desk from Red Bull, the gear speakers suffered from the bad weather conditions and sounded terrible. Not really perfect circumstances for our first show as B2B… Did I mention, that this gig took place open-air? So we started with a handful of people in audience. After the first 3 tracks, the place filled slowly up and a few started dancing. We quickly changed from Deep-House to Electro-House and then the crowd went wild. We pushed further and came to a trance-like ending. Neither us or the crowd were stopped by the soaking rain. After 2 hours, we were exhausted but more than happy. Our follow-up, a well-known D&B DJ and producer, congratulated and told us, that he never have had such an awesome warm-up. At that point, you would have needed a knife to remove the smile off our faces.
Kevin: I totally agree with Benno. It was our first gig together, both of us were nervous, and we didn't know what the crowd's reaction would be when we start our set. It was a challenge to catch the attention of the people for us but when this happened, we were in an amazing flow and it was an unforgettable start for Double Impact. We had so much fun and everything was just incredible for us.
All time top five dance music labels of all time?
Bromance Records, Defected, Ministry of Sound, Still for Talent and Spinnin' Records.
Who's the best producer in the world and why?
Kevin: Gesaffelstein! He's producing a slow Techno style with hard bass lines and great kick drums. When you hear Gesffalstein's music, you can't help but feel the melancholic atmosphere in it and it's very dark and deep.
Who's the best DJ in the world and why?
Boys Noize – His skills are amazing and many DJs could learn so much from his live gigs.
Who's inspiring you in 2014?
We're very inspired by Disclosure. Their live and DJ show is just perfect and they produce incredible singles. Thumbs up for those guys.
What have you got lined up for us in the next six months?
We have 5 new tracks in the pipeline:
The first one "Blue Sky" is a track we returned to from the 2014 festival season and should be released shortly.
The track "Elation" is our first genre-fusion of Tech-House and Trap, spiced with some disco-elements from the early 1980s.
"Sugar Pixie" was produced in collaboration with a US-based non- profit-organisation. It is a very danceable Tech-House track but this time enriched with elements from the classical music.
2 tracks have not been named yet. But they are Tech-House tracks too. We are collaborating with Jerry Ropero and Dany Cohiba, both famous producers and DJs we've a lot of respect for.
We very much like the collaboration approach. We like to pick the best of the best and develop our sound in cooperation with others. Other, also famous DJs, place their tracks as "theirs" and hide the fact they're using ghost- producers. I think, that is unfair and demeans the sound engineers in the background. Collaboration is great, but all contributors need to be named surely.
Are you more original artists or do you also remix?
In fairness, we see ourselves more as entertainers than as artists. If you define an artist as someone who is capable of entertaining the crowd, making them forget their problems, feel those great moments and being overwhelmed, yes, then we are artists. For sure, we are producing our tracks, but couldn't do that without the help of our friends. We don't like remixing ourselves and sell it as a track; we prefer producing something new and therefore producing something unique. During a gig, we do lots of live remixing and re-editing, which adds an extra-experience for the clubbers.
Tell us a little about your production setup and workflow?
Ableton, MPK 49, Pioneer Launchpad, Trap Attack.
We need about 2 hours to create a beat, a bass line and a hook. If it sounds good after 2 hours, we work out this track and finish it. If it isn't a great line, we will begin from new.
Do you do much sampling?
No, we very seldom use samples and if we do, we do it with caution. It's not only because of originality but considering legal aspects too. Nowadays, either one could use uncleared samples, which is illegal and could entail heavy penalties, or one must either pay an indecent fee for clearance or agree on an obscene sales-split. We'd rather avoid that.
Not many people know that Double Impact are really good at:
Live sets! What makes us special is that we've never ever used a prepared set or playlist! Every gig has its own vibes, mood, crowd, environment, etc. Kevin as well as I bring our personal tracks and then we start without knowing in advance, what the other one plays. Shortly before our gig and this could be minutes, we decide with which track and who starts the show. After that, it's a musical journey, even for us. It's all about interacting with the crowd, getting their vibes, answering with our tracks and pushing the atmosphere to the top. Between us, it's like playing Ping-Pong – Kevin plays a track and I'm responding with one of mine. So it goes back and forth and we rarely have to communicate verbally.
If you had to listen to only one producer's music forever – who would it be and why?
Benno: Herbie Hancock! His creativity and flexibility is awesome. He was afraid neither of fusing genres nor searching for a new sound; or as Wikipedia says:" Hancock helped to redefine the role of a jazz rhythm section and was one of the primary architects of the "post-bop" sound. He was one of the first jazz musicians to embrace music synthesisers and funk music (characterised by syncopated drumbeats). Hancock's music is often melodic and accessible." These are all characteristics that I am heading for.
Kevin: Fritz Kalkbrenner! The slow beats and his great voice is breath-taking. I also like the lyrics of his songs. The music of Fritz Kalkbrenner is relaxing, but also danceable.
What toppings do you have on your pizzas?
Benno: Parma Ham, fine slices of Parmigiano-Reggiano cheese and Rocket.
Kevin: I don't care but it must be very spicy.
The best film ever is?
Fight Club
Ibiza or Miami?
Ibiza AND Miami AND Las Vegas AND Moscow AND Dubai AND Rio 😉
If you could play a B2B set with any DJ – who would it be and why?
Benno: with Kevin 🙂 We have developed an almost blindly intuitive teamwork – one heart, one soul!
Kevin: I have a great partner and I wouldn't change my buddy. We began together and we will finish everything together.
If you could collaborate with any artist alive or dead – who would it be and why?
Benno: Herbie Hancock again! I am curious about a possible fusion of funk/jazz/house that is club-oriented.
Kevin: Gesaffelstein! I would find out what he thinks when he's producing a song and I think we together can find a great compromise between melancholic and happiness.