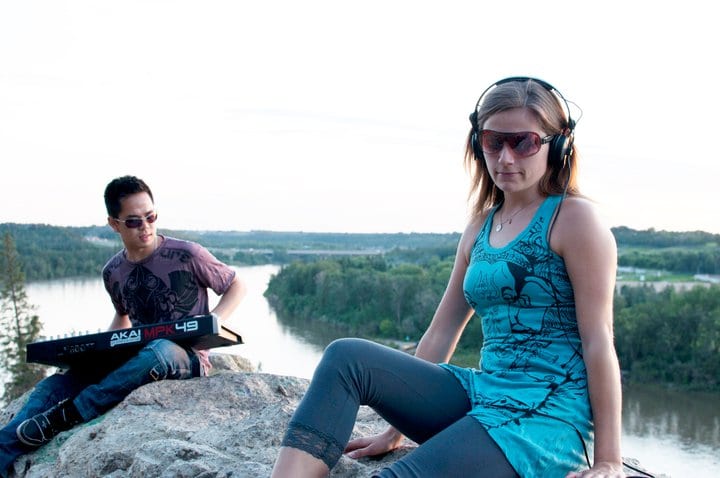 Introducing: Nada Deva
Hailing from Canada, production mastermind Francesco Maio and songstress Jen Terris, better known with their joint moniker Nada Deva, are making waves within the electronic music industry with their top-notch creations and intricate musical tastes. A renowned act within Edmonton's underground scene, the tandem is now opening up to the world and their music is gaining much appreciation and support.
Their highly original blend of House, Nu-Disco, Deep House and UK Garage flavours has attracted the attention of many important names within the Dance music community, landing them heavyweight performances with the likes of: Plump Djs, Dub Pistols, Napt, Worthy, Marten Horger and Mafia Kiss amongst others.
Their latest effort 'Beach Life' has been a continuation of the musical vision they've been building in the past months and the result is certainly stunning. We've decided to have a chat with Nada Deva to get to know them better and unveil the behind the scenes story of their newest release.
Hey guys, how are you today and what are you up to at the moment?
Great, thanks for asking! At the moment we are working on a remix for Senseless Live who is also on our label, JG Records.
Where are you currently based?
Edmonton, Alberta, Canada

Describe what Nada Deva is all about.
We are all about vocal, melodic yet bassy tracks that touch our souls. Appealing to all, with an underground touch and a balance of light and dark music.
How did you two meet and why did you choose to work together?
Haha – we met at an old school, underground after-hours event 8 years ago – a friend introduced us. We ended up getting together and trading tunes, music is what brought us together. We both like each other's taste in music and we feel we balance each other with a good mix of light and dark tunes. Plus we have the best time playing together!
How would you describe your current style?
Currently we are into Garage, Deep House and Nu-Disco. It is a lot of fun to play – House music in general is so hot right now!
Did you sound go through any major changes at some point?
Yes we have been all over the map, we've played Dubstep, Breaks, Drum n' Bass and now we're into the House scene. We still do play Drum n' Bass just not as much. We like to play whatever we are into but with our own touch. We don't like to be stuck in a box and are always changing and moving forward.
How do you find the balance and blend between your diverse skills and backgrounds?
We work well together and both equally shape our sound. Francesco is the engineer and I (Jen) the visionary.
What's the most memorable event in your career so far?
It's hard to say, we have played so many really great events. What comes to mind is playing a sold-out New Year's Eve show in Edmonton. We used to throw events and for 3 years in a row our New Year's Eve shows sold out – they were extremely fun to be and play at. As well, Astral Harvest – a festival here in Alberta. The vibe is truly incredible, and it is a blast to play at. Astral Harvest is by far our favourite event to play – we are stoked for this year!
What's the best and worst aspect of working together?
The best is getting to hang out and play music with your best friend, and the worst would be sometimes fighting about tunes you want to play – haha.
You have recently released an amazing seven-track album by the name of 'Beach Life'. What can you tell us about that?
It was inspired last Christmas when we were in Mexico, in the small surfer/yoga town of Sayulita. It definitely portrays the vibe of the town and how we were feeling.
How long did this project take to complete?
I wrote the initial composition within 2 weeks of my stay and finished the album 4 months after.
Which of the tracks do you feel stands out the most?
'New Day' and 'Jungle' – I would say they're the power house tracks of the album. They're included at the end of the album, to save the best for last – we always include these songs in our sets.
Do you have any other releases lined-up this year?
Lots of free download of original tunes and remixes. We will also be releasing a music video at some point.
Where would you like to see yourself in the coming months?
Producing more Nu-Disco tracks with a Deep House feel and some banging Garage tunes. Then playing more shows as well.
Anything to add/shout outs?
Shout outs to our friends who have been listening to our tracks and supporting us thus far, to our family at Astral Harvest Music Festival, to John Glassey from JG Records and to Steve Roland (Tantric Decks) from Black Octopus – thanks for supporting us guys!
Thanks guys!
Check Out 'Beach Life' On SoundCloud