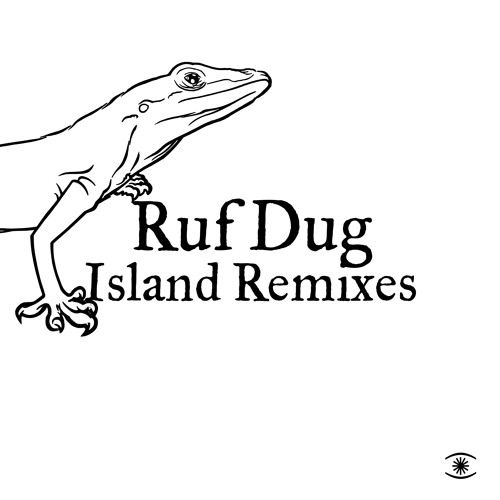 Ruf Dug - Island (Remix EP 1)
Following Ruf Dug's captivating debut album 'Island' on Music For Dreams last year, which garnered great reviews and attained success worldwide, the label is releasing a 4 track remix EP entitled 'Island Remix EP 1' on Friday 18th March.

It's the first of two remix EPs leading up to the release of Ruf Dug's second album 'Neu Romancer' late 2016 on Music For Dreams.

Remixes include Peaking Lights' Disco Dub remix of 'Speedboat', 'Tendacayou' (2814 Remix), 'Rasta Beach' (Al Breadwinner Mix 2), and 'Dominica!' (Kenneth Bager Ambient Instrumental Mix).

Ruf Dug recorded 'Island' during his 3-month staycation on the island of Guadeloupe in the French Caribbean. Seizing the opportunity to live out his own Compass Point studios fantasy he put together a portable studio that would fit into a suitcase – two half-rack synthesizers, a couple of effects units, a laptop and a 4-track cassette recorder.

Peaking Lights are a husband and wife duo from San Francisco whose lo-fi dub and noise pop has led them to be signed to Domino's Weird World label.

Al Breadwinner from The Bakery Studio, Manchester, is known for his vintage Breadwinners' reggae jams on various radio stations including Omyradio featuring guests and live musicians.

New artists 2814 are London performer HKE and fellow enigmatic SoundCloud dweller Telepath, who have taken the vaporwave vibe to an inspired level and have been described by Rolling Stone as ones to watch in 2016.
Kenneth Bager is the visionary DJ, producer and label boss of Music For Dreams, the leading downtempo and Balearic label.

Hailing from Manchester, Ruf Dug is a charismatic old school talent who makes raw records that rely on great sampling with releases on labels like Popular People's Front and Unknown To The Unknown, but also Ruffy's own limited Ruf Kutz imprint with support from Ben UFO, Moodymann, Craig Richards, Erol Alkan and many other tastemakers the world over.

The Music For Dreams label specialises in chilled electronica, Balearic beats, space disco and house grooves and is set to release a diverse range of artist albums in 2016.