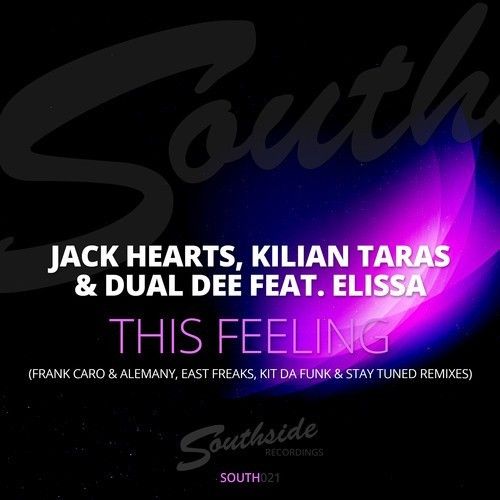 JACK HEARTS, KILIAN TARAS & DUAL DEE FT ELISSA – THIS FEELING
Southside Recordings flash back to action this month, keeping to their promise of a busy 2014 release diary. Next up is Italian production team Jack Hearts, Kilian Taras and Dual Dee who have teamed up with Elissa for 'This Feeling' – a bold vocal anthem that leans towards superb melody and vocal lines that put the big-room style of the last year aside and verges back to traditional dance music formats, letting the leads and singer take center stage. We're growing familiar with the Southside Recordings format – full focus on melody to create memorable moments in euphoric breakdowns both through their almost Trance-like tendencies with synths and a love for uplifting vocals. The delicate and airy timbre of Elissa's voice sits harmoniously on top of the leads and brings the record up from a solid production, to an all-out vocal anthem. Whether it's the big room piano chords or any combination of the synths on hand – it's got that Southside Recordings vibe that's quickly making them a solid staple in the diets of lovers of upbeat and feel good electronic music. As with many prior releases on the label the real crunch of the record comes on the breakdown. When all elements merge with Elissa to pressure the senses with melodies that work in perfect harmony, you're rewarded with 'This Feeling' that top class production in this style offers like nothing else can.
Backed up with an energetic rework from Frank Caro & Alemany and two tougher-edged offerings from Kit Da Dunk & Stay Tuned and East Freaks – you've got plenty of options to choose from.
The EP is out now on Southside Recordings.
Beatport
http://www.beatport.com/release/this-feeling/1277704
Jack Hearts
https://www.facebook.com/jack.heartsdj
http://soundcloud.com/jackheartsdj
Kilian Taras
https://www.facebook.com/kilian.taras
http://soundcloud.com/kiliantaras
Elissa
https://www.facebook.com/pages/Elissa-Music/61309498764
Southside Recordings
https://www.facebook.com/southsiderecordings.se
http://www.beatport.com/label/southside-rec/30091