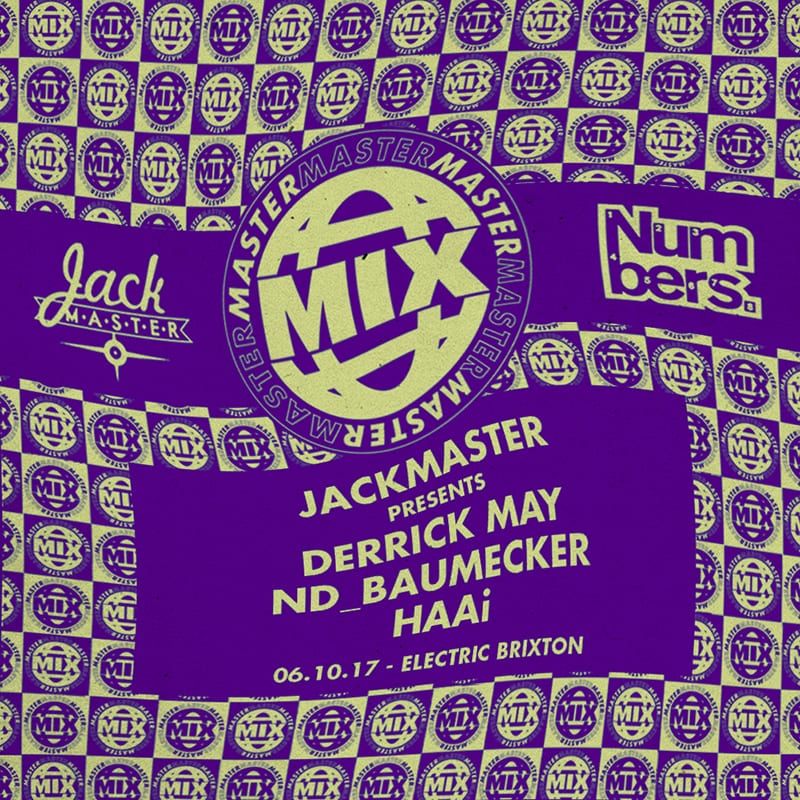 Jackmaster and Numbers present Mastermix at Electric Brixton
Jackmaster brings his revered Mastermix series to Electric Brixton on Friday 6th October.
Heading up the bill, the originator that is Derrick May plays his Mastermix debut. From pioneering a brand new genre of music in the 1980s, to starting the legendary Transmat record label, Derrick May has been at the forefront of techno ever since it's inception.
Ostgut Ton affiliate, Panorama Bar resident, nd_baumecker brings his relentlessly quick and tight mixing style to the heart of Brixton alongside Phonox's Saturday night resident, HAAi. Her weekly extended sets at the fellow Brixton club have taken her from an unknown name to one of the most talked about DJs on the circuit in less than a year – an accolade to her incredibly primal talent as both a producer and DJ.
Full event listing details below.
For a full list of shows coming up please visit: http://electricbrixton.uk.com/events.php
Full listings info:
Mastermix at Electric Brixton
Jackmaster
Derrick May
nd_baumecker
HAAi
11pm-5am
6 October 2017
Tickets:
http://www.ticketweb.co.uk/event/XUL0610D—
About Electric Brixton:
Brixton's Town Hall Parade is home to Electric Brixton, a celebrated London multi-purpose venue with a wealth of history.
Housed in an Edwardian building dating back to 1913 that previously hosted The Palladium Picture House cinema, live music venue The Ace and more recently the legendary
Fridge nightclub, it fuses together old & new, marrying the historical & original features with cutting-edge technologies.
The space has had a colourful history – eventually becoming a roller disco and later an important live venue in the Punk era, until its heyday as nightclub The Fridge which was operated as a party space from the mid-80's up until 2010. This is a venue with a long tradition of entertaining an avant-garde, mixed, multi-cultural and hedonistic audience, fondly remembered by several generations.
Amongst the many legends that have graced the stage at the venue throughout its existence are the likes of The Smiths, The Clash, New Order, Eurhythmics, Pet Shop Boys, Grace Jones, Marc Almond, Frankie Goes to Hollywood, Jazzie B & Soul II Soul, King Tubby and Keane.
Following an extensive refurbishment, Electric Brixton was re-opened as an independent venue in 2011, putting this iconic space back at the heart of the vibrant local Brixton music & events scene, drawing inspiration from its incredible history.
Since it's relaunch, Electric Brixton has welcomed a new era of artists through its doors including: Rudimental, Jesse Ware, Gold Panda, Franz Ferdinand, London Grammar, Clean Bandit, Naughty Boy, Deadmau5 and Bugged Out.