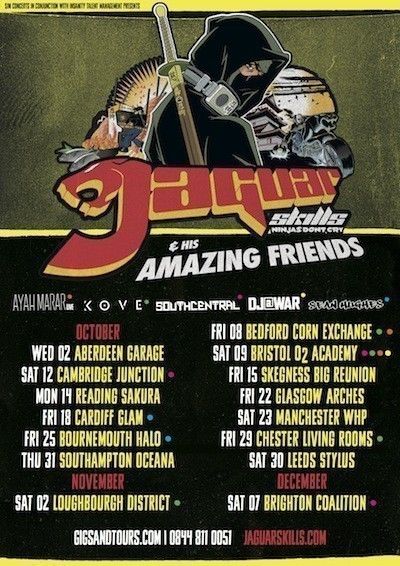 Jaguar Skills Winter Tour 2013
This October Radio 1's masked-ninja Jaguar Skills is set to embark on another colossal nationwide tour, taking in 15 cities up and down the United Kingdom. For this he has carefully curated some of the most talented DJs and finest party starters in the land such as Ayah Marar live, Kove, South Central, [email protected], Sean Hughes.
Jaguar Skills is already world-renowned for his unmatched ability behind the decks, with his lightening-fast mixing of every tempo and style in the musical spectrum sure to blow you away. On-hand to assist Jaguar Skills on the road is Queen of UK Bass Ayah Marar, incendiary Drum & Bass don Kove, multi-genre sensations South Central, DMC wonderkid [email protected] and Café Del Mar and Cream's Ibizan veteran Sean Hughes.
2013 has already been a fantastic year for Jaguar Skills. In July he released his second compilation 'Jaguar Skills And His Amazing Friends Vol 2' on Ministry Of Sound. The compilation featured a mind-blowing 39 records expertly blended into 18 unique tracks that create a rich journey through all musical genres and has been described as his finest piece of work to date. In addition to the compilation Jaguar Skills also released the 'Jaguar Skills & His Amazing Friends Vol 2 Game' which was available via facebook and across all tablet and mobile devices. As if that wasn't enough in September Jaguar Skills reached another milestone is his career when he released his first single 'Hamburger' to critical acclaim.
The release of the compilation and game also marked the start of another busy summer of touring the world's biggest and best festivals such as V Festival, Isle Of Wight Festival, Bestival, WE ARE FSTVL, Parklife and Global Gathering. As well as these festival appearances on August 22nd Jaguar Skills played a particularly special show when he presented his world-famous 'A Hip-Hop Odyssey' live and direct for the first time from London's Village Underground.
Tickets for the tour are on sale now from www.gigsandtours.com. Make sure you get yours ninja-quick! HooooOOOOOOOO!
02nd October – Aberdeen, Garage w/ local support
12th October – Cambridge, Junction w/ South Central
14th October – Reading, Sakura w/ local support
18th October – Cardiff, Glam w/ Sean Hughes
25th October – Bournemouth, Halo w/ Sean Hughes
31st October – Southampton, Oceana w/ local support
02nd November – Loughbourgh, District w/ Kove
08th November – Bedford, Corn Exchange w/ Kove, Ayah Marar (LIVE)
09th November – Bristol, O2 Academy w/ South Central, Ayah Marar (LIVE), [email protected]
15th November – Skegness, Big Reunion w/ local support
22nd November – Glasgow, Arches w/ local support
23rd November – Manchester, WHP w/ local support
29th November – Chester, Living Rooms w/ Kove
30th November – Leeds, Stylus w/ local support
07th December – Brighton, Coalition w/ South Central