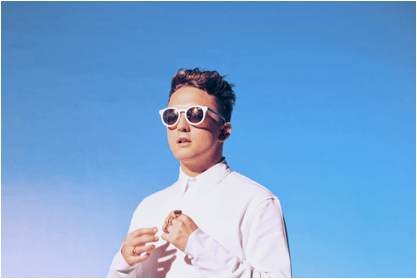 James Wolf – Can't Get Enough
Can't Get Enoughis the latest offering from London's James Wolf, released on 27th October, via Herculean Records.

Once again showcasing James Wolf's perfect blend of pop influenced nu-disco, with a deliciously tropical edge; Can't Get Enough crescendos from an undulating bass line to an all-out euphoric chorus replete with James' smooth vocals repeating the single's title, 'I Can't Get Enough'.

Produced and written by James Wolf and Troika, Can't Get Enough is also accompanied by a bold and unmissable video showcasing exactly what make James Wolf tick, directed by Lewis Kyle White (Klaxons, Justice).

Can't Get Enough follows hot off the heels of recent single 'Heart & Soul' released earlier this year which garnered a wealth of early online support from titles including Dummy, The Beat Juice and Clash.com. Remixes for 'Can't Get Enough', come by way of South African artist Petite Noir and heavily Radio 1 supported Copy Paste Soul, alongside Joshua James (London Grammar) and the LED Project.

Long making a name for himself in his native Ireland with his wild club nights, James Wolf is a force to be reckoned with. With a raft of upcoming live shows to showcase his unstoppable stage presence, his can-do attitude has seem him work with such cutting-edge producers as Roy Kerr (London Grammar, Santigold), MSMSMSM (Bipp, Lemonade) the Nexus (Lana Del Rey, Hurts), garage superstar Mike Delinquent and Tom Neville (Ellie Goulding, Kelis).

With the release of 'Can't Get Enough' James Wolf has refined his music, finding a fresh sound that is as bold, colourful and diverse as he is.