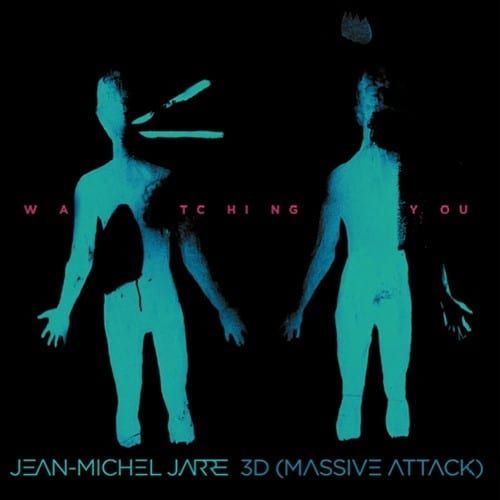 JEAN-MICHEL JARRE ANNOUNCES SPECIAL EDITION VINYL EPs
Visionary composer and producer Jean-Michel Jarre has announced the June 19 release of three special edition vinyl EPs containing collaborations with 3D (Massive Attack), Tangerine Dream & Gesaffelstein. With music taken from his forthcoming studio album, all three EPs will be limited to 1000 copies and available to buy exclusively via The Vinyl Factory.

Having unveiled a preview of his M83 collaboration 'Glory' back in April, shortly followed by the release of his single 'Conquistador' with Gesaffelstein, Jarre's reveal of the next two cohorts to join his project don't come any bigger. Now, with the likes of Tangerine Dream, 3D, M83 and Gesaffelstein all officially on board, it's becoming abundantly clear that Jarre is carefully hand-selecting the most influential voices of both the past and present to join him on his musical journey.

First up, Jarre teams up with 3D from Massive Attack to create 'Watching You', a piece of music that perfectly balances the ethereal sounds of the Frenchman with the underground and experimental sounds of the Bristol native. In addition to the Original Version, the B-Side will feature a 'Jarre Reworked Version' and an 'Extended 3D Mix' from Robert '3D' Del Naja himself. Furthermore, Jarre has also enlisted the help of 3D to design the artwork to 'Watching You' that you can see below.
Tangerine Dream came together with Jarre late last year to put the finishing touches to their work on 'Zero Gravity', just before founding member, genius and the only continuous member of the group, Edgar Froese passed away in January 2015. Jarre therefore has decided to dedicate the release of 'Zero Gravity' to Froese's memory, and has included a memento on the vinyl sleeve to pay homage to all of the astounding work that the German pioneer did over the years. Tangerine Dream have released more than one hundred albums worldwide since their inception and have been labelled true innovators by many for their role in the creation of genres such as 'krautrock' and 'new-age music'. Whether it is the music of fellow Germans, Kraftwerk, the psychedelic sounds of Porcupine Tree or the alternative rock of Kasabian, all acts throughout the scene have been influenced by the impact of Tangerine Dream. Also celebrated by a new generation for their scores for Risky Business, Thief and most recently Grand Theft Auto V, an alliance between two of the most forward-thinking acts of the last century works flawlessly as 'Zero Gravity' takes us on a journey across a host of ambient, electronic and synth-heavy sounds. The B-Side to 'Watching You' will include a remix from none other than Above & Beyond who, similarly to Jarre, have played some of the most extraordinary gigs around the world over the last 20 years and prove their mettle with an epic and trance driven edit of the original.



With its dark and gritty bassline complemented by haunting synths throughout, Jarre's first single, 'Conquistador', made in collaboration with Gesaffelstein delivered on every level imaginable. Critically acclaimed by some of the biggest tastemakers out there in the form Fact Magazine, Tsugi, Mixmag and many more, it was the perfect prelude for what is set to come from the French maestro over the coming months. Never one to rest on his laurels, the B-Side to 'Conquistador' has Jarre further tweaking his music as he provides exceptional edits to his original work in the form of a rock-infused JMJ Remix and an extended version of remix.


From June 19 and limited to only 1000 copies, the special edition vinyl EPs will be available exclusively via The Vinyl Factory website at the cost of £10 each. Upon release, fans will also have the opportunity to pre-order Jarre's first album in over eight years, with the A-Sides to all three songs becoming instant grats upon ordering.


Jean-Michel Jarre Special Edition Vinyl EPs

Watching You – Jean-Michel Jarre x 3D (Massive Attack)

A-Side:
Watching You (Original Version)

B-Side:
Watching You (Jarre Reworked Version)
Watching You (Extended 3D Mix)

Zero Gravity – Jean-Michel Jarre x Tangerine Dream

A-Side:
Zero Gravity (Album Version)

B-Side:
Zero Gravity (Above & Beyond Remix)

Conquistador – Jean-Michel Jarre x Gesaffelstein

A-Side:
Conquistador (Album Version)

B-Side:
Conquistador (JMJ RMX)
Conquistador (JMJ RMX Extended)