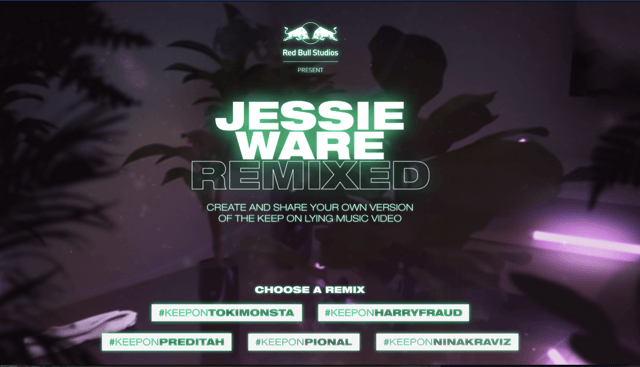 Jessie Ware: Remixed – New Interactive Concept Video for 'Keep on Lying' Revealed
As part of the Jessie Ware: Remixed project that saw Jessie travel to five Red Bull Studios around the world to create five separate remixes of her track, 'Keep On Lying', Red Bull Studios have teamed up with Paris based creative collective Golgotha to produce an enthralling, abstract new concept video for the track.

Set in a digital, experimental dream-like world, the CGI video follows the looping melody, testing the boundaries of reality as ordinary spaces and daily landmarks take an altogether more fantastical form. As the video unravels, a familiar environment descends into a deep, beautiful abstract fantasy world. "Feels like heaven in hellŠis it real, I can't tell" – 'Keep on Lying'.

"Keep On Lying appeared to us as a soft and throbbing melodic ballad. So we wanted to visually formulate this music in our own way through sentimental wanderings in a delusive atmosphere. The music video was set to be soft and based on aesthetics compositions, while the interactive experience will bring some Golgotha's surprises" – Antoine Aillot, Guillaume Hugon, Marvin De Deux Ganhitas (Golgotha)

Perhaps the most thrilling aspect of all; as part of Red Bull Studios' ongoing collaboration with Jessie Ware, 'Keep On Lying' has had five very distinct and personal musical stamps put on it by five remixers – Preditah, Pional, Nina Kraviz and Harry Fraud. As of Monday 17th November, fans will be able to create a completely unique and personal video to accompany each remix.

By selecting a remix to listen to – and therefore create an interactive video of – a selection of 24 different visual filters will appear, giving viewers the option to pick eight to apply to their personalised video. The outcome will mean fans get the chance to make and share their own video via this one-of-a-kind project.
Watch the interactive concept video & create your own version
Stream / embed all five remixes and Behind the Scenes episodes