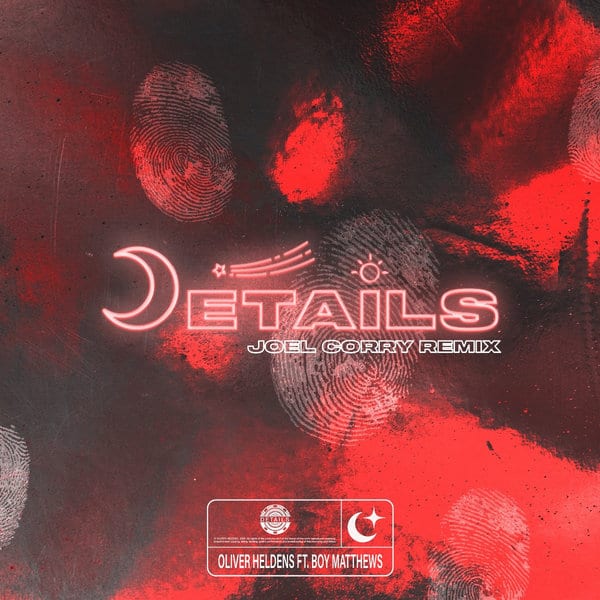 Joel Corry on remix duties for Oliver Heldens' 'Details'
After the original amassed over 4 million global streams in just 3 weeks British DJ/Producer Joel Corry has been enlisted to create a dance ready remix of Oliver Heldens' 'Details'. Widely renowned for chart-topping singles 'Sorry' and 'Lonely', Joel needs no introduction and has given the record a stunning new rework out today via RCA Records and Ministry of Sound.
'I loved the whole vibe of Details the first time I heard it', says Joel Corry. 'Boy Matthews killed it on the vocals, and Oliver Heldens has always been a big inspiration of mine, so it was honor to jump on this remix and give it the JC spin.
The track starts off smoothly with Boy Matthews' catchy vocals before the bassline comes in strong. Energetic piano chords swiftly kick off the first rise of the song before looped vocals and a heavy bassline blend for clean house drop. The record has respected the original with groovy piano chords while adding a dancefloor-ready kick that's ready for the airwaves until clubs and festivals around the world return to normal. With a seamless combination of powerful, prominent vocals and energetic, dance elements, Joel has done raise the bar yet again.
Following last week's Joel Corry remix of Stormzy's 'Own It' featuring Ed Sheeran & Burna Boy, the 'Details' remix once again exhibits Joel's ability to release popular productions and shows he isn't slowing down anytime soon. The Joel Corry remix of Oliver Heldens' 'Details' is out now on RCA Records and Ministry of Sound.
About Joel Corry
From winning titles with body building to being a TV star, and having his own show at Kiss FM, it's safe to say Joel Corry has already had an extensive career, yet he's only getting started. In 2019 'Sorry' happened. Upon release it exploded, becoming rinsed in clubs and on daytime FM radio, getting signed to Atlantic, and on one day last summer breaking the record for the most Shazamed track in a 24 hour period with a staggering 41,000 tags.
He's now setting his sights on making an album and landing bookings at the world's biggest festival stages. "I grew up in clubs and still get the same buzz now playing in front of crowds that I did 15 years ago," he says, "when I get in that zone, all the other things in my life seem to go away." Joel Corry has devoted his life to dance music, and he's still got a whole lot more life to give.
About Oliver Heldens
25-year-old Dutch star Oliver Heldens, stands out from the crowd with his own distinctive sound, counting numerous No. 1 hits and over 2 billion cumulative streams to his name. As well as being one of the most talented producers in the game, he is also officially one of the world's favorite house DJs, landing at #7 in the 2019 DJ Mag Top 100 DJs pool. His relentless tour schedule continues to place him at the forefront of the global DJ circuit bringing his eclectic, high-octane sound to over 2.5 million fans annually playing over 130+ shows including headlining and playing major festivals including Coachella, Tomorrowland, Lollapalooza, EDC, Ultra and more. Heldens continues to release various club records through Heldeep Records and radio tracks via RCA Records as well as host his weekly radio show, Heldeep Radio, which is syndicated across 95 stations, in 74 countries and reaches 75 million people a week.