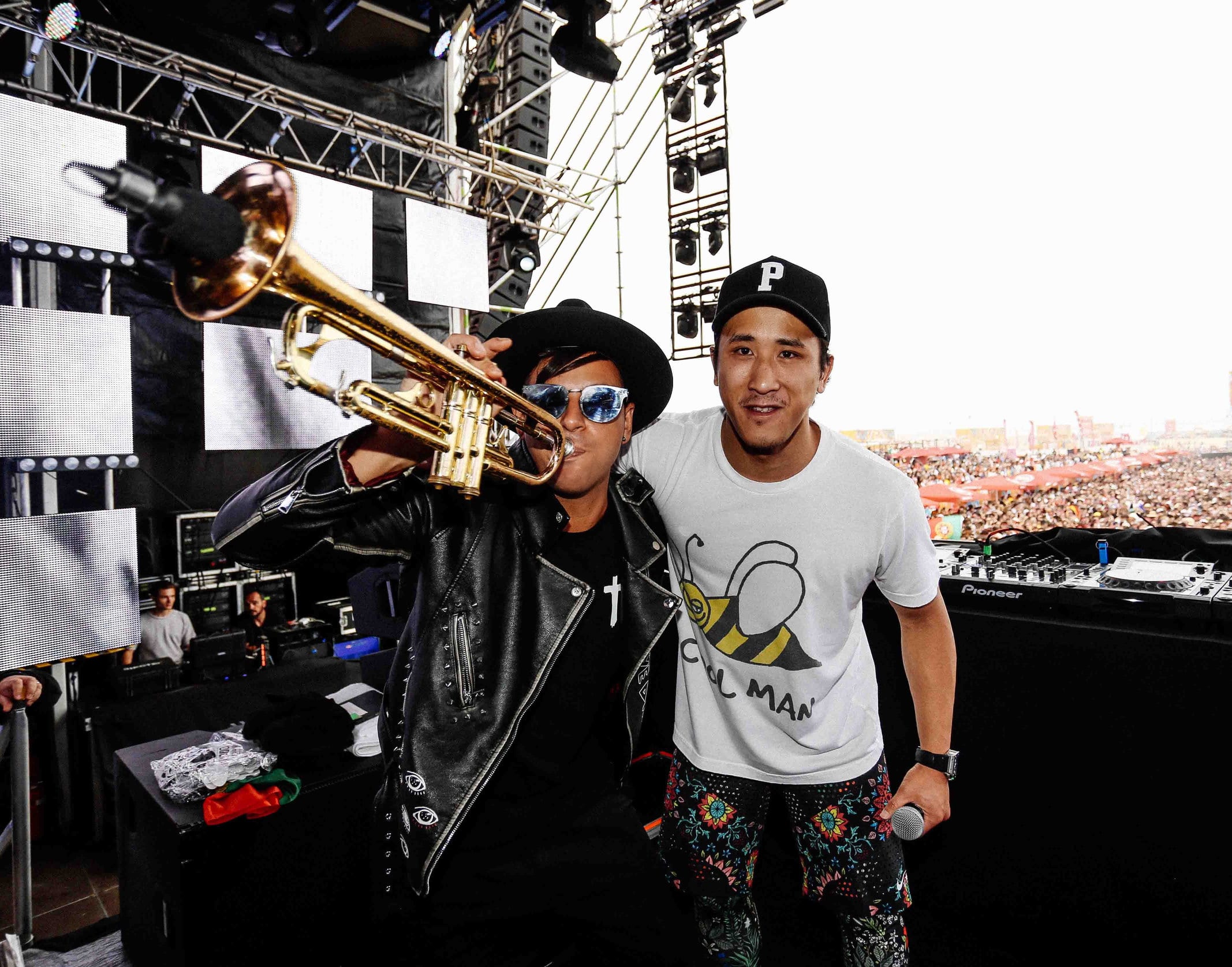 Florian Picasso & Timmy Trumpet Drop Timeless Lovestruck Collaboration 'Armageddon'
In a beautiful cohesion of dreamy indie pop melodies and old school dance anthem sensibilities, Timmy Trumpet and Florian Picasso come together for the lovestruck collaboration 'Armageddon.' Paired alongside the single is Timmy Trumpet's Chill Mix, which sees the producer dial down the club beats and let the falsetto hooks and glossy synths glide into the sunset.
'Armageddon' came into fruition about a year ago, when Timmy and Florian realized they needed to collaborate. Florian sent over an initial sketch for the track to Timmy, who flipped the main hook into his own inimitable style. The rare talent Josh Cumbee, who has voiced tracks by Armin van Buuren, Fedde Le Grand and Zonderling to name a few, was then brought in to sing the topline. With a few final tweaks and a special radio-friendly Chill Mix by Timmy, 'Armageddon' was complete.
In keeping with the trend of rising BPMs in big room dance music, 'Armageddon' pumps at a frenzied tempo. Shimmering, filtered arpeggios build the mood under driving beats before it drops into a dramatic breakdown. Sweet, yearning vocals from Josh Cumbee add a euphoric edge as theatrical FX and big 80's-style snares build things up. The drop ushers in a buzzing wave of emotions, emitting a timeless, nostalgic feel, refined with a modern touch.
About Florian Picasso
'Picasso' is no stage name; Florian is the great-grandson of the mighty Pablo, adopted by the Picasso family after being born Vietnam. He's synonymous with a high-octane style of EDM that focuses on larger-than-life, unrelenting riffs and raw textures and is squarely focused on the dancefloor. But within that he shows an impressive range, from pacey trance bangers to phat trap style beats, rampant electro house, and gentle dancepop. Growing up between Paris, Cannes and Switzerland, Florian founds his first musical love in the form of classic hip-hop, before discovering the likes of Basement Jaxx and Groove Armada and beginning his explorations into electronic music. He began DJing ages 13 on a basic setup, learning basic scratching techniques and honing his skills for a few years before he started messing around with beats.
It's evident from the very good company he keeps in his release schedule that he's an artist with high standards, collaborating with artists like Martin Garrix, Nicky Romero, and more recently Gashi & Ally Brooke on 'Like You Do', Florian Picasso is most certainly piquing the interest of EDM's uppermost elite.
About Timmy Trumpet
Timmy Trumpet is undoubtedly one of the most prolific performers and hottest producers on the planet right now. His latest releases '911' with R3HAB, and his solo record 'Diamonds' both streamed well into the millions within their first week. His breakthrough release 'Freaks' has reigned in over half a Billion streams, reached six times platinum status in Australia and dominated the charts in ten countries becoming the highest selling track of all time on Ministry of Sound Australia. His debut mainstage performance at Tomorrowland in 2017 is the highest streamed set of all time on the official YouTube channel. To add to his impressive list of achievements, in 2019 Timmy became the first instrumentalist to DJ in Zero Gravity, thanks to a partnership between BigCityBeats and the European Space Agency. When asked if he pinches himself looking back on a career that originated from the humble beginnings of Band Camp and after school Jazz practice, you only get one response – "We're just getting started!".