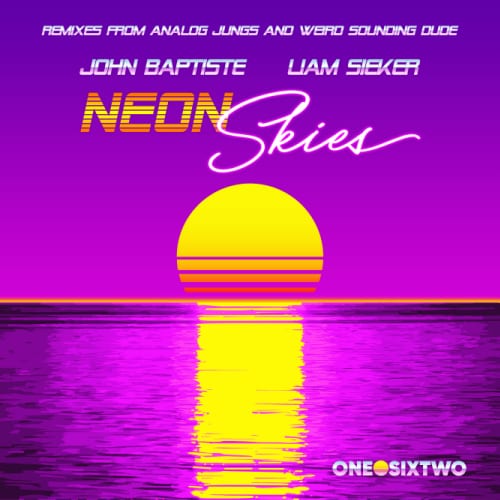 John Baptiste & Liam Sieker unleash 'Neon Skies' on Onedotsixtwo complete with Analog Jungs and Weird Sounding Dude remixes
Onedotsixtwo remains focused on bring together the finest global talent with its 30th release. Australia as a hotbed of unique talent is once again in the spotlight as two of Melbourne's most exciting DJ/Producers, John Baptiste & Liam Sieker, combine their immense creativity and unleash a trio of outstanding tracks, collectively titled 'Neon Skies'. Staying with the global theme, excellent remixes of 'Neon Sky' and 'Neon Sunset' come from Argentina's Analog Jungs and India's Weird Sounding Dude.
Opening with the subtle percussive vocodered beauty of 'Neon Sky', John Baptiste & Liam Sieker reveal their gorgeous, hypnotic deepness that morphs perfectly into the pulsating energy of 'Neon Sunset' as darkness falls. They then keep the energy level flowing with the acid tinged, heavy groove of 'Neon Sunrise' to complete their perfectly formed trio of diverse yet cohesive, proper progressive tracks.
The first of our remixes comes from Analog Jungs, the multi-talented and legendary Argentinian duo Claudio Cornejo and Gustavo Ruarte. Returning to the label on the back of their excellent 'Marbella' / 'Vancouver' (ODST0025) double-header, they deliver a uniquely impassioned interpretation of 'Neon Sky' that builds and soars with euphoric majesty.
Completing this 30th exceptional release package is the wonderfully named Weird Sounding Dude, who was first introduced to onedotsixtwo fans via his 'Hugel' track on Gustin's recent 'Synchronicity' (ODST0019) mix comp. As one of India's most intriguing progressive house artists, he always looks to stretch his music further than the traditional and here he builds a fabulous low-slung, percussive groove around 'Neon Sunset' and dives deep into textures and fx to weave a distinctive and powerfully hypnotic spell.
Bandcamp – Buy Now: https://onedotsixtwo.bandcamp.com/album/neon-skies
Beatport – Buy Now: https://www.beatport.com/release/neon-skies/3065523
Spotify: https://open.spotify.com/playlist/7KYcPhkt1YwtiNklyKZJz0