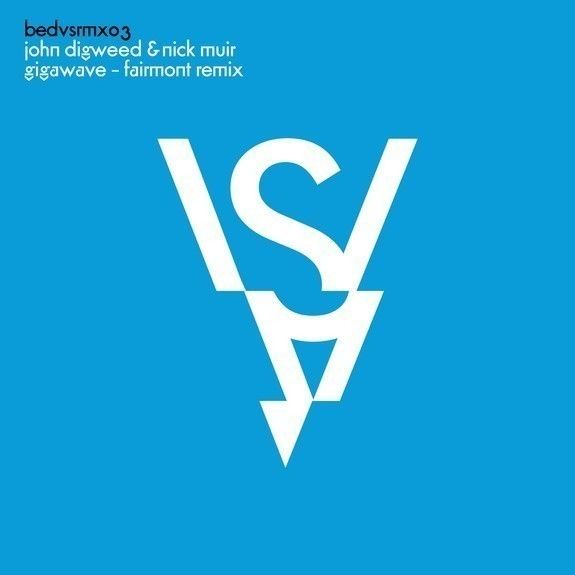 JOHN DIGWEED & NICK MUIR – GIGAWAVE (FAIRMONT REMIX)
Almost a year after their iconic collaborative album 'VERSUS' first saw the light of day‹a project for which the pair teamed up with no less than 12 of their favorite producers resulting in an extra special triple-disc package‹John Digweed & Nick Muir continue to revitalize the critically acclaimed release by unveiling the latest in a slew of remixes from the inimitable album.

Now joining Extended Play and King Unique, both of whom released their unique interpretations back in August, comes Canadian techno kingpin Fairmont, who delivers his own exquisite contribution and provides the third installment in what is shaping up to be a seriously hard-hitting remix series.

'BEDVSRMX03′ sees the talented Fairmont bring his own distinctive signature blend to one of the standout tracks from Versus‹'Gigawave'. Taking on an already pristine piece of work, the bold remix master introduces a warm and subtle yet persuasive bass line that transforms the original mix's ambient textures into a mellow, uplifting dance floor revision. John Digweed & Nick Muir – Gigawave (Fairmont Remix) is out now on Bedrock. Catch the preview here.



The first installment from the recent remix series came courtesy of Texas-based duo Extended Play, who delivered their fizzing, up-tempo interpretation of 'Morphism'‹Digweed & Muir's previous collaborative effort with Bedrock favorites Pig&Dan. The original's vast, expansive breaks are bridged and brimming with the brooding beats of these hugely talented rising stars. Check it out here.



Just weeks later, the second release saw 'Dawnbreaker' (their collaboration with Ian O'Donovan) receive the Midas touch from UK star King Unique, who gives the fizzing melodic techno soundscapes of the outstanding original version a taste of his highly original trademark combination of delicious underground house and tripped-out cosmic techno.



John Digweed Tour Dates:

Sept 19 – Insane – Pacha – Ibiza, Spain
Sept 26 – John Digweed / Jozif / Brad Miller – Verboten – New York, NY
Oct 03 – Insane Closing Party – Pacha – Ibiza, Spain
Oct 04 – Bedrock16 – Electric Brixton – London, England
Oct 12 – John Digweed – Stereo – Montreal, Canada
Oct 17 – Amsterdam Dance Event 2014 – Felix Meritis – Amsterdam, Netherlands
Oct 17 – John Digweed – Melkweg – Amsterdam, Netherlands
Nov 14 – John Digweed – Prince Bandroom, Melbourne, Australia
Nov 15 – John Digweed Garden Party – Chinese Laundry, Sydney, Australia
Nov 15 – John Digweed – The Met – Brisbane, Australia
Nov 16 – Habitat 10th Birthday Party – Stables Bar – Perth, Australia