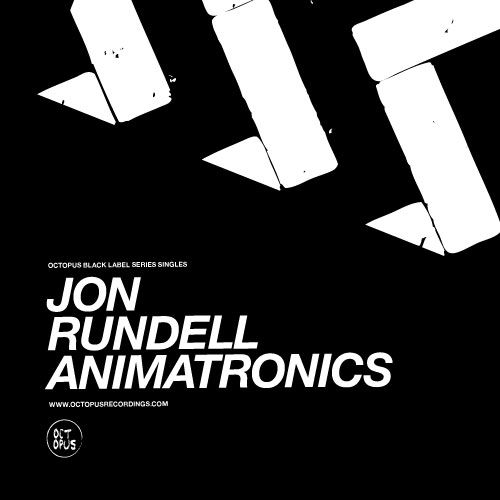 Jon Rundell – Animatronics EP
Still riding high off the success of his acclaimed 'Cybernetics' EP released on dance music's seminal imprint Intec, Jon Rundell is back on with another outstanding offering entitled 'Animatronics' EP.
This time Intec's co-leader makes his EP debut on Sian's highly respected Techno imprint Octopus Black which has enjoyed previous releases from artists such as Sasha Carassi, Pig & Dan, WHYT NOYZ, Victor Calderone, Kaiserdisco, Jon Gurd and many more.
This outstanding two-track package reflects Jon's sharp and dapper no-nonsense attitude when it comes to producing peak-time Techno stormers, showcasing his unparalleled experience, confidence and flair.
The EP's title track 'Animatronics' features an abundance of tough driving beats, heavy low-end frequencies and filtered percussive stabs to create a sublime dark and intense soundscape. Next up is 'Bleeding Edge' which effortlessly ebbs and flows, encompassing an uncompromising infectious groove, slick use of effects and an amazing pitched percussion pattern that pins the track down.
All in all, both tracks sit brilliantly together making this a must have release for all Techno lovers and connoisseurs alike. 'Animatronics' EP is available on Beatport exclusively from May 19th and the rest of the world two weeks later.
Catch Jon playing a series of stellar dates throughout Europe over the summer months including appearances at Space Ibiza's opening fiesta on May 25th and Intec's take over of Space on June 17th, Amsterdam's Awakenings festival on June 29th and Belgium's illustrious Tomorrowland on July 25th to name a few.
FOLLOW JON RUNDELL ONLINE:
http://jonrundell.tumblr.com
https://www.facebook.com/jonrundelldj
https://soundcloud.com/jon-rundell
https://twitter.com/Jon_Rundell
http://www.residentadvisor.net/dj/jonrundell
FOLLOW OCTOPUS ONLINE:
https://soundcloud.com/octopusrecordings
http://www.beatport.com/label/octopus-black-label/30597
https://www.facebook.com/OctopusRecordings
http://www.residentadvisor.net/record-label.aspx?id=1126