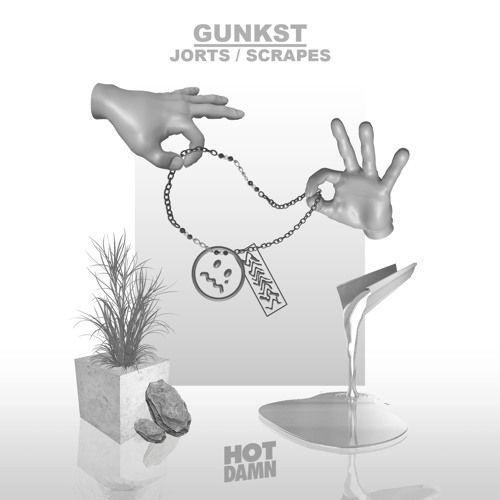 Gunkst - Jorts
London based label and collective Hot Damn returns this January 15, 2016 with a brand new single from the enigmatic and genre-defying producer Gunkst.
Hailing from Denver-via-Nashville, Andrew Goodwin aka Gunkst, unveils his latest offering in the form of "Jorts," a refreshingly different trap track featuring frenetic layers of high-pitched synths, meddling 808 bass drums and an unconventional 'braindance' cadenza. The track speaks volumes on talent and highlights Gunkst's penchant for electronic experimentation with a genre's traditional format.
This release follows closely behind the young producers most successful year to date that included a headline show at Bar Stanard, an EP release via Plastician's Terroryhthm label and his tracks being played on and supported by Rinse FM and Soulection Radio.
Gunkst rose to prominence in the Denver club scene by curating his sets with an assortment of grime, hip-hop and dance music, but it was his ability to bring the intense and bold energy in his productions to the dance floor that has led him to support acts including Sango, Falcons, Plastician, Hucci and Vindata. Aside from production, Gunkst is also a graphic designer, creating the unique images for all his releases. This has enabled him to create a strong aesthetic that correlates with that he is doing musically – experimenting and blending.
Hot Damn is a label and collective founded by JiKay (Founder of All Trap Music) in 2013 that dedicates itself to the future of electronic music, it's most creative individuals and the lifestyle and culture surrounding it. Having brought releases to the market from the likes of Mr Carmack, Stooki Sound, Mura Masa and Templa to name a few, Hot Damn is quickly becoming an important authority on new boundary pushing music – with "Jorts" proving that Gunkst can sit comfortably among this impressive list of genre fusing and bending artists.
"Jorts" will be released on January 15, 2016 via Hot Damn with a follow up single "Scrapes" on January 29, 2016.
For more on Gunkst:
www.facebook.com/gunkst
www.twitter.com/iamgunkst
www.soundcloud.com/gunkst