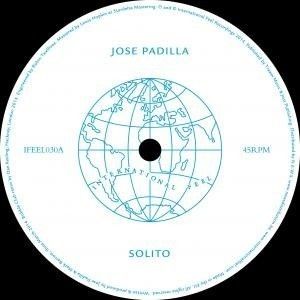 Jose Padilla – Solito
Balearic is a feeling – and Jose Padilla embodies it. The hugely influential DJ soundtracked the 1990s with his sunset sets at the Café Del Mar, selling six million albums containing his selection of widescreen electronica, dubbed out ambient and the likes of Penguin Café Orchestra and inspiring everyone from Madonna (who selected his Café Del Mar compilations as the ideal desert island listening) to Bestival's Rob Da Bank to underground DJ heroes like Harvey and Andrew Weatherall.
'Solito' marks three special moments; 40 years of Padilla as a DJ, his return to Cafe Del Mar after 15 years and the first sign of a new partnership with label International Feel who will release his artist album in 2015. Where could be a better home than on the Balearic mecca, International Feel, the label that also managed to persuade DJ Harvey out of retirement. "International Feel fly the flag for balearic music in the right way. They're Balearic from the beginning and it reflects on the label. They have substance." Jose Padilla
'Solito' is a soft and inviting wash of North African mysticism, warm and dusty beats and a heat-haze bassline that Frankie Knuckles would have been proud of. It was recorded on the first sunny day after winter in Padilla's living room with Mark Barrott from International Feel as producer. "It was very cosy and the music came very quick. It was incredible how fast we connected, like we've been working together for years."
BACKGROUND
Jose Padilla is the Godfather of Chill-Out, the man who became the beacon to signal the end of one sun-drenched day and the start of another hedonistic Ibiza night. He began DJing in the 70s during the repressive Franco dictatorship when much music was banned. He had to dig deep for classical music and local folk because of the scarcity of international sounds – and because DJs at that time had to play all night. "We played from 11pm to 6am so we had to play different styles or repeat the tracks. We had to keep the crowd going whatever we had. That's my roots. Even today I still do that. I can't do a set of two hours at the same tempo. Impossible! Even if you lock me in a room and beat me. That's where Balearic came from."
He moved to Ibiza in 1976 and started DJing in San Antonio, making tapes of his sets and selling them at Es Cana market. On the first day he sold out in an hour. On the second day, he sold sixty tapes. By the late 1980s he was living in a house next door to the Café Del Mar, DJing at clubs like Es Paradis at night and selling 500 tapes a day. In 1991 Café Del Mar asked him to step out of his house and into their DJ booth, where he played until 1999 in front of a hand¬made sign saying 'TAPES'.
'Solito' will be released on two special 12″, featuring the original and bubble club mixes and two Wolf Muller mixes. Padilla is also doing a compilation for release summer 2014 on Secret Life Music – who will be collecting and digitising all of Padilla's iconic tapes. There's a brand new radio show summer following on from his successful Ibiza Sonica radio shows which will be syndicated worldwide. Plus from May Padilla will be returning to the Café Del Mar this summer for some select dates for the first time in fifteen years – the perfect resolving chord that heralds the start of a new Balearic summer.
"As the foremost Balearic label and producer in the world today, of course I always wanted to work with the godfather, the source, the originator. Ots like a painter or inventor getting to work with Da Vinci." Mark Barrott, International Feel
Tour Dates
May 23rd Cafe Del Mar
June 20th Cafe Del Mar
June 20th Secret Life Music at Pikes Hotel with Greg Wilson, Jose Padilla, Pete Gooding, Phil Dockerty, Robot 84, Violent Romance, Hara.