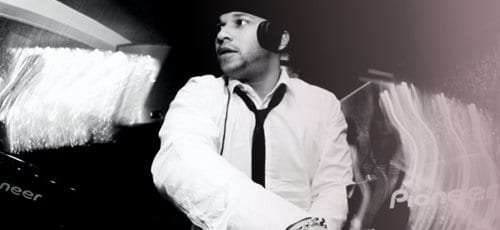 Podcast 049: Scott Garcia
It has been said recently that Scott Garcia is one of the pioneers ofthe UK Garage scene.His groundbreaking track "it's A London Thing" was the second ever track within this genre to reach the national charts (no. 24 in 1997) and is widely recognised as one of the scene's 'classics'
Scott Garcia is without a doubt one of the pioneers of the UK garage scene after setting up his own record shop in 1994 at he very young age of 16 he has not looked back. Scotts shop Ruff Trax was one of the first of its kind stocking only house and garage made in the UK while the Sunday scene was dominated by dub versions of US garage tracks made by American producers such as Smack and DJ Disciple.
Owning the record shop lead to Scott hooking up with several promoters who were putting on Sunday scene partys and he was soon DJing at venues such as The Arches, The Frog And Nightgown and Adrenalin Village not to mention a host of invite only boat parties. It was while playing at one of these party's that Scott hooked up with then up and coming producer Gee Smoove. Gee was makingtracks out of a tiny studio in Wandsworth which was 10 minutes away from Scotts family home and it wasnt long before Scott booked himself into that studio and made the leap from DJ to DJ/producer. In 1996 Scott made his first 12 a two-track ep titled Enter the Darkness though it was quite minimal it had definite signs of the trademark style that he is now famous for.
By the winter of 1996 the underground garage scene was exploding in London and the club nights had begun to move from the small intimate Sunday night gatherings to the bigger more mainstream clubs on Friday and Saturday nights. The music was being made and played in London and Scott was determined to play a major part in the rise of underground garage so he gave up the record shop to allow himself more time to concentrate on DJing and producing.
In March of 1997 Scott delivered his first underground anthem, a track entitled music takes you on the buzz bomb label. This lead to a lot of positive press reviews and many underground music journalists were tipping him to be a name to look out forin the future. All the attention lead to a massive increase in DJing gigs for Scott and one early morning in may 97 while on the way home from the Chunnel club while he was listening to an old jungle/drum and bass tape and he heard the classic Just for you London when he thought back to his early raving days before the record shop and how much that track had done for the jungle scene in London he decided it was time that underground garage in London had its own anthem too so the very next day he took his long time friend Lee (MC Styles) and started work on a track titled its a London Thing Originally the track was going to be an introduction dub plate for Scott to play when he was DJing but the demand for the record was so big that he took it back into the studio, polished it up and released it on his own label underground connection it went on to sell over 8,000 copies on Scotts label and was soon snapped up by BMG records it then went on to sell another 30,000+ units and charted at number 24 in the UK national charts with the aid of a music video which was filmed at the first ever live performance of the record on the Diesel stage at the Notting Hill carnival, Before Scott knew what was happening he was doing TV shows, interviews with magazines and traveling all over Europe DJing in most of the biggest clubs. From that point onwards he has proudly held the title of Mr London Thing.
After a hard year of promotion tours for the record and a grueling remix schedule which saw him remixing the likes of Another Level, Deni Hines, The Ruff Driverz, Rachel Wallace and JD Braithwaite to name but a few Scott teamed up with DJ Ray Hurley to create a production outfit known as The Dub monsters and enjoyed more underground success with the Monster cuts EPs (volumes 1 & 2) on the Fifty First records label.
In 1999 Scott decided to set up a new record label of his own and started by signing up artists such as Oxide and Neutrino, DJ Luck and MC Neat, Shy Cookie and The Genius Cru all of who went on to do big things in the new skool UK Garage scene. During the two years that Kronik was at the forefront of the UKG movement Scott had many of his own underground hits with his then production partner Mike Kenny under the pseudonym of Corrupted Cru and tracks like G.A.R.A.G.E. (feat MC Neat) and POISON made sure they featured on many of the biggest selling compilation albums. Scott went on to release 13 tracks with The Corrupted Cru on Kronik Records and also produced a track for ragga artist Top Cat entitled We The Gals Want which was released on Public Demand Records.
Fast forward to 2012 and Scott is now signed to legendary UKG label Ice Cream Records and currently working on an album project after releasing brand new mixes of his 1997 club anthem ' A London Thing' which features uk garage legend MC DT.
Scott is clearly an artist who has the knack for reinventing himself and therefore he will undoubtedly play a part in the newly rejuvenated UK Garage scene that is fast developing in the UK and overseas and even though its not just a London thing any more London will always have its very own ambassador in Scott Garcia.