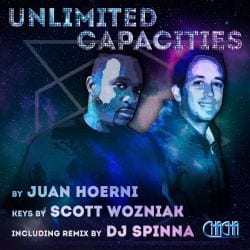 Juan Hoerni – Unlimited Capacities
Los Angeles house music maestro Juan Hoerni strides into 2019 with a terrific new single for his Cha Cha Project Recordings imprint, "Unlimited Capacities." The original is a bonafide groover, with sterling production and disco elements accompanying spare jazz-infused instrumentation. Sexy hints of vocals pepper the track as Scott Wozniak provides top notch keyboard work. It's the sound of a sleek night ride through club land, no doubt.
Juan continues his history of legendary collaborations by enlisting none other than DJ Spinna on the remix. Spinna applies his down-and-dirty dance floor approach, bringing out some of the subtle Italo influences within the disco thump. An insistent rhythm is propelled by swirling organ, a bouncing bass line, and clav-like key stabs. This one's blazing hot, and just in time for summer sessions.